LOUISVILLE, Ky. (WDRB) -- Commuters have concerns about speeding, traffic, crashes and noise surrounding Eastern Parkway, and now there are plans to address them.
At a public meeting Tuesday, Metro Louisville's Eastern Parkway Project Team unveiled designs addressing those concerns. They include adding safety improvements like several roundabouts and a road reconfiguration at major intersections at Bradley Avenue, Barret Avenue, Preston Street and Shelby Street. The goal is to make these improvements to improve safety and access along the corridor while maintaining the parkway's "historic charm and tree canopy" and enhancing access for multimodal transportation, according to a news release. 
The project's team conducted a yearlong study of the parkway's four-mile stretch from Crittenden Drive to Cherokee Park. It also gathered and studied public comments and traffic data from the area. Those who use the corridor, it said, also cited sidewalk connectivity, bike lanes, congestion and preserving the tree canopy of the area as points of concern and discouraged any widening of the parkway. 
"We saw robust public response to our outreach on how to make this historic parkway safer, more user-friendly and more accessible to multiple modes of transportation," John Swintosky, senior landscape architect and project manager with Louisville Metro Public Works, said in a news release. "The public was very clear that they wanted a balanced plan that met the needs of all parkway users while maintaining its park-like setting. We believe these design concepts respond to those issues in a thoughtful, inclusive way."
The renderings unveiled Tuesday include plans for those major intersections they say have the highest rate of injuries or fatal crashes along the parkway. The plans include a "peanut-shaped" roundabout at Bradley in front of Dairy Kastle, another roundabout at Barret Avenue project leaders say would help with the curve at Barret. The third intersection, at Preston and Shelby Streets — which leaders say is the most dangerous part of Eastern Parkway — would be improved by modified left turns and bus pullouts they say will reduce t-bone crashes.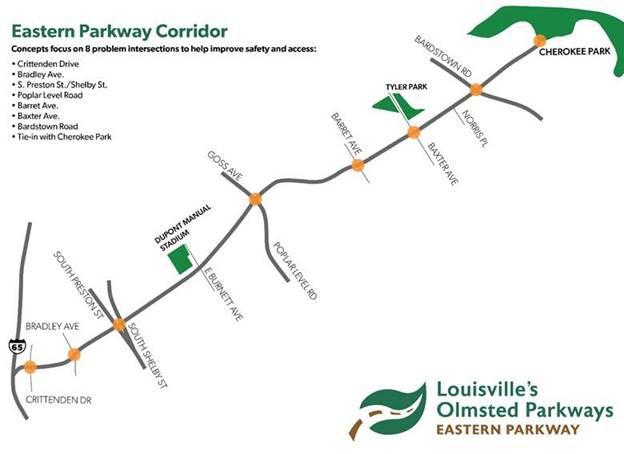 Leaders say they now have with three goals in mind moving forward.
"Keep it pretty, make it safe and basically reclaim whatever we can and don't break anything, and that's as easy as I can boil it down to," said Mike Sewell with local consulting firm, Gresham Smith and Partners.
Eastern Parkway was designed more than 100 years ago by Frederick Law Olmstead, who saw it as only being used for recreational traffic. But, project leaders say more than 17,000 motorists, pedestrians and bicyclists travel through the corridor daily now.
The project's team is seeking feedback through Feb. 11, but no funds have been allocated yet to make moves on construction. Comments may be submitted on the Louisville Parkways website, here. Final recommendations and cost estimates will be presented to the city in the spring.
The proposed plans unveiled at Tuesday's meeting are in the PDF below:
Copyright 2020 WDRB Media. All Rights Reserved.