LOUISVILLE, Ky. (WDRB) -- Black vultures are a common sight at Foxhollow Farm. The destructive birds have preyed on calves, cows and sheep at the farm in Oldham County.
"They're always here," said Derek Lawson, the manager of Foxhollow Farm. "(Vultures) take their eyes out first, knock them down and start eating them. When you lose a cow or something like that, it's several thousand dollars."
Lawson said the farm has a special permit to shoot black vultures. As the law stands now, farmers can only apply for a permit after a bird has made a kill. It can take 60 days to hear back.
For many, shooting the birds seems like an easy fix, but there's a catch: Black vultures are federally protected. It's illegal for farmers without permits to harm them, regardless of the damage they do.
"If you've got something killing your livestock, it can add up pretty quick if you can't do anything about it," Lawson said.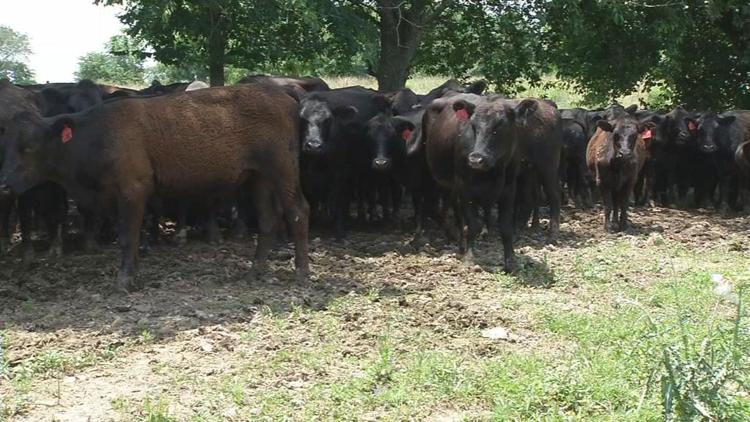 But the Livestock Protection Act aims to change that.
"You'll be able to protect your farmland, your livelihood, your livestock before the damage occurs," said Rep. Trey Hollingsworth, who introduced the bill. "If you see black vultures around, if you get the permit, you can then kill those black vultures before they kill your calves or your cows."
Hollingsworth, who said he worked with conservation officials to draft legislation, said the bill does not remove the current restrictions associated with hunting migratory birds.
"But it does enable our farmers to kill the black vultures before they terrorize their baby calves," Hollingsworth said.
Lawson said the vultures also prey on cows and ewes who are giving birth.
"They pretty much just start eating them alive," Lawson said. "When the cow or lamb is in the birth canal, they can't get up and get away, so they can just get mobbed."
If passed, the law would help farmers in both Kentucky and Indiana.
"You're already getting hit with the cost of lost livestock, so any little bit can help," Lawson said.
Related Stories:
Copyright 2019 WDRB Media. All Rights Reserved.