LOUISVILLE, Ky. (WDRB) -- Louisville Metro Public Works has begun fixing roads ripped apart by Google Fiber.
The company announced it would bring its ultra-fast internet to Louisville in 2017, but for many who lived on streets that briefly had access to the service it's been two years of ups and downs.
"I was probably one of the first people to sign up," Louisville resident Kristin Crinot said. "I felt like we won the lottery."
Just two years after that announcement, Louisville would become the first city the company would abandon. Google Fiber pulled the plug on Louisville on April 15.
"My stomach sunk. I was like, 'Are you kidding me?'" Crinot said. "Internet is now like electricity. It's now like water. We need that infrastructure."
The trenches the company used to lay the fiber were too shallow, and abandoning Louisville was cheaper than rebuilding the entire network.
Residents of the upper Highlands, Newburg and Portland neighborhoods were left with damage roads. Even if they weren't Google Fiber customers, they would feel the consequences of the company leaving.
The agreement between the city and Google said the company had to leave the streets in the same condition or better if the project went south.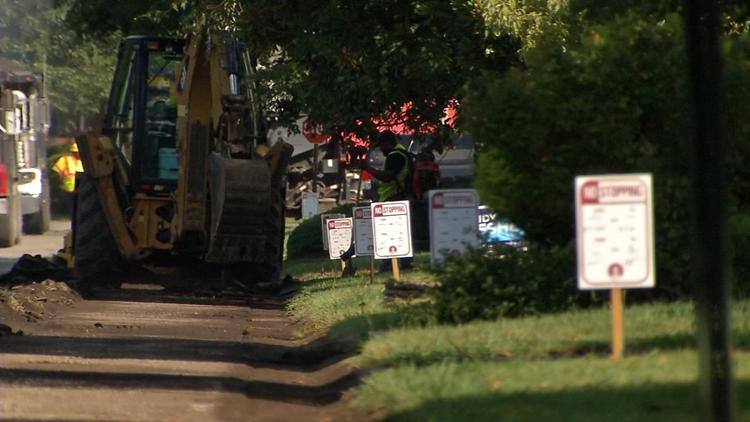 "The prenup isn't planning to get divorced, right? Crinot said. "But I'm glad that's in the contract, because I think people would be really upset if this is what we were left with,"
Google Fiber will pay $3.84 million to fix the damaged streets. The payments will be made over a course of 20 months, according to Mayor Greg Fischer's office. 
Depending on the damage, some trenches will be filled with new sealant, some trenches will be repaved, and some entire roads will be milled and repaved.
Louisville Metro Public Works categorizes the repairs into three types. 
"Type one repair will consist of removal of fiber from the roadway and crack sealing," Jessica Wethington, the deputy director of communications for the mayor's office, said in a statement. "Type two will consist of removal of fiber from the roadway and then mill and repave over the fiber trench. Type three repairs will consist of removal of fiber from the roadway and then full mill and pave of the street. If Public Works observes conditions that they feel warrant a higher level of repair, they will upgrade that repair."
The newsletter from District 8 Councilman Brandon Coan's office said:
"Google Fiber removal is generally going smoothly. However, in rare cases – such as Wellbrooke Rd – it is causing cracking above the joint where concrete gutters have previously been paved over in asphalt," Coan wrote. "As a result, such repairs will be upgraded from "Type 1" crack sealing to "Type 2" 4-foot-wide milling and paving along the edges of the roadway."
Up to 100 streets were affected in the Highlands and Newburg areas, and up to 50 streets were affected in the Portland neighborhood.
The contractor for Public Works will start around Gardiner Lane and move toward Eastern Parkway.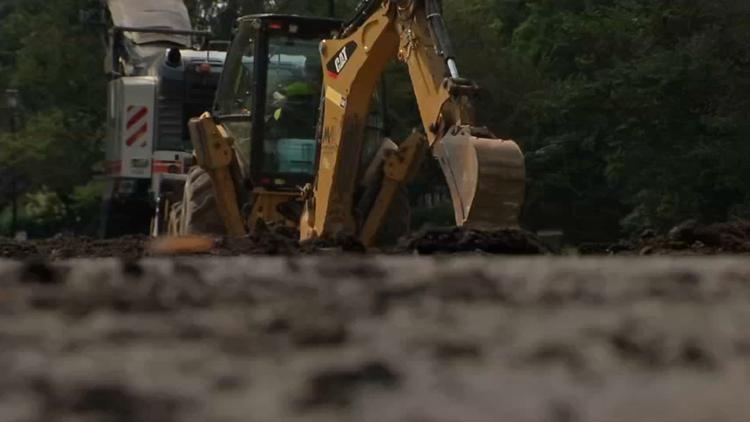 Paving is expected be completed in the next two to three months in the Highlands.
"Public Works is developing its plan for Portland," Wethington said. "There is approximately three months left in the paving season. There's a chance paving could start this fall, but it's likely to begin in early spring and is estimated to take approximately one to two months to complete."
"I'm happy that we're above where we were," Crinot said about the freshly paved roads. "But at the end of the day, but I'd rather have my internet."
Copyright 2019 WDRB Media. All Rights Reserved.