LOUISVILLE, Ky. (WDRB) -- A newly realigned intersection that opened Thursday in west Louisville should ease traffic congestion and improve safety.
The intersection at Dixie Highway, Broadway and 18th Street looks a little different today than it did in August when city leaders broke ground on the $1.1 million project to straighten it out. 
That's because it used to zig-zag, with two sets of traffic lights less than 100 feet apart.
The intersection has been known for wrecks and heavy traffic, and the city hopes the new design will make the area safer.
"This project is going to improve safety, mobility and livability along this 14-mile corridor from here out to the Gene Snyder Freeway," Fischer said during the groundbreaking in August.
"So it's part of a really big project here. Part of that improved mobility will be a TARC Bus Rapid Transit system, the first BRT that we have ever had in our city."
The realigned intersection featuring the Bus Rapid Transit stop will anchor the north end of the $50 million Dixie Highway project.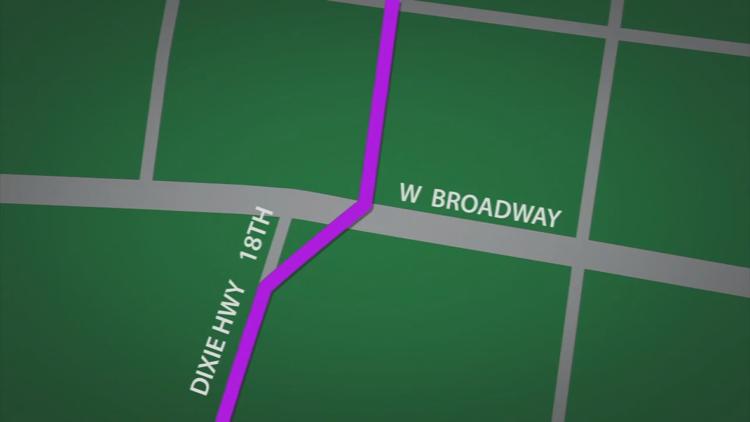 The construction is the latest in a number of west Louisville revitalization efforts including the Heritage West track and field facility at 30th and Muhammad Ali Boulevard, and the conversion of Beecher Terrace public housing to a mixed use, mixed income community. 
Construction also continues across the street, on the Passport Health Care headquarters and the new YMCA. 
.@WDRBNews Louisville Mayor Greg Fischer is surrounded by other elected officials and local ministers as they celebrate the opening of the realigned 18th and Broadway intersection. pic.twitter.com/cQ9tPgOU6E

— Stephan Johnson (@SJohnsonWDRB) January 14, 2019
Other business owners in the area say they're excited for the new intersection and hope it will attract more customers.
Mayor Fischer, along with several other city officials, officially opened the newly realigned intersection Monday afternoon.
Copyright 2019 WDRB Media. All rights reserved.