LOUISVILLE, Ky. (WDRB) -- A new "place for healing" is coming to downtown Louisville, but it's not a hospital or a clinic: It's an African American history museum.
Roots 101 African American History is coming to Museum Row at 819 W. Main St.
Visitors will enter into the museum through the hull of a slave ship. They'll travel through part of the Underground Railroad on a virtual reality tour and through four floors of historical artifacts.
The book "The Clansman" is displayed near other derogatory images and pieces of Ku Klux Klan propaganda. One poster reads "Don't be half a man, join the Klan."
Several images display entertainers dressed in blackface. Ancient African tribal statues line the perimeter of the third floor room.
Landon Collins, a collector from Louisville and the founder of the museum, said he loves the city and wants to help it, and the rest of the country, heal from its past.
"This started from my personal passion," said Collins, a Fern Creek High School graduate who played football at the University of Louisville. "I think what they should feel is the pride of the history but also the warts of the history. And you can't heal a wart, or you can't heal a scab, until you allow it to breathe."
Collins is drawing on his own experiences from the start of busing at public schools in Louisville, as well as from collectors as far as California, to help tell the story.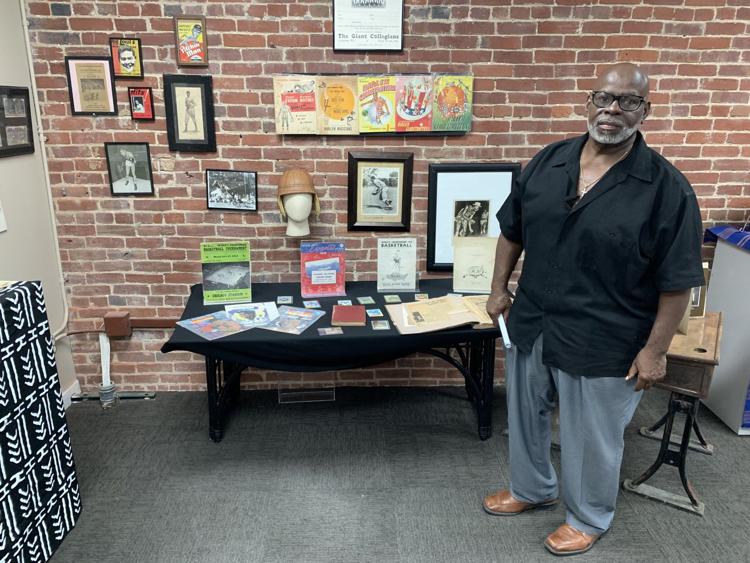 "It made me a better person by going through that experience," Collins said.
The idea started when Collins listened to a story on NPR about a man named Owen Z. He said he had 10 car loads of African American history and he was looking for a way to put it to good use.
Collins dug up the man's phone number and immediately gave him a call.
"I'm talking about my passion in Louisville, and he's talking about this passion for history," Collins said. "He starts to cry, and I start to cry, and the next thing he says 'You know, Lamont, I'll bring my history to Louisville, Kentucky.'"
The museum highlights African American artists, athletes and musicians, but some of Collin's favorite artifacts might surprise you.
"My favorite artifacts are really derogatory images," he said. "And people ask me, 'Why derogatory images?' And I think back to when I grew up. I had to look at derogatory images and find the positivity in those images. What I mean is that if I look at a [bottle] of Aunt Jemima Syrup, I had to understand the reason Aunt Jemima was on the syrup was because the quality of black food was so good. But I also had to know she didn't own the company that her face was on. It made me think of the economics of racism. It made me think about also the potential to be better."
Collins said Roots 101 isn't about racism. It's about understanding the African American journey, importance of working together and creating a better America. 
Roots 101 is scheduled to open in time for Black History month in February 2020. The museum is in its final phase of fundraising with a goal to reach another $100,000. There is a "friendraiser" on Sept. 19 at 5:30 p.m. the museum. Visitors can tour the exhibits and watch a play called "Musa and the Slave Ship."
Click here for a link to the GoFundMe page.
Copyright 2019 WDRB Media. All Rights Reserved.