LOUISVILLE, Ky. (WDRB) — A Jefferson County Public Schools teacher's assistant runs her own mentorship program outside of school to keep kids out of trouble. She's taking students to a national event this weekend with the community's help, hoping music can lead to a bright future.
Aprile Hearn is from Louisville's west end. "You hear sirens all day. You see kids jumping out of cars that they've stolen that are abandoned," Hearn said.
She's used to having kids at her home. "I'd rather have my kids have company than go to somebody else's house. So, I've always had that open door," she said.
Sometimes, kids are from off the street. "A lot of times, that's all they really want, is someone to approach them," she said.
You could say she's on neighborhood watch. "I work at Shawnee High School, but I also live in the area, and so I see them after hours. A lot of times when I'm looking around, they're just bored. They do things because they don't have anything else to do," Hearn said.
When she's not working at the school, she's running a mentorship program.
"They trust me with their issues and their problems. I'm tired of seeing them die. I'm tired of seeing them locked up and going to jail," she said.
"She's doing a lot good for the community, and it's going to make a big impact one day," says Cobey Reed, Hearn's son.
After talking with a troubled student, she decided this year she's going to plan a trip to Atlanta to take kids to the HBCU battle of the bands. It's not because they play a musical instrument. Her goal is to keep them out of trouble and take a college path.
"I want to be an entrepreneur, multiple businesses, I want to move to Atlanta," says Santana Mack, sophomore.
"I just had this urgency to involve as many kids as I could on this trip, and I knew I couldn't afford it, but I just believed that it could happen if I tried," Hearn said.
That's when a Go Fund Me account came in. It was slow to get donations, but sure enough, it worked. "I really appreciate the community pulling like they have for us, sharing the Go Fund Me page," she said.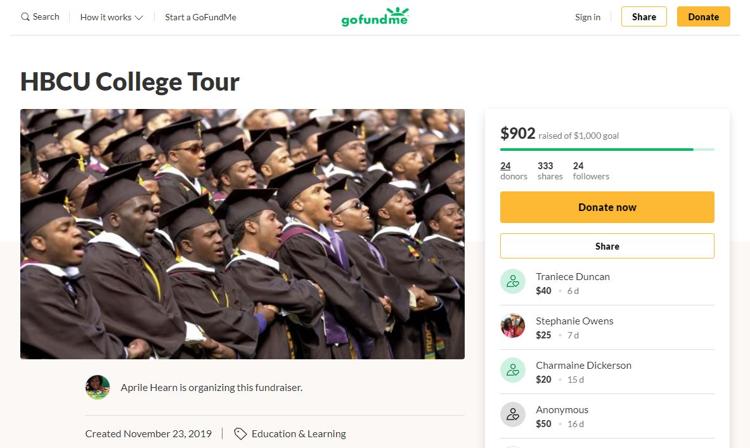 The trip became a reality Friday, when they left on their journey that was made possible by Hearn and strangers. If Hearn has it her way, it could end with a new future for students.
Hearn hoped to raise $1,000 for travel expenses. Click here to still help.
Copyright 2020. WDRB News. All rights reserved.