LOUISVILLE, Ky. (WDRB) -- With the help of social media, a Louisville woman was able to find the good Samaritan who helped save her when she had a seizure while out doing some shopping.
While in the ICU, Missi Berger wondered how she got there. She remembers going shopping on July 13 at a PetSmart on the Outer Loop, parking near the handicapped spots near the front of the store, but she doesn't remember leaving.
"The next thing I know, I woke up in the hospital," Berger said. "I had a seizure, so that was due to my Epilepsy."
She took to Facebook to try to find her angel, a nurse who performed CPR on her for nine minutes, saving her life. Her Facebook post was shared more than 3,000 times, leading her to Sarah Rudy, a clinical nurse manager at U of L Hospital.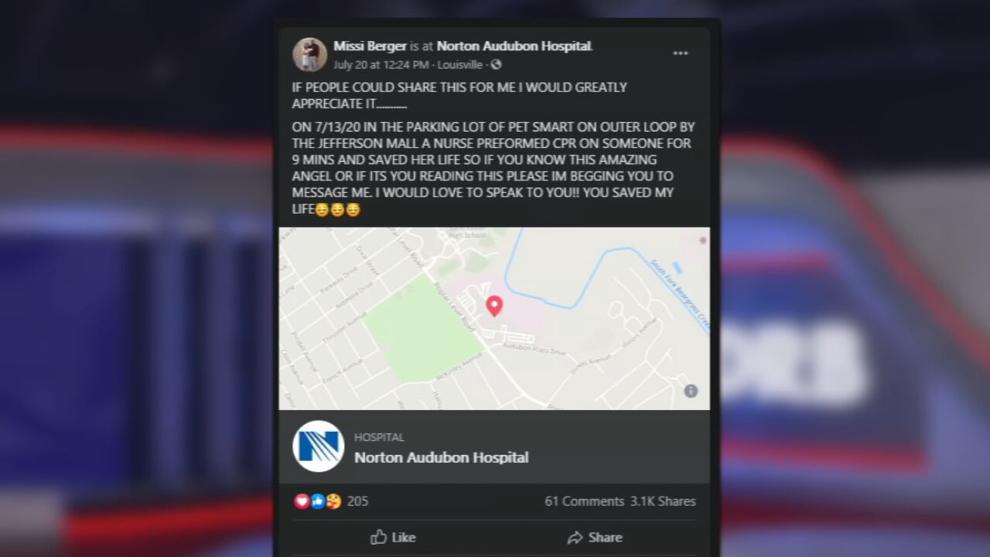 When Rudy passed Berger, who was head down in her car with the door half open, she knew something was wrong.
"I checked her pulse again and she didn't have one, and I pulled her out of the car and placed her on the ground and checked her pulse again, and she still didn't have one, so I started doing chest compressions," Rudy said.
She and her husband helped Berger as people started gathering around.
"People standing around just praying for her and for me and it was very motivating. I've been a nurse since 2012. I feel like I went straight into nurse mode," Rudy said.
First responders then arrived to help Berger and take her to the hospital. Rudy said her husband got Berger's name from her credit card and gave that name to emergency officials. But later, because of all of the adrenaline, forgot her name.
Rudy said she and her husband waited at the scene for a bit and talked to fire crews.
"Nobody asked for my name," she said. "So I just prayed and hoped that she's alive and she gets the help she needs."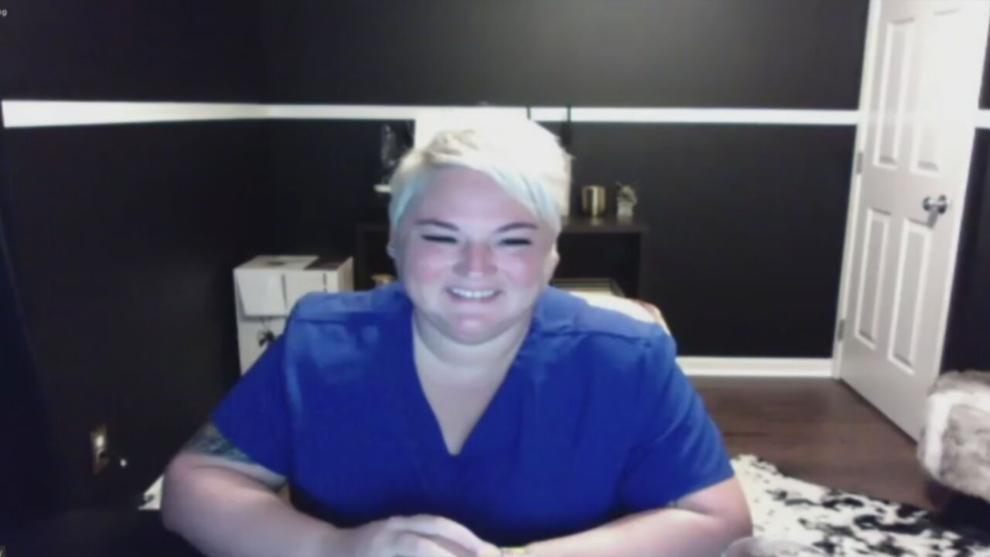 The couple tried to get Berger's name again later, but didn't know where to start.
Rudy said a trip she had planned was canceled, and because of that, she was at the pet store to pick up her dogs.
"I think was there for a reason. I think I was there for Missi, and I'm glad I was," she said.
Berger agreed, and said she was "very thankful" for Rudy.
"I think you was too," she said. "I just wanted to get a hold of you, to find out who you was, to tell you how grateful I am. Thank you for giving me my life and and a second chance." Berger is a grandmother and says she has so much to live for.
While they're seeing each other virtually now, they plan to meet in-person eventually.
"I appreciate you and your husband whole-heartedly and I'm glad I found you," Berger said. "There is something I'd like to give her and her husband, just a little thank you from me for saving my life, just something from me and my children. You're my angel."
Copyright 2020 WDRB Media. All Rights Reserved.