NEW ALBANY, Ind. (WDRB) -- Students at Christian Academy of Indiana return to the classrooms in just a few weeks.
When school starts, students will have their temperatures checked before exiting the car. Once inside the building, masks aren't mandatory, but they're strongly encouraged.
Jodi Bibb, who has two sons in the school, said she and her husband aren't worried.
"We are very ready," she said. "We have a lot of faith in this school and trust. We know the situation with COVID has been a challenge for our family, because my husband and I both work. So, we're both working from home. Having the boys there while we are working is challenging."
Monical Allison, elementary principal at Christian Academy, said they've spent the last several weeks preparing to educate students in a post COVID-19 world.
"We're excited to have everyone back in the building as well," Allison said. "We have our plan in place. We communicated that with our families a week ago."
In addition to checking temperatures, the plan includes sanitizing stations and signs throughout the building, and there will be a lot of ongoing education about staying safe and healthy.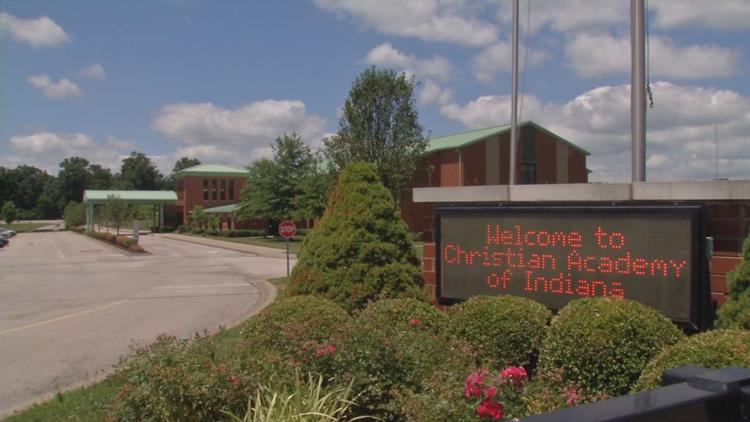 Linda Driver, a school nurse, said there's a plan to practice social distancing with more than 800 students in the building.
"When I say we're going to promote, practice and educate, I mean that to staff, and I mean that for students," she said. "We've had to get very creative with some of the things we've done here. We're moving all of our big classes to the auditorium and to other large rooms so that we can social distance ... We are also going to do a lot of classes outside as much as possible."
With so many students, Driver will also reply on help from teachers.
"They've already been very involved with trying to help me with minor illnesses in the classroom, anyway," she said. So one of the things I'll be teaching them next Thursday is all our new policies and procedures related to the COVID-19 crisis that we're in."
School officials feel confident in the plan, but if there's a significant spike in COVID-19 cases, there's also a plan B.
"Our staff knows that if we need to return to non traditional instruction, they are ready to flip that switch, so to speak," Allison said.
But parents like Bibb hope that won't happen.
"I know they're much more capable of teaching my children than I am, but I'm glad we have a backup plan if we need it," Bibb said.
Copyright 2020 WDRB Media. All Rights Reserved.