LOUISVILLE, Ky. (WDRB) -- The old, abandoned Cardinal Stadium has been an eyesore on the north side of the Kentucky Exposition Center for years. Now, the state is asking private developers for ideas on tearing it down and building something new.
Thousands of people pass by the abandoned structure on I-65 every day.
"We've got a bad look over there, so we need to upgrade it, dress it up, clean it up," said Dr. Mark Lynn, chairman of the Kentucky State Fair Board.
The stadium was once the home of University of Louisville football. Now, it sits crumbling and condemned.
"One way or another, Cardinal Stadium has to come down. It's an embarrassment," said Don Parkinson, interim president and CEO of Kentucky Venues, the state agency that operates the Expo Center.
Kentucky Venues has wanted to tear down the stadium but the cost has been prohibitive, estimated to be at least $4 million.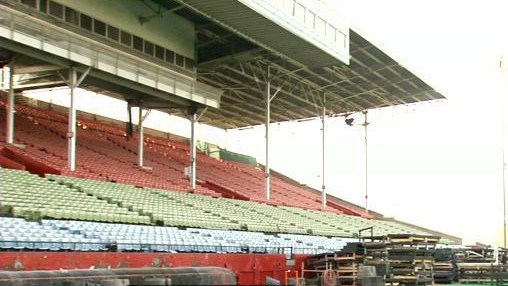 But this week, the state issued an RFI, or request for information, to more than 500 companies. It wants their ideas for developing this space.
"We want other people to come and tell us what they would do with this property. It is a huge opportunity," Parkinson said.
The problem is not just Cardinal Stadium. The Expo Center has more than 100 undeveloped acres, including an abandoned state office building and a space now used primarily for storage.
"We've got all the acreage around here you could possibly use, and we're really not doing anything with it," Lynn said.
The ideas are to be submitted by mid-June. Then begins the process of selecting a developer to partner with the state and build in exchange for tax breaks.
"We're looking at hotels, we're looking at sports opportunities," said Parkinson. "It's great land at a great location."
The Expo Center, known for more than one million square feet of indoor space, is now actively looking to upgrade the outdoor space, and add additional sources of revenue.
"I feel like a 4-year-old at Christmas time," Lynn said.
If all goes well, a plan could be in place by the end of this year.
Copyright 2018 WDRB Media. All rights reserved.