LOUISVILLE, Ky. (WDRB) – The expanded Kentucky International Convention Center is scheduled to open next month, capping a nearly two-year makeover that has modernized the downtown building in a bid to bring new meetings and trade shows to Louisville.
But even before the reopening, the new-look complex has changed its corner of downtown near Fourth and Jefferson streets. Soaring columns and walls of glass panels have replaced the brick-and-concrete western side that dated from the late 1970s.
Subsidized by $56 million in state-backed bonds and $151 million in bonds that rely on local hotel room taxes, the $207 million project is meant to put Louisville in the running for events that need large amounts of space within walking distance of hotel rooms.
"Louisville for the first time in a very long time can say, 'You know, we've got the product.' We've got the hotels. We've got the convention center," said Karen Williams, president and CEO of Louisville Tourism, formerly the city's convention and visitors bureau. "We've got the tourism package and we can be selective."
"It really upped our game, if you will, and we know that the future is very bright because of the trend of room nights we've booked," she said.
It's those "room nights," or the total number of nights that organizations and other groups reserve in local hotels, that help measure the health of a city's convention business. And in Louisville, Williams and other officials are quick to note that more than 300,000 room nights already have been booked through 2021 for events at the convention center.
Still, Louisville is spending big money to expand its convention center at a time when dozens of other cities, including competitor metro areas like Columbus, Ohio, and Memphis, are doing or have done the same – all to compete for a pool of business that hasn't returned to pre-Great Recession levels.
Louisville officials say the rebuilt center puts the city in a different league, but there is no guarantee that the extra business needed to pay for the project will materialize. Thus far, Williams said, Louisville Tourism has easily made the required bond payments.
And while the new facility may help lure groups to town, she said Louisville's bourbon and restaurant scene are the types of attractions that may help distinguish the city from peers with similar facilities.
"They're not buying Louisville because it's a brand-new convention center. They're here because we have a brand-new convention center. … It's your city, it's your entire package," she said.
During the first full year of the expanded center in 2019, more than 104,000 people are expected to attend 30 conventions there, according to Louisville Tourism data. Those events account for an estimated 144,000 room nights – the most since 2010 – but still below the levels of the late 2000s.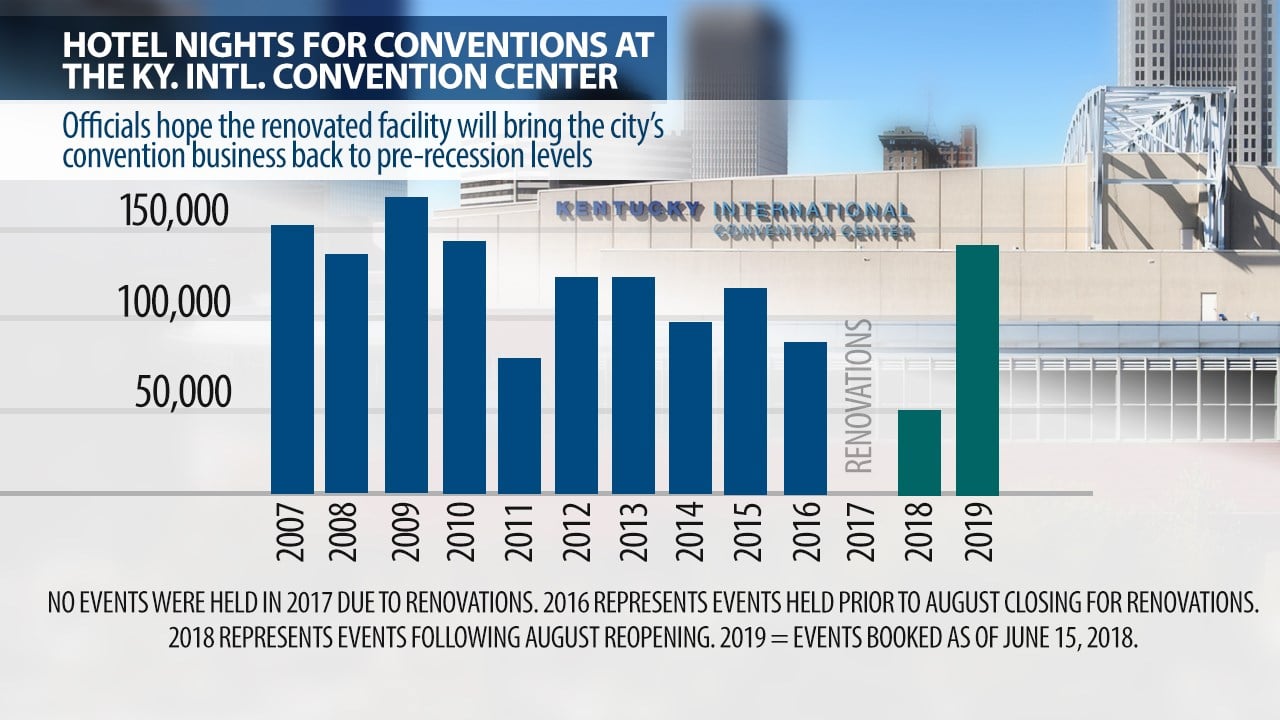 Plans call for the expanded center to have more than 200,000 square feet of exhibit hall space located on the same floor, 52 meeting rooms and a 40,000 square-foot ballroom. Tourism officials say those upgrades will let Louisville vie for 25 percent more convention business.
"It puts us in a place to compete with Nashville, with Indy, with Cincinnati in terms of really bringing those large trade shows to town and large conventions," said Stacey Church, the convention center's general manager.
Thus far, she said, there are 96 events scheduled for the convention center and contracts for 24 other groups that have been negotiated but not formally signed.
"Our pipeline looks good. I feel like we're on target to meet our first-year budget," she said. "So, I'm happy with where we are today."
'Highly competitive industry'
Louisville is hardly alone in expanding aging convention centers or building new ones. As of March, construction was underway on 25 facilities in North America, while 35 proposed projects were under consideration, according to Trade Show Executive magazine, an industry publication.
The convention industry still hasn't fully recovered from the recession triggered by the financial crisis of the late 2000s, said Cathy Breden, executive vice president and chief operating officer of the International Association of Exhibitions and Events.
But revenue, attendance and space rented were up during the first three months of the year, signaling that the industry is "very healthy," she said.
In Columbus, Ohio, crews completed a $140 million renovation to the city's downtown convention center last summer, expanding the building's total square footage and installing features like public art and a garden, said Don Brown, executive director of the Franklin County Convention Facilities Authority.
Brown credits the renovations with allowing convention officials to keep existing meetings while pursuing larger gatherings that demand more space. 
"It is a highly competitive industry we're in, and we're part of the same competitive set," he said. "We view Louisville as a strong competitor," along with other cities in the Midwest.
Authorities in other cities Louisville leaders view as peers – such as Memphis, Cincinnati, Charlotte, Oklahoma City and St. Louis -- also are undertaking or planning renovations, expansions or new centers.
Elsewhere in Kentucky, the Lexington Center Corp. board of directors voted last week to award a $241 million contract to renovate its downtown convention center and Rupp Arena by 2021. Northern Kentucky officials also are planning an upgrade to a convention center in Covington.
In all, industry data shows, more than 3.6 million square feet of exhibit and meeting space are being built or planned in North America.
"What we've seen over the last decade or two is an enormous increase in the supply of convention center space," said Heywood Sanders, a professor at the University of Texas at San Antonio's College of Public Policy.
Sanders, who has scrutinized publicly-funded convention centers, said his research shows that convention attendance grew about 7 percent in the U.S. from 2000 to 2017, while the amount of exhibit hall space increased by roughly 37 percent over that same time.
He said attendance at the nation's largest venues -- in Chicago, Orlando, Las Vegas and Atlanta – has been essentially flat over the past two decades. Meanwhile, he added, people are attending more regional conferences, but at lower levels. 
"It's essentially become a zero-sum business that if any one place succeeds in seeing more business, it's at the expense of another – and often at the serious expense of another," he said.
Louisville officials are confident they can succeed.
Williams, the convention bureau leader, said she "absolutely" expects the number of hotel room nights connected to the convention center will return to levels of the late 2000s. She noted that besides the 143,860 nights that have been booked, an extra 58,500 nights are possible next year if other events considering Louisville come to town.
For 2019, Louisville Tourism anticipates the 30 conventions booked will generate an economic impact of $96 million. That's more than in 2016, when 27 conventions produced an estimated $60 million impact.
Williams said the difference in economic impact is a result of landing big-spending groups, such as trade shows and meetings of professional organizations, that are now interested in Louisville.
"The groups that we're bringing in are used to booking in first-tier cities," Williams said. "We're now considered in that category."
Groups booking the center
The first meeting in the remodeled convention center is scheduled for August 8, when the University Bible Fellowship brings an estimated 4,000 people to downtown. Fifteen other conventions are scheduled for the rest of the year.
Among them is Equestricon, a horse racing industry fan festival held the same week as the 2018 Breeders' Cup at Churchill Downs in late October.
"We saw the renderings, we saw what that main exhibit hall looks like when the lights are on and we said: 'This is show time.' This is exactly where we want to be," co-founder Dan Tordjman said.
Also choosing Louisville for the first time is the American Association of Bovine Practitioners, a 5,000-member group scheduled to hold its annual convention at the new center in September 2019.
The rebuilt convention center was appealing, especially the floor plans allowing attendees to move easily from exhibit spaces to dining areas, said Dr. K. Fred Gingrich II, the association's executive vice president.
"With a group like us we need space that can hold 1,000 people and then some spaces that can hold 30 to 100," he said. "So a lot of flexibility helps too."
The opening of the downtown Omni Hotel this spring added more than 600 hotel rooms to the city's overall inventory, including about 2,900 connected to or a short walk from the convention center.
The Omni  delayed its opening to March of this year to coincide with the convention center work wrapping up, said Scott Stuckey, the hotel's general manager. Besides aiming to fill rooms with convention attendees, the Omni is hoping to attract people to its Falls City Market.
"The idea there is that we can get people from over at the convention center, give them another alternative to eat," he said. "And so obviously we've been staffing up and getting ready for that to open."
At the nearby Downtown Marriott, the convention center is expected to help the hotel see double-digit increases in room nights over the next six years, general manager David Greene said.
The Marriott spent $35 million renovating its downtown hotel near the convention center ahead of this summer's reopening, refurbishing all of its 600-plus rooms and adding four new ones, Greene said.
"We realized that with the displacement in the city, with the convention center down, now was the time to do the renovation – rather than waiting three, four, five years and then doing it," he said.
Reach reporter Marcus Green at 502-585-0825, mgreen@wdrb.com, on Twitter or on Facebook. Copyright 2018 WDRB Media. All rights reserved.