LOUISVILLE, Ky. (WDRB) -- When you're out grocery shopping on Saturday, Kentucky's governor hopes you pick up something extra for those in need.
Gov. Matt Bevin and First Lady Glenna Bevin kicked off the tenth annual Shop and Share event Thursday morning at the Stony Brook Kroger. It's a one-day fundraiser that provides domestic violence shelters with much-needed supplies.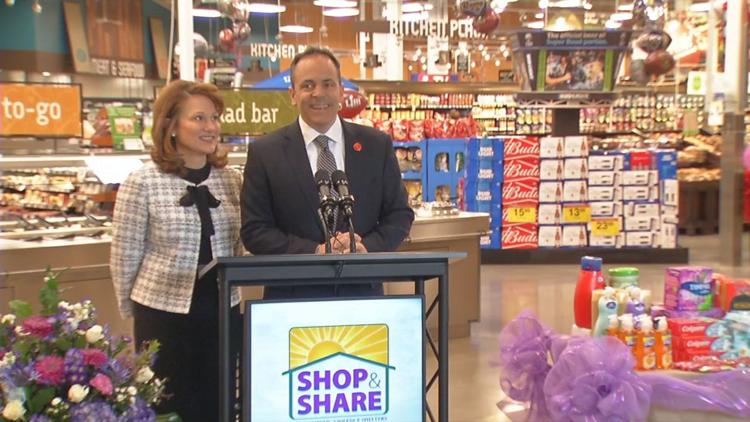 Shoppers are asked to share an item for the shelters.
"This is something that changes the financial trajectory of these various shelters," Gov. Bevin said. "There are more than 15 of these abuse shelters around Kentucky that are the beneficiaries of the goods that are deposited. And those 15 different shelters minister to more than 4,500 individuals every year."
Last year's Shop and Save raised a record amount: more than $585,000 worth of goods.
All Kroger stores in Kentucky are taking part, as well as Food City, Super Dollar and some IGA and Save A Lot stores.
Copyright 2019 by WDRB Media. All rights reserved.