TAYLORSVILLE, Ky. (WDRB) -- A jar of money stolen from a Taylorsville gas station is slowing down a teenager's chances of getting the therapy dog she needs.
Keiera Androit, 15, has epilepsy and is in need of a seizure dog that would be by her side nearly 24 hours a day. The dog would protect her, alert others to when she has a seizure and eventually detect one before it starts. Keiera's mother, Anna Lawson, put several donation jars at local businesses to try and raise money for the dog.
But last Tuesday, a man walked into the BP on Taylorsville Road, and after nervously looking around, grabbed the jar and put it under his jacket while paying for his items.
The entire thing was caught on surveillance camera and posted to Facebook. It has already received nearly 1,000 shares.
"We weren't happy about it at all. It was pretty low," Lawson said. "The community is outraged. They are very upset and want to see him arrested."
The family knows who the man is but are waiting for that arrest and charges from the prosecutor.
The dog would be life-changing for Keiera, who just wants to do all the things 15-year-olds usually experiences. But she can't.
"My parents don't want me to drive because of the seizures, but I want to be able to go places and do things like other people," Andriot said.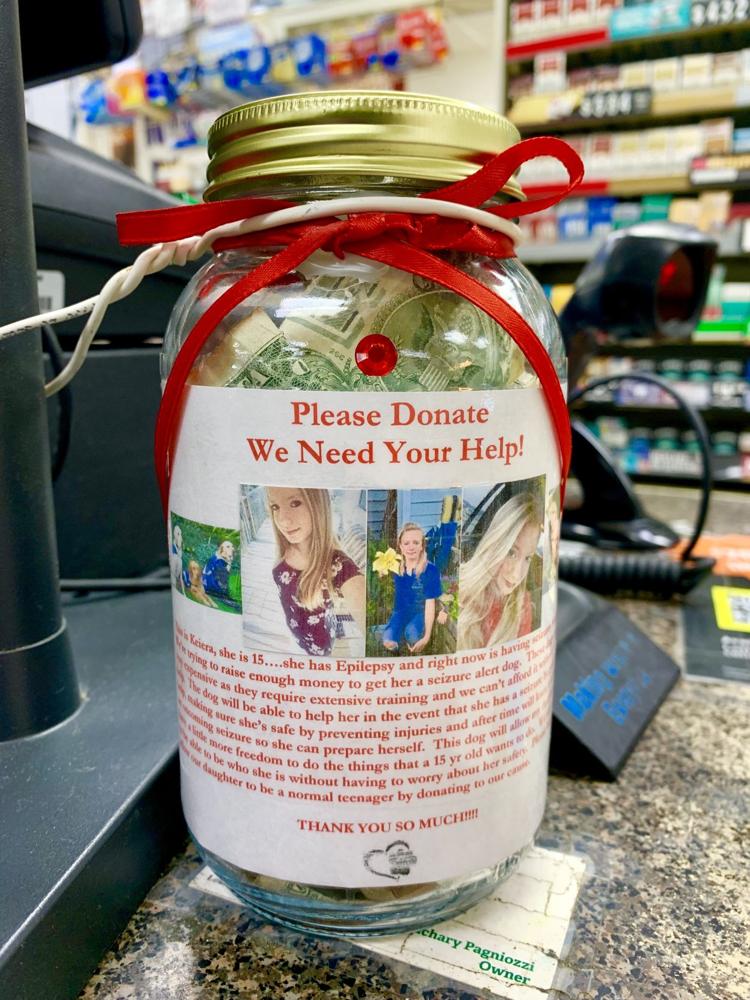 The family said the jar probably only had about $50 inside, but that's still $50 closer to their goal of getting the dog that could drastically increase the teen's quality of life and possible save it.
"For him to steal that, it was just terrible," Andriot said. "He didn't just steal. He stole from the community, you know? Because it was their money that was in that jar. I feel like he owes my daughter and the community an apology."
To donate to Keiera, click here.
Copyright 2019 WDRB Media. All Rights Reserved.