LOUISVILLE, Ky. (WDRB) -- An Illinois packing company is recalling thousands of pounds of raw ground beef because of concerns it could be tainted with E. coli 0103. 
The U.S. Department of Agriculture's Food and Safety Inspection Service announced the recall of 53,000 pounds of ground beef Wednesday. According to the notice, the raw ground beef was produced by Grant Park Packing out of Franklin Park, Illinois on Oct. 30-31, 2018, and Nov. 1, 2018. It was shipped to Minnesota to be distributed in Kentucky "for institutional use" only. 
The following products are under recall: 
40-lb. bulk cardboard boxes of "North Star Imports & Sales, LLC. 100% GROUND BEEF BULK 80% LEAN/ 20% FAT" marked "FOR INSTITUTIONAL USE ONLY" with lot code GP.1051.18 and pack dates 10/30/2018, 10/31/2018, and 11/01/2018. The packaging bears establishment number "EST. 21781" inside the USDA mark of inspection.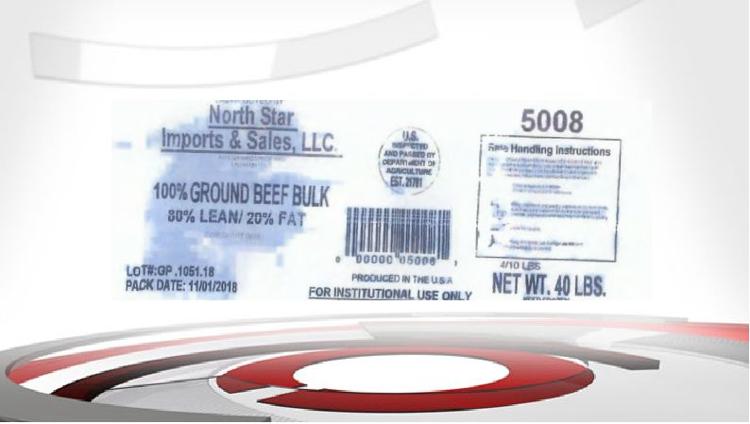 According to the release, some unopened packages of the recalled ground beef collected as part of the ongoing investigation tested positive for E. coli O103 at an FSIS laboratory.
Although FSIS officials say the sample was collected from a place where several patients had eaten, there is so far "no definitive link between the positive product and the ongoing E. coli outbreak."
Additional product may be recalled based on the results of ongoing testing to determine if the recalled ground beef products are related to the E. coli outbreak. 
The recall comes as officials from FSIS, the Centers for Disease Control and Prevention (CDC), the Kentucky Department for Public Health, and other  agencies investigate an outbreak of E. coli in Kentucky and several other states. 
As of April 23, 2019, the CDC was tracking 156 illnesses related to the outbreak in 10 states, including 65 cases in Kentucky, and one in Indiana. Click here for the CDC's map of states affected by the outbreak so far. 
State health officials in Kentucky announced the outbreak on March 29.
According to the CDC's website, people can get sick from Shiga toxin-producing E. coli an average of three to four days after eating contaminated food. Symptoms include diarrhea (often bloody), severe stomach cramps, and vomiting.
The CDC says most people recover within a week, but some illnesses can last longer and be more severe.
Anyone with questions about the recall can contact Grant Park Packing at (312) 421-4096.
Copyright 2019 WDRB Media. All rights reserved.