LOUISVILLE, Ky. (WDRB) -- The University of Louisville wants former basketball coach Rick Pitino's latest request in his lawsuit against the school over his firing shut down.
Attorneys for U of L have filed a motion asking a judge to deny Pitino's request to explore university trustee David Grissom's claim that another trustee was the cash source for payments to strippers for the Cardinals' basketball players and recruits in a campus dorm.
Attorneys for UofL have filed a motion asking a judge to deny Rick Pitino's request to depose and gather information about David Grissom's claim that a university trustee was the "cash source" for payments to strippers who danced for and had sex with UofL basketball players pic.twitter.com/H0BptlvRkn

— Jason Riley (@JasonRileyWDRB) September 4, 2019
Grissom, who was chairman of the board when the university fired Pitino and athletics director Tom Jurich in 2017 after getting caught up in the national pay-for-play basketball recruiting scandal, made the claim during a deposition earlier this summer. Under oath, he said the millions of dollars former U of L President James Ramsey and his chief of staff Kathleen Smith were paid by the nonprofit U of L Foundation was "tantamount to fraud and embezzlement."
The school says, however, that the rumor of a trustee being the source isn't new, and has already been investigated and that no evidence was ever found to support the claim.
"Pitino's implication that former University Chairman of the Board of Trustees David Grissom's conduct was perjurous is not only highly inappropriate, but his demand to 'examine Grissom's conduct' is misplaced and irrelevant to this case," the motion says. "Grissom is not on trial here."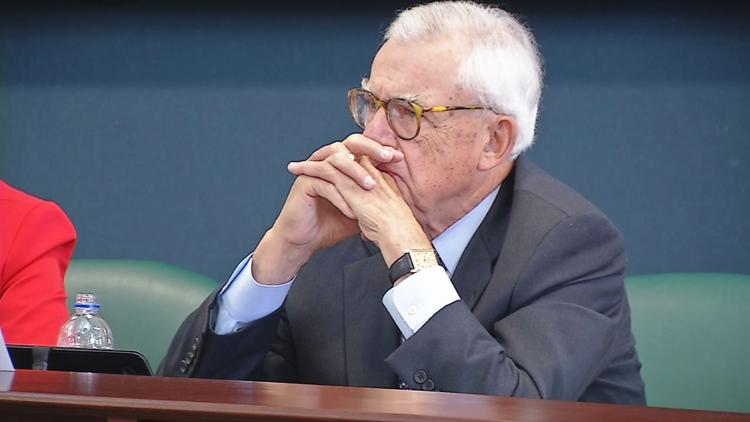 In a motion filed Aug. 14, Pitino's attorney, Steve Pence, argues that Grissom's statement "demands further exploration" because the trustee cited Ramsey as a source during a time in which the NCAA was investigating the university and the University of Louisville Athletic Association was considering whether to fire Pitino for his alleged role in it. Because of the timing of the alleged comment from Ramsey, Pence argues Grissom:
failed to inform the U of L Board of Trustees about Dr. Ramsey's alleged statement.
failed to inform the NCAA, or its investigative tribunals, about the allegation.
failed to notify U of L's compliance staff about the allegation.
failed to have ULAA disclose the information in this lawsuit.
took no action to learn the truth of the alleged statement.
Because "Grissom appears to have merely repeated an assertion," however, the university believes Pitino's motion should be denied. 
Related stories: 
Copyright 2019 WDRB Media. All Rights Reserved.