LOUISVILLE, Ky. (WDRB) -- The moves Malcom McIntyre made at Frazier Rehab Institute Monday were remarkable.
The 5-year-old swung his arms and took steps with some help — something that wasn't always guaranteed.
"Malcolm had a spinal cord tumor," his mom, Kalyn McIntyre, explained.
It was discovered when he was just 14 months old. Doctors called it massive, and going under the knife was a must.
"They did the surgery, resected the tumor, it was a complete success, but then he came out paralyzed from it," Kalyn recounted.
A wheelchair is now part of his daily life. It's never taken away his smile, but there were hard truths for his family to accept.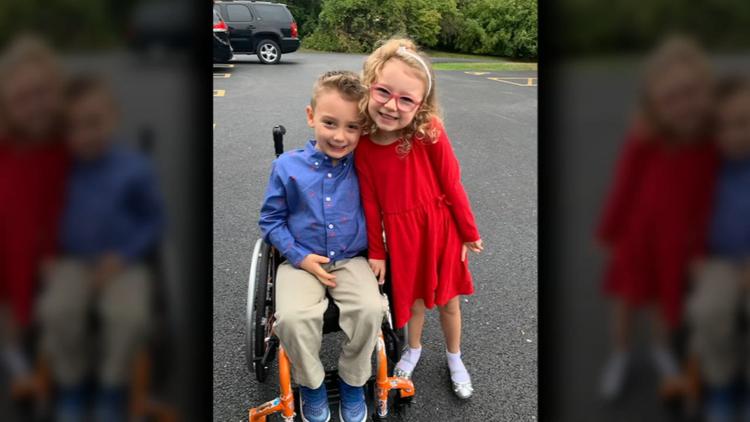 "Until recently, the expectation is that children with these injuries do not get better," Dr. Andrea Behram, with Kentucky Spinal Cord Injury Research Center and the University of Louisville, said.
That's not the case anymore. The therapists and staff at Frazier Rehab are making a real impact.
"He's just made dramatic gains here," Kalyn said.
So much so the Maryland boy and his family moved to Louisville for a year. Helping in the effort to get Malcom back on his feet is a new treadmill system designed specifically for kids by U of L faculty and staff that was unveiled Monday.
The system will make therapy for kids more comfortable, and allow trainers to get closer.
"The more function he gets, the better off he's going to be health wise," Kayln McIntyre explained.
Before Frazier, Malcom had pneumonia and trouble clearing his cough. But since he's been there, he hasn't been sick.
Keeping him healthy is the first priority, but Kalyn can't help but wonder about the possiblity of life without a wheelchair.
"Honestly with the way things are going, and the research, even at Fraizer especially, it might happen," she said.
Either way, she'll stand behind her brave, happy boy every step along the way.
"He's amazing," Kalyn said. "I couldn't be more proud."
Copyright 2019 WDRB Media. All Rights Reserved.