LOUISVILLE, Ky. (WDRB) -- Two co-workers at Louisville's Ford Truck Plant have formed an unlikely friendship that's inspiring people to put their differences aside and be kind to others. 
Juanita Turpin and Zach Wilson have both worked at the plant a little more than three years. Despite that time together, they've never gotten past a first-name basis or a simple wave when they saw each other. 
"We couldn't be more different," Wilson said 
From politics to sports to hometowns, it didn't seem like these two had much to bond over. 
"He's a UK fan. I'm a U of L fan," Turpin said. 
"She grew up in the west end of Louisville, and I grew up in a little bitty town called Borden in Indiana," Wilson added. 
But all those differences were set aside Saturday when Wilson noticed Turpin was having a bad day at work. 
"My son DJ was murdered a year and a half ago, and the holidays are particularly tough," Turpin said. "I have tough days just about every day, but that particular day, I couldn't even smile. So I wasn't myself, and Zach picked up on it."
When Wilson asked her why she was upset, Turpin didn't hold back and told him the story about her son. 
Wilson, a father himself, was heartbroken by what he heard. The two went back to work, but within 30 minutes or so, he was back, asking Turpin if he could pray with her. 
"Tears were flowing from me," Turpin said. "I felt God's presence through him."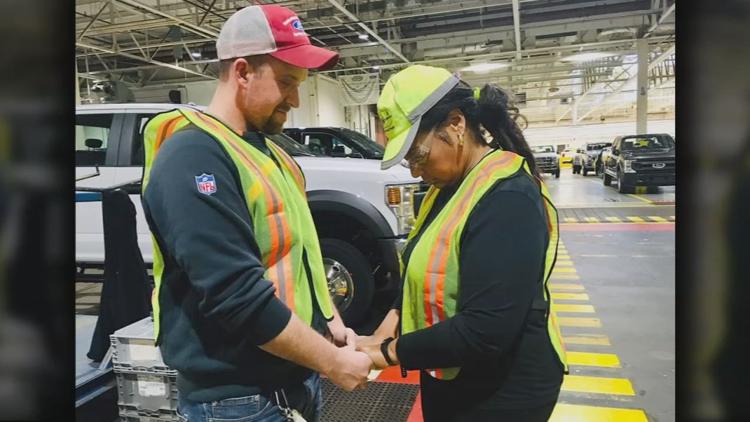 They had a fellow co-worker snap a picture of them praying together at work, and Turpin made a post about it on her Facebook page. Since then, the post has taken off with more than 26,000 interactions and 12,000 shares. 
"I had no idea it was going to be THIS big," Turpin said. "I was just thinking if we could just get people to treat each other with decency and compassion."
The two strangers now share an unlikely friendship, but it's a simple reminder to reach out to others and be kind to everyone. They say this is just the beginning of a life-long bond between the two. 
"I've got a new friend for life," Turpin said.
"Despite what may look like differences on the surface, we're not that different at all," Wilson added. 
Copyright 2018 WDRB Media. All Rights Reserved.