LOUISVILLE, Ky. (WDRB) -- A Navy veteran diagnosed with a rare medical condition is sharing her story, hoping to inspire others. 
In October 2017, 26-year-old Arlena Johnson was in the Navy, stationed at the Pentagon. She was going to school full-time, active in her sorority and was constantly on the go. 
"My friends and family were like, 'you need to sit down,'" Johnson said. 
She started noticed a tingling in her thighs and fingers. She began losing weight and eventually became so weak she couldn't feel anything from her neck down. 
Johnson was admitted to Walter Reed Military Hospital in November 2017 and diagnosed with neuromyelitis optica, or NMO. It's a rare condition affecting the spinal cord and the nerves of the eyes.
Johnson came back home to Louisville for treatment at Frazier Rehab and U of L Hospital's Multiple Sclerosis Clinic. At one point, she could only move one arm.
"Her case was exceptionally severe and getting worse and worse despite treatments," said Dr. David Robertson, a neurologist and director of the University of Louisville Multiple Sclerosis Clinic.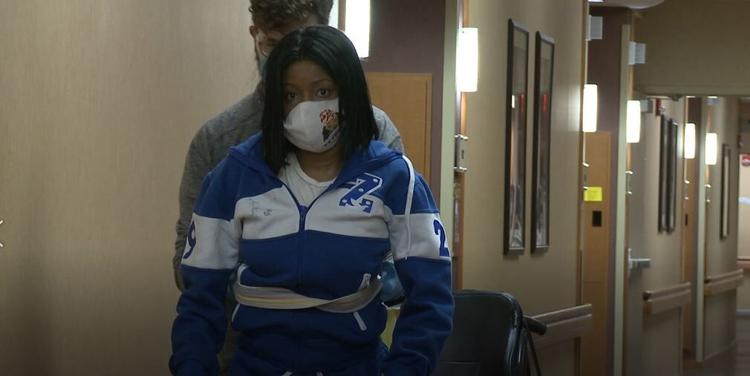 Robertson said there is still a lot to learn about NMO. He said there is no known cause and no known way to reduce risk. 
Johnson said at one point, she was less than 100 pounds and in constant pain but never gave up and continued trying different treatments including chemotherapy. 
"Every nurse, every caregiver, every doctor I'm so grateful for, because God really did bless me," Johnson said. 
She also credits her experience in the Navy for giving her strength. She has since been medically discharged and completed her degree online while in the hospital. 
Today, Johnson continues her therapy at Frazier Rehab and is walking with assistance and exercising. 
"It's blown my mind watching her recover," Robertson said, adding that it's something he struggles to explain with science. 
For anyone diagnosed with NMO and beginning their journey to recovery, Johnson said:
"My message is it is a marathon not a sprint. Take your time. Find things that make you happy."
Copyright 2020 WDRB Media. All Rights Reserved.