LOUISVILLE, Ky. (WDRB) -- When Vince Tyra officially assumed athletic director at the University of Louisville duties in early 2018, he knew what the Cardinals were capable of despite years of disarray in the department.
In 2015, Katina Powell's book "Breaking Cardinal Rules" was published, which accused the men's basketball program of paying "escorts" to attend parties for current players and recruits inside the players' dorm.
That led to a self-imposed postseason ban that snowballed into what seemed like U of L's demise, as the 2013 National Championship banner was stripped, wins were vacated and players stats removed. Shortly after, head coach Rick Pitino and athletics director Tom Jurich were fired.
"I think it was hurtful for a lot of folks, and it was for me too," Tyra said, noting that he was just a fan at the time.
Several months later, Tyra took the reigns and knew it was time to get to work.
"I know Louisville. I grew up in this brand, this community," Tyra said. "I know it well. I know what we like. I know who we are and the type of people we want around. I know the type of success we can have at this program.
"My belief in that is that it would happen quickly, and it can be turned around quickly. I think our approach has worked well."
Fast forward to the first full week of December, and Tyra's vision for what athletics should look like came full circle. On Monday, the men's basketball team topped the rankings as the No. 1 ranking int he AP Poll. On Tuesday, they knocked off No. 4 Michigan in the KFC Yum! Center.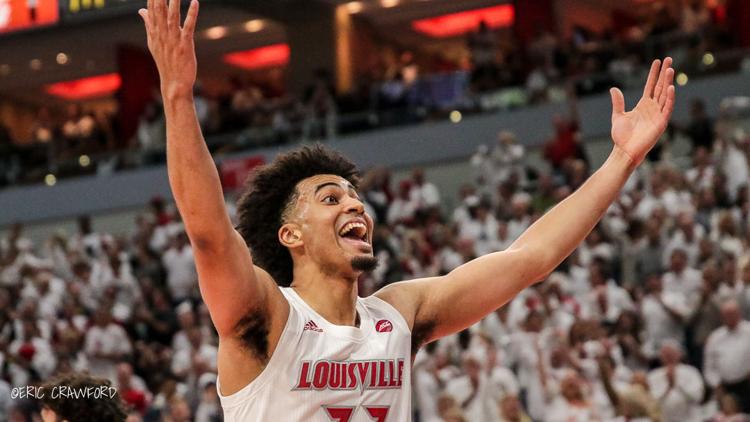 And on top of that, the women's basketball moved to No. 2 in the country Monday after knocking off No. 1 Oregon last week.
As for the Cards on the gridiron? Expectations exceeded.
Scott Satterfield's first year proved to be incredible. The Cardinals were picked to finish last in their division of the ACC and expected to only win a handful of games. But Tyra's handpicked candidate who was the subject of scrutiny at the start stands alone as ACC coach of the year. The award was announced Thursday.
Has there ever been a week better for the U of L? Tyra said probably not.
"Across the board, this is probably as good as it's ever been," he said.
That success, Tyra said, stems from the leaders of those programs, leaders he said his staff knew to bring in.
"If you have the right leader, they'll know how to bring the right people around them to win and to be successful," Tyra said.
A quick glance at the successes of other Olympic sports on campus shows the success is just as big. 
It was all part of a plot, a plan to get the right people in.
"Whether you're for Kentucky or Louisville, you've gotta recognize this university is important to the city of Louisville," Tyra said. "I feel like we've done our part in really bringing back that excitement."
While court proceedings and outside investigations continue, it's all outside of what Tyra can control.
"Irrespective of how these other things play out that occurred before I got here, I think how we're going to run the department going forward has pretty well been documented," he said.
Nonetheless, it's all part of a long, intriguing story that is U of L sports. And every story has it's climax. Every story has it's ending.
For Tyra and the Cardinals, it's just poetic.
"We're not done," he said. "We're going to win championships. I believe that too."
Related Stories:
Copyright 2019 WDRB Media. All Rights Reserved.