LOUISVILLE, Ky. (WDRB) -- Organizers are asking for the public to help clean up thousands of tons of trash that litters the banks of the Ohio River.
MSD, Louisville Water and LG&E announced details Thursday of the annual Ohio River Sweep that will be held from 9 a.m. to noon Saturday. The effort goes far beyond Louisville, with volunteers cleaning up trash from Pennsylvania to Illinois every year on the Saturday before Father's Day.
This year, there are a total of six cleanup sites in Jefferson County (locations listed from upstream to downstream):
Hays Kennedy Park – 7003 Beachland Beach Rd.
Carrie Gaulbert Cox Park – 3730 River Rd.
Eva Bandman Park – 1701 River Rd.
Karen Lynch Park/Beargrass Flood Pumping Station – 1731 Brownsboro Rd.
Shawnee Park – West Market Street (between Northwestern Parkway and Fontaine Landing Court)
Riverview Park – 8202 Greenwood Rd. (Greenwood Road and Cane Run Road)
An MSD employee will be on hand at each site to supply volunteers with gloves, trash bags and a commemorative T-shirt. 
About 40 tons of trash is gathered in Louisville every year, which doesn't come as a surprise to MSD officials. "Oh my gosh, there is so much trash," said Sheryl Lauder with MSD after the 2018 cleanup. "We had that flooding in February and March and it was astounding the amount of trash the water just carried down."
The garbage collected at the Beargrass Flood Pump Station in February 2018, forming an island of trash and prompting crews to create a "Debris Management Plan" to deal with it.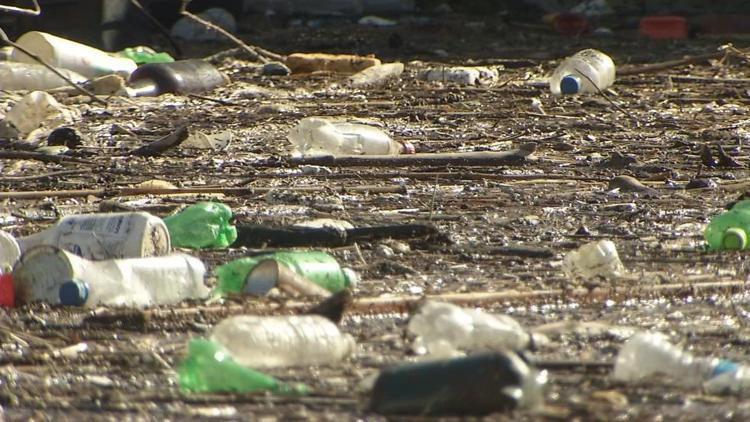 Copyright 2019 WDRB Media. All Rights Reserved.