WASHINGTON (WDRB) -- The newly opened National Law Enforcement Museum spotlights the stories of fallen law enforcement officers, including officers from Kentucky and Indiana.
It doesn't take long to find pieces from home at the museum in Washington. In fact, an Indiana State Police cruiser is the first thing that catches your eye when you walk down the stairs.
The museum, a $160 million project that opened in October 2018, is 60,000 square feet and three stories tall. It took nearly 20 years for the project to come to fruition. 
"We have very interactive exhibits," said Sarah Haggerty, senior director of exhibits and programs. "Of course, we have some things that are more game-like — things that put you in the shoes of an officer. You get to be a witness. You get to be an undercover officer. And that stuff is great. But my favorite stuff is the artifacts that tell the stories."
The National Law Enforcement Museum is both historical and interactive, but perhaps its most-significant feature is the Hall of Remembrance, which serves as a national library of officers who died in the line of duty.
Washington's National Law Enforcement Museum spotlights fallen officers from Kentucky and Indiana
Pictures of the 158 officers who died while on duty in 2018 are on display in the Hall of Remembrance. They include Det. Deidre Mengedoht of the Louisville Metro Police Department, Charlestown Police Sgt. Ben Bertram and the seven other officers killed in Kentucky and Indiana over the past year.  
For each officer, there is a profile explaining how they died as well as personal notes written by people who have visited the museum. Visitors can write their own tribute to a particular officer.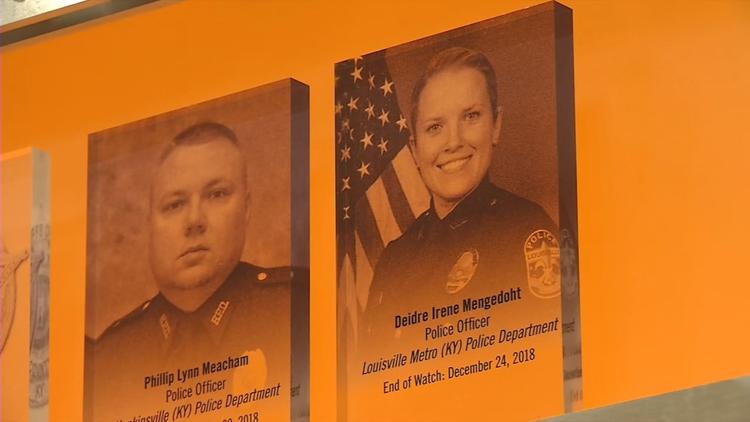 The museum goes hand in hand with the Law Enforcement Memorial Wall, which is located directly across the street. There is an interactive display in the museum where visitors can search through the more than 20,000 names of fallen officers that are etched onto the wall. 
"I think about every survivor, every family member who sees an officer leave for their shift and wondering whether they're going to come back," said Lori Sharpe Day, the museum's interim CEO. "And, really, paying tribute to law enforcement is one of the reasons I do what I do."
Related Stories:
Copyright 2019 WDRB Media. All Rights Reserved.