LOUISVILLE, Ky. (WDRB) -- "WDRB in the Morning" is celebrating a milestone. The station's morning news show marks 20 years on October 5, 2018.
The current morning team of anchors Candyce Clifft, Sterling Riggs, meteorologist Jude Redfield, traffic guy Mike Marshall and feature reporter Keith Kaiser are well-known in Louisville and southern Indiana. But the crew, on camera and behind the scenes, has worked to make the show a part of the community for the past two decades.
Live. Local. Lots of Fun
The show had humble beginnings, when it signed on the air as "Fox in the Morning" in 1998 with the song "Good Morning" as performed by Judy Garland in the 1930s. The show opened showing a bowl of milk with cereal spelling out the name of the show.
Hosts Stew Oleson and Elizabeth Woolsey, meteorologist Kevan Ramer, anchor Hamilton Northcutt and feature reporter John Graham were hired to bring the vision together.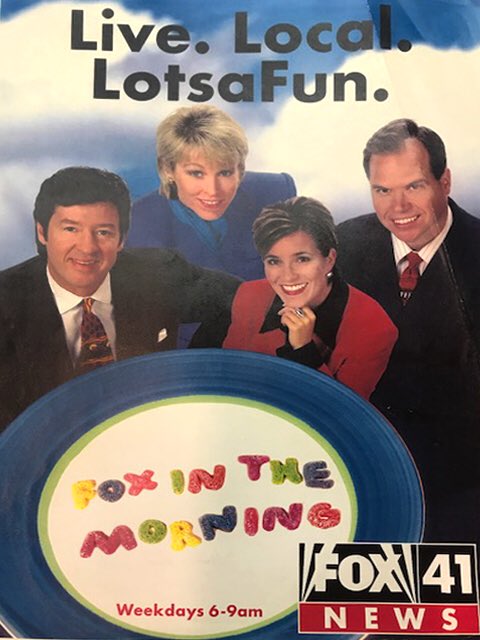 "I knew the minute I walked into WDRB, met Stew, and saw a Lava lamp on his desk that we were in for an interesting ride," said Woolsey. "It takes a lot of hard work and creativity to launch a morning show, and it was a great mix of talented people working together to make it happen."
Woolsey, who co-anchors WDRB News at 4 with Gil Corsey, celebrated her 20th anniversary with the station in August. Oleson stayed on the morning show for three years before moving on. He is currently an Associate Professor of Broadcast Journalism at Biola University in southern California.
Oleson was a morning television veteran, having worked on successful wake-up shows in Sacramento and Rockford, Illinois.
He says former WDRB news director Hal Stopfel first interviewed him for the job. "I told him I could bring my 'bag of tricks' to Louisville -- including 'Stew's Handicam Adventures,' First Birthday Club, Anniversary Club, fun with the green screen, and all kinds of interactive elements that I had developed on the previous morning shows."
The ideas were all incorporated as executive producer Barry Fulmer started shaping the format. His role has grown over the years at WDRB as he ascended through the ranks to News Director in 2004. He is currently the Vice President of News.
"The start of 'Fox in the Morning' showed that you can take a risk and be different," Fulmer said. "It also taught me that creativity has a lot of value, and people who can be creative often perform better."
Woolsey says she enjoyed the people behind the cameras and the viewers who left a lasting impression. "So many memories from 'Fox in the Morning,' but the first things that pop into my mind are the live shows we did, the chat room that had us talking with our viewers every day, Kevan's toupee (which is still stored in our newsroom!), and the day we did the show in a hot tub in our studio!"
That hot tub was Oleson's idea. "I brought a hot tub into the studio one morning and told her we were going to do the show from the tub. She was a good sport and got in a swim suit, and we went hot-tubbing for the morning."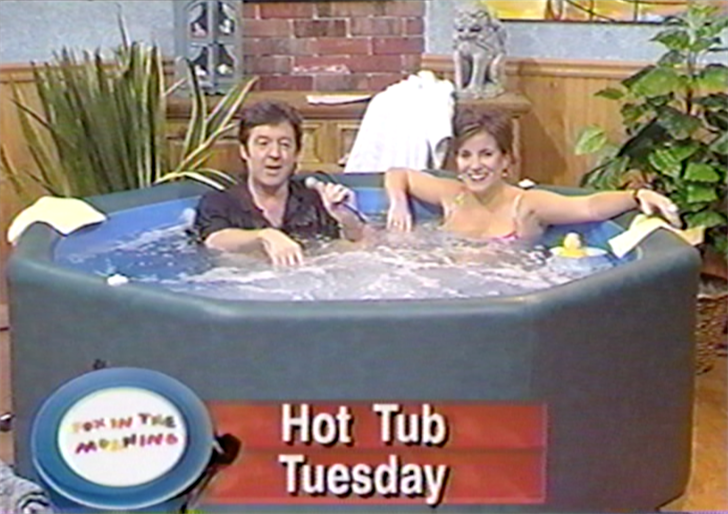 "The morning show has always felt like family. I remember working with Elizabeth Woolsey and Stew Oleson every day with creative ideas," said Fulmer. "We had a good friendship, and we made lots of friends with all of the guests who appeared on the show."
Lori Farmer McDowell, who is now the Director of Communications for Oldham County Schools, started as a reporter on the morning show. "I have such fond memories of 'Fox in the Morning.' It was the crew that made it bearable to wake up at 3 a.m. And, of course, I met my husband while working on the show."
She says working on the show taught her that it's possible to have fun at work. One of McDowell's favorite memories was a little out of character for a young reporter. "Throwing water balloons off the roof onto employees' cars as they drove into the parking lot. I was hesitant when the GM pulled in, but had Barry Fulmer yelling in my ear, 'JUST DO IT!'"
Fulmer remembers taking risks on the show and really getting in touch with viewers. "My best memory of the show was that we were interactive before social media. We reached out and talked to people. We took phone calls; we talked to real people on the street, and we even took fax requests for topics and music. The show during its launch was ahead of its time."
Oleson says he has kept a lot of video of the show that he shares with his journalism students. "It helped define the interactive style of morning TV that I was in the middle of at the time. I loved those years of developing a real relationship with the viewers. I am now friends with many of them on Facebook."
Before coming to Louisville, Woolsey says her job was mainly anchoring scripted newscasts. "'Fox in the Morning' was completely off the cuff. It was great experience at becoming more conversational and connecting with viewers on a more genuine level," she says. "It also brought me to a city that has become my home. I'm so thrilled I got that opportunity 20 years ago. Since then, I've gotten married and had our two boys, and I can't imagine living anywhere else."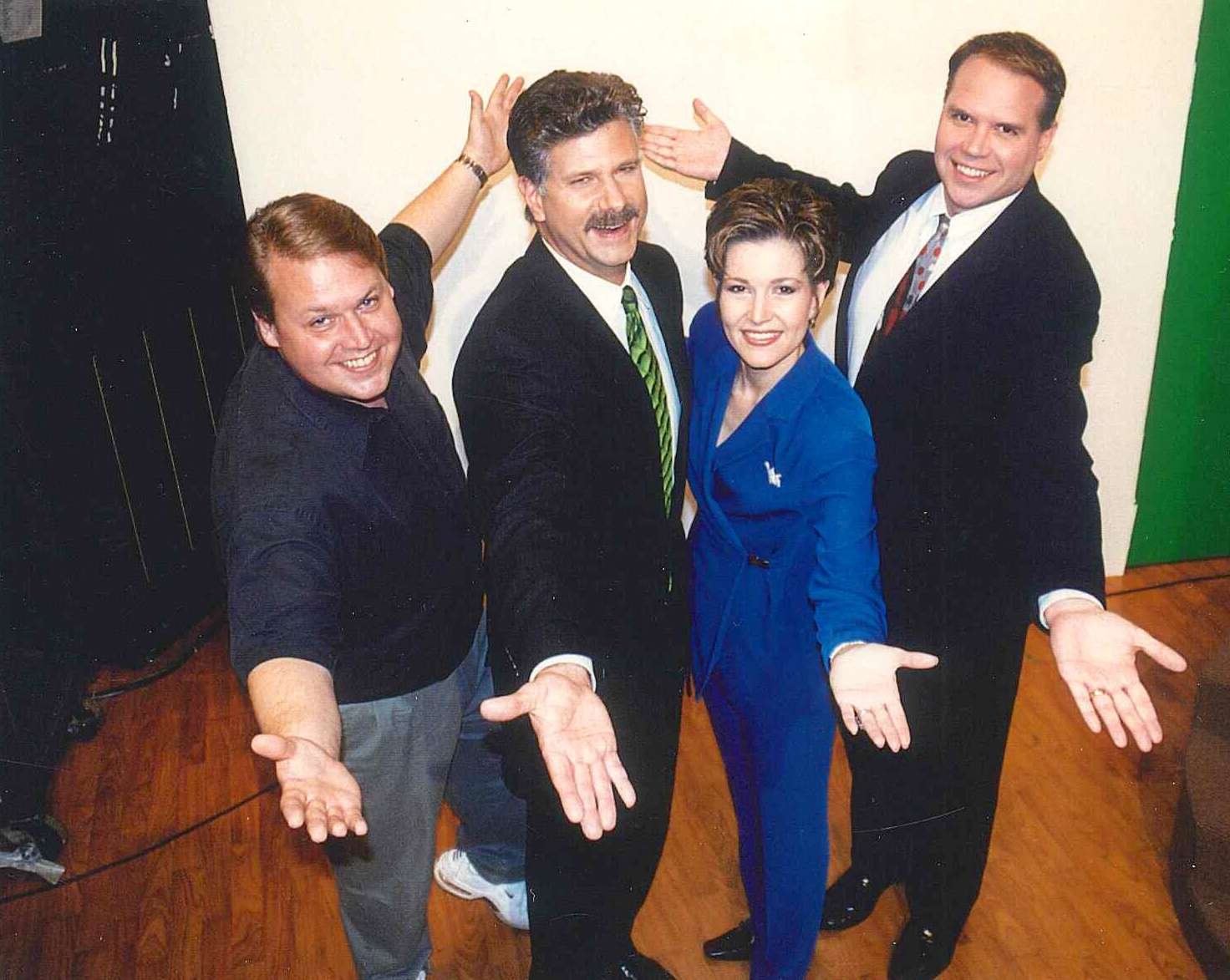 Heather, Joe, Darin, Darcie and "Danger Boy"
Inevitably, faces change on a morning show. Oleson left for a job on the Travel Channel, and Woolsey was promoted to the evening news. Former Miss America 2000 Heather French Henry was brought in and teamed with local anchor Joe Orlando. Ramer remained as meteorologist, and JoDee Kenney read the news. Former radio "Danger Boy" Jim Bulleit was brought on as feature reporter.
WDRB Vice President and General Manager Bill Lamb came to the station in 2002. He remembers waking up in a hotel to watch the morning show with Orlando and Henry for the first time. "It was a show that struck a nice balance between fun conversation and news/weather. It was #4 in the morning, but it was doing very well."
Henry is still a familiar face in Louisville and Kentucky continuing the work for veterans she began as Miss America.  She says her fondest memories at WDRB were of working with the crew behind the scenes from directors to editors to producers. "Each person that ran the show was such a unique character! I formed friendships that will last a life time."
As high-profile as Henry was from her Miss America days, she had not done a local television show. "I think I passed the test from the first day, when the on air stove almost blew up in my face and I laughed!" 
When Orlando departed for California and Henry left to support her husband, Dr. Steve Henry, in his run for Kentucky  Governor, Lamb says he wanted to keep "Fox in the Morning" as a "counter program to the more serious news shows on our competitors."
The station hired former Chicago Bulls cheerleader Darcie Davita and veteran personality Darin Adams from Boston. Lamb says it worked, at first. "It was entertaining, and did some pretty decent ratings, but it was also a bit of a train wreck too."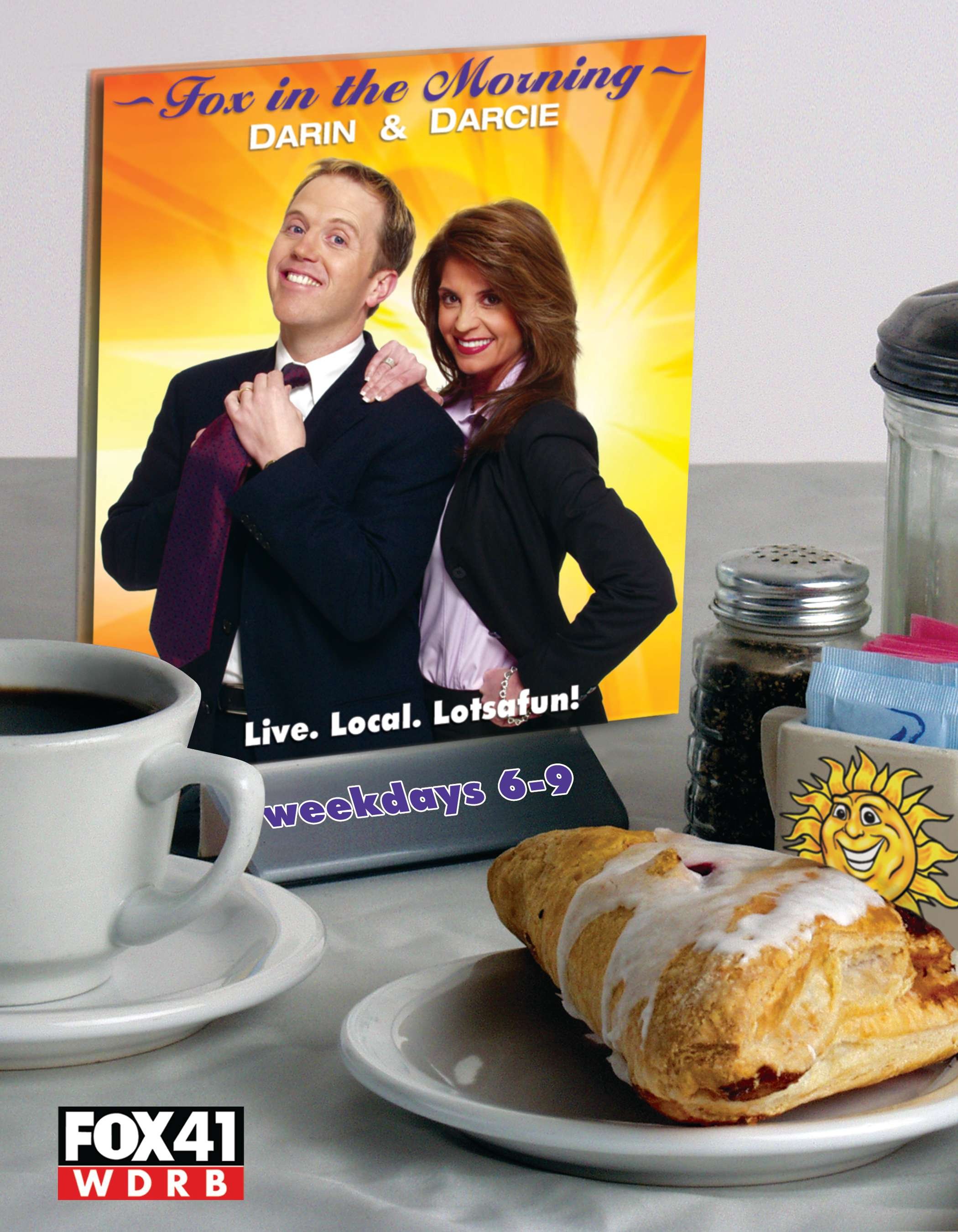 When the Gulf War started, Lamb felt viewers wanted to wake up to more news and to find out what was happening in the Mideast. When meteorologist Kevan Ramer exited for a job at Fox 26 in sunny Fresno, CA (where he remains), the station started building most of the team viewers see now.
Barry and Candyce
In 2003, WDRB hired veteran journalist, Barry Bernson, and paired him with one of the station's best young reporters, Candyce Clifft, who had previously spent time on the morning show anchoring the news from 6-7 a.m. The station found a passionate meteorologist in Marc Weinberg. Adams moved over to become feature reporter. And after being the radio voice of traffic for years, Mike Marshall was hired away from the company he worked for and put on camera for the first time.
"In the wake of several different incarnations of the program, we believed, along with (then) news director Kathy Lehmann Francis, that morning viewers wanted basic information, presented in an entertaining manner," said Bernson. So the team gained momentum and began drawing more viewers.
Bernson continued to do the human interest features he had done for 40 years branded as "Bernson's Corner." "It kept me sane, in spite of seriously cutting into my nap times."
The chemistry on camera was special for both Bernson and Clifft. The two were obviously very different personalities. He was a longtime anchor and story teller with a reassuring baritone voice. She offered credibility, stability and a modern approach.
Clifft gives Bernson credit for helping her grow as a writer, news anchor and personality. "I was not comfortable discussing stories on the air until I watched how Barry was able to make comments without jeopardizing his credibility. His sense of humor always put me at ease."
She says she worked in news for several years before hosting the morning show and being paired with Bernson, but she felt like she had more to learn. "Barry never acted like he was my teacher or somehow my superior. He treated me as though I had as much experience as he did. We had, and still do have, great respect for each other."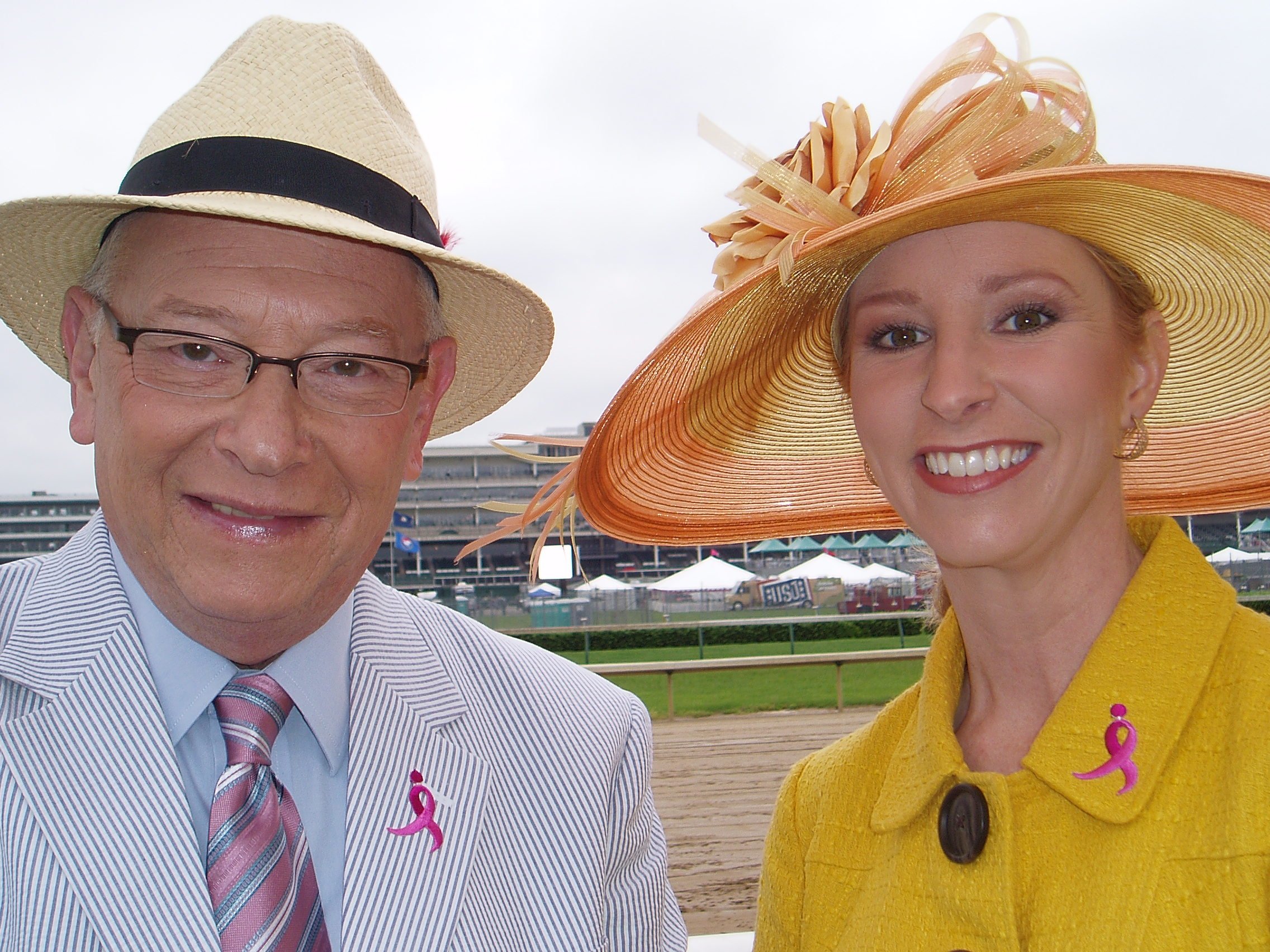 The two developed a special friendship that has continued since Bernson's retirement in 2011. "Everyone in broadcasting should have the opportunity to work with Candyce Clifft," said Bernson.
"We had and still do have great respect for each other. We still get together for lunch every month or two, as schedules permit, and we still text each other about birthdays, sporting events, travel, books, and more," said Clifft.
Bernson says the relationships he built at WDRB are special to him. "When you work these early hours, the people who work with you become a special kind of family. And that was the case with both on-air and off-air folks. I can't really remember a harsh word exchanged between any two people in the eight years I spent at WDRB."
"Looking back from a distance of seven years (and after more than a half-century in broadcasting), I have to say this was the best job I ever had," he said.
Clifft remains the most enduring morning anchor in Louisville. WDRB has been her first and only job in television. Viewers have watched (and commented) on her hairstyles over the years, and they've felt included in her life's changes, including the births of her three children.
"Working the morning shift has given me the chance to spend more time with my children than I would have had on a normal 9-5 shift," she says. "I'm grateful for being able to attend class parties, afternoon cross country meets, and school assemblies and for being home every day when my children get off the bus."
Clifft also says working on the morning show has taken her to some really cool places like the Final Four, the PGA Championship and the Kentucky Derby. "I've met and interviewed countless interesting people like Jimmy Carter, Buzz Aldrin, U.S. senators, prominent coaches, and many more."
[CLICK HERE TO SEE IMAGES OF WDRB IN THE MORNING ANCHORS, FRIENDS AND LOTS OF FUN]
Candyce and Sterling
Like many of the personalities on the morning show, Clifft says the teamwork and friendships are what makes this such a great job. "The people in front of and behind the camera are not just my coworkers; they are my friends. I get excited about coming to work each day. I tell people all the time that it would not be worth getting up as early as I do if I didn't like the people I work with."
The friend Clifft spends the most time with at work is co-anchor Sterling Riggs. He joined the team in 2011, when Bernson retired. "Sterling and I worked together for only a few weeks before I went on maternity leave with my third child. When I came back, we clicked instantly," said Clifft.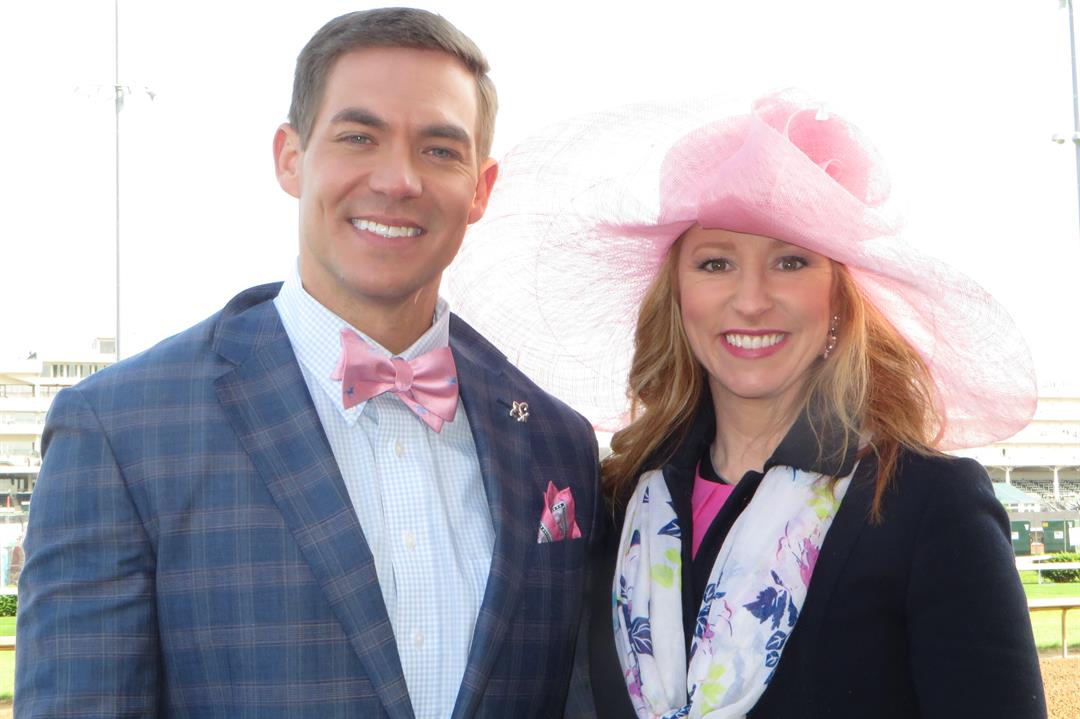 "Sterling is kind, thoughtful, and hard-working, and we share a lot of the same ideas and values. He and I are always bouncing ideas off each other and looking to each other for the word or phrase we just can't seem to come up with on our own. Our writing is collaborative. Our conversations on the air are genuine - not rehearsed," she adds.
And the feeling is mutual. "I think I can sum up my relationship with Candyce in one word. Respect," said Riggs. "She means what she says and follows through. Her word is as good as money in the bank. She listens when others speak. She's compassionate, but does not take crap from anyone. What you see is what you get. At the end of the day, she's the real deal. She's the type of person everyone would be proud to call a friend."
"People also find it funny that we carpool together almost every morning. For me, it's not about saving money on gas, it's about getting to invest time with a very good friend of mine," Riggs said.
Clifft says people in front of and behind the camera are not just coworkers. "They make each day fun. I think our morning team-producers, directors, camera operators, everyone involved-is the best around."
Riggs agrees, "I can't stress enough how much I enjoy working with Candyce, Jude, Mike, Keith, our producers and production staff. We laugh with and at each other, help each other through tough times, and I must admit, have gotten in trouble together. WDRB in the Morning is a strong team--one that I am proud to be a part of."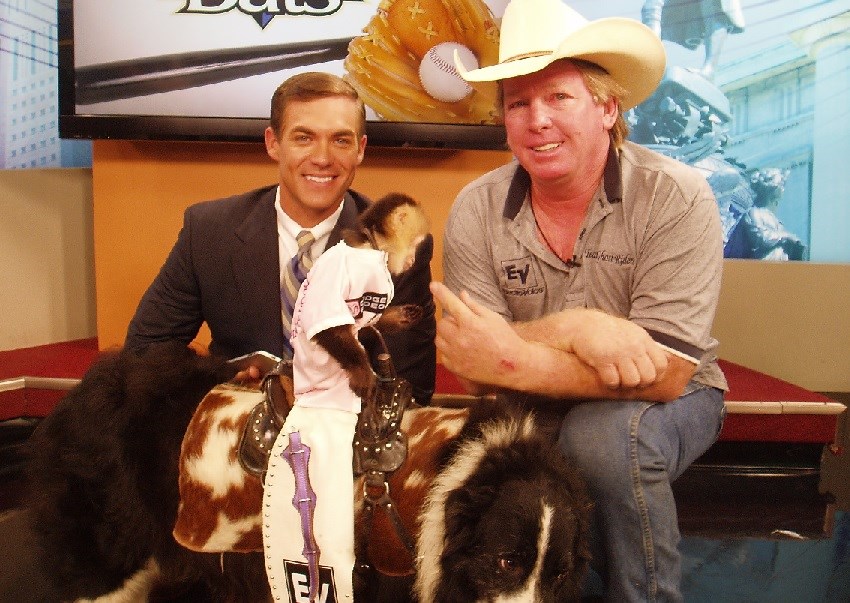 For the past seven years, Clifft and Riggs have shared four hours each morning with meteorologist Jude Redfield, traffic guy Mike Marshall and feature reporter Keith Kaiser.
"My best memories from the show are the laughs in commercial breaks about things that have gone wrong--me falling backwards off the set, lights exploding, Barry burning popcorn, experiencing an earthquake, Sterling ripping his pants in an exercise segment, Jude wearing a green body suit, or Mike telling corny jokes and cracking himself up," said Clifft.
Riggs is quick to share a laugh about all the things that happen during a live morning show. "I was reading a story live when a spider monkey, dressed in a cowboy outfit, riding a dog, came through the studio. I had to stop reading because I was laughing so hard."
Like many morning hosts, Riggs learned the hard way that animal segments are unpredictable. "Turtleman brought in a live turtle and it went to the bathroom in the studio during the commercial break. While cleaning it up, he said, 'Now this is live action.'"
The biggest laughs come when Keith Kaiser is doing his segments. Viewers know that he will try almost anything. He's taken pole dancing classes and done "manscaping" at a local salon. And the annual "Mascot Bowl" on the Friday before the Super Bowl is always a favorite.
[CLICK HERE TO SEE IMAGES OF KEITH KAISER AND HIS MORNING ANTICS THROUGH THE YEARS]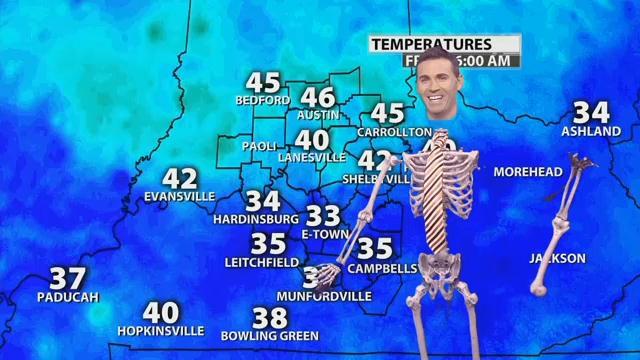 Jude Redfield tries to incorporate a few chuckles into his forecast. Whether he's bragging about winning the morning show fantasy football league or dressing up in elaborate outfits for Halloween, viewers count on him to tell them what the weather will be each day.
Viewers also know traffic guy Mike Marshall's laugh is infectious. He's been known to get a case of the giggles as he shares his love of University of Louisville sports or his passion for motorcycles. His "Codfather" blessing during the Lenten fish fry at St. Gabriel's is a staple each spring.
What many don't realize is how much "WDRB in the Morning" has impacted the rest of the station. The show's first producer is now the news director. Familiar faces like anchors Lindsey Allen and Rachel Collier got their start on the morning show. And, many producers are given the opportunity to transition from mornings to other newscasts later in the day.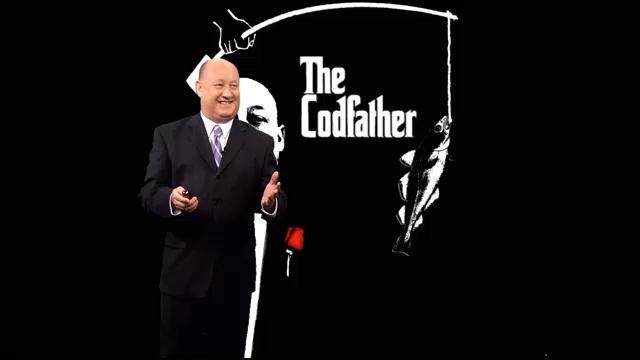 But there are two people on staff who started with the morning show in 1998 and have remained on the brutal, unforgiving pre-dawn hours for 20 straight years. Camera guy and production assistant Tim Young has been a fixture in the studio from the beginning, guiding talent new and old and taking care of things behind the scenes.
Director Tom Rohr has also been on board since day one. He started on audio, then moved to technical director and finally to director of the show. "I've always felt very lucky to be a charter member of the morning show."
Rohr says his closest friends are people he's worked with at WDRB. And, he remembers how fun it was in the early days to think of ways to surprise the hosts. "For no reason at all (except we just wanted to be silly), we would put up a FAKE "technical difficulties" slide and I would play the elevator/dentist office version of Light My Fire, by The Doors."
Editor's note: If you've read this far, I'll share one last thing. This story was written by Cara Sabin. I was executive producer on the morning show from 2003 to 2017. I'm now the Digital Director at WDRB. The pictures shared on the slideshows are those I collected during my 14+ years behind the scenes. I consider many of the people I talked to for this story my good friends. It's exciting to see what the future holds for the city's best morning show.
Copyright 2018 WDRB Media. All Rights Reserved.