LOUISVILLE, Ky. (WDRB) -- Kentuckiana is feeling a sizzling summer swelter.
The National Weather Service has an Excess Heat Warning in effect until Sunday. Meteorologists say the hottest days of the advisory will be Friday and Saturday.
Louisville's Emergency Services, Department of Public Health and Wellness and National Weather Service officials have a stern warning as the temperatures soar. They say this advisory is something to take seriously and could mean life or death.
"I think heat and cold are always the silent killers," National Weather Service Meteorologist John Gordon said. "When we do our weather talks, we always say the No. 1 killer of all is flooding, but it's really not. It's temperature."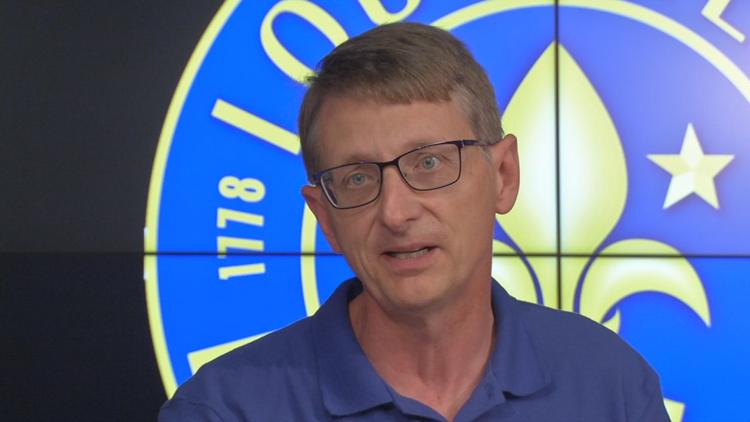 Louisville Metro EMS Col. Diane Vogel said everyone must prepare for the heat immediately by knowing the signs of serious medical emergencies like heat exhaustion, which include feeling faint, dizzy, nauseous, confusion or cramping.
City officials say to limit outdoor activities until the advisory is over. On Thursday, Jefferson County Public Schools canceled all outdoor sports practices, field trips and activities taking place in non-air-conditioned gyms from Friday through Sunday.
ALERT: Due to the extreme heat, all JCPS-related outdoor activities (sports practices, outdoor field trips, etc.) and activities taking place in non-air-conditioned gyms are canceled Fri., July 19 – Sun., July 21, 2019. pic.twitter.com/kXs1lv6Q95

— JCPS (@JCPSKY) July 18, 2019
Paul Kern, the preparedness administrator for the Department of Public Health, said to drink at least eight, 8-ounce classes of water every day.
Do not leave children, elderly or animals in hot cars.
"We have far too many kids dying in cars from parents who leave their kids in hot cars," Gordon said. "Never ever, ever leave your kid in a car. Look before you lock. Beat the heat, check the back seat."
Officials also say to prepare your home for the heat. Cover windows with shades or drapes and use window reflectors to beat the heat.
The Salvation Army is offering several cooling stations across Kentuckiana, including one at Breckinridge and Brooks Streets in Louisville. And there are worse places to beat the heat than the Sun Valley Pool, which reopened Monday after city budget woes kept it closed to start the summer.
"Just coming to the pool just gives you a little cool off in the summer," said Shayla Slinker, who lives in south Louisville.
If you can't make it to the pool or the spray ground, consider these seven creative cool-downs:
Spritz yourself
Run through a sprinkler
Put your jewelry in the freezer
Fill the kid pool with ice
Get an ice pack
A cool drink or food
Frozen cabbage leaves.
Related:
Copyright 2019 WDRB Media. All Rights Reserved.