DAYTON, Ohio (WDRB) --  Wright-Patterson Air Force Base in Ohio now says there was "no real world active shooter incident."
Emergency crews responded to a reported active shooter situation at the base hospital about 12:40 p.m. Thursday. But it posted on social media about 4:45 p.m. that there was no active shooter and base personnel remain safe. 
The base said the report occurred during a "normal, scheduled installation exercise" that included an active shooter scenario.
In a statement released on social media, the base explains that someone called 911 thinking the training was real. That's when security responded and began a sweep of the area and cleared the hospital.  One member of the security force did use a firearm to open a locked door.  But the scene is now safe and all personnel are being told to avoid the hospital for the time being. 
During the initial confusion, the official Wright-Patterson AFB Twitter account did refer to the incident as an "active shooter" situation. Dozens of local, state and federal law enforcement raced to the base near Dayton, Ohio. 
Several media outlets also reported that there was an active shooter that had barricaded himself in the medical center.
Video from outside of the hospital showed service members and others standing outside the building. Some had come out with their hands in the air.
WHIO-TV said an alert was sent to base personnel. "Emergency responders are enroute. All WPAFB Gates are Closed. All personnel take cover. Limit all communication to emergency use only," according to the alert.
The sprawling base has about 27,000 civilian employees and military personnel.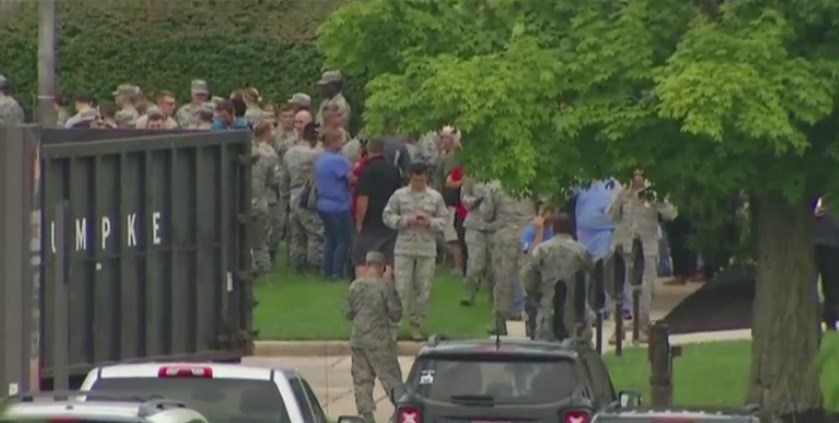 Copyright 2018 WDRB Media. All Rights Reserved.