RADCLIFF, Ky. (WDRB) -- A Hodgenville, Ky., girl who is in the fight of her life with leukemia received quite the welcome to North Hardin High School's softball game Monday.
Players from NHHS and Fort Knox stood in solidarity with 3-year-old Tenley Ward, who was diagnosed in December.
Each year, North Hardin holds a "Pink Out" game against Fort Knox to support cancer research. However, Monday's game turned orange, complete with balloons and T-shirts in support of Ward, whose aunt is a counselor at the school.
"We live a day at a time for Tenley and make her days happy and 3-year-old-like," said Karen Ward, Tenley mother. "That is our goal. It's to let her be a kid."
Before the game, Tenley's family arrived to the field in a fire truck with sirens blaring, one of 10 police cars and fire vehicles in a caravan to the game. The players all sported capes to support a little girl who loves superheroes and is now one to them. They created a walkway and cheered Tenley on as she and her family walked from the fire truck to the field.
"[The players] are excited about tonight," North Hardin High School Principal Tanya Corder said. "They put a lot of heart into it, and they are just glad to be able to show this little girl how much she is loved and how much she means to us."
After walking to the field and surrounded by the teams, Ward threw out the first pitch before joining in a huddle with Tinley by her side.
The 3-year-old has proven she is a fighter. She's had 75 treatments and infusions, with medical bills already at more than $700,000.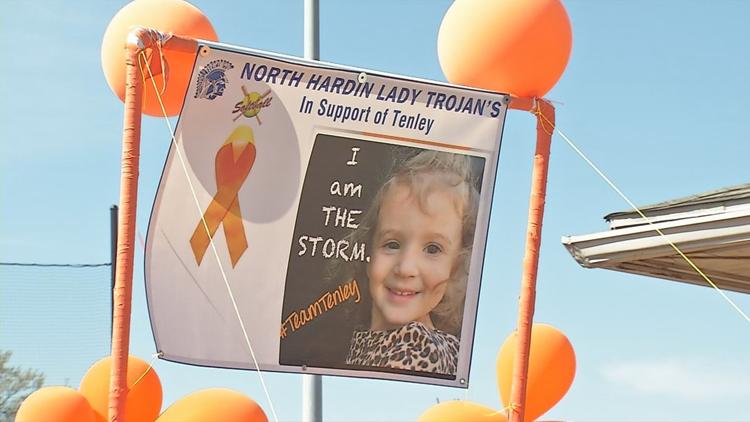 One-hundred percent of Monday's proceeds, including concessions and gate admission, went to Tenley's family. The little girl will have at least two more years of treatments and chemotherapy. Organizers of the game said $5,000 was raised for the family.
Copyright 2019 WDRB Media. All Rights Reserved.