LOUISVILLE, Ky. (WDRB) -- After nearly two years, a major renovation project in the Smoketown neighborhood is nearing an end.
The renovation of YouthBuild Louisville will increase the number of services offered by the organization. That includes community service projects like the one at a west Louisville duplex. The projects involved students from YouthBuild working with contractors to renovate old homes.
When the work is done, the duplex will be home to two families. The house is also providing a second chance for Joseph Magruder and Matthew Phillips, both of whom dropped out of high school and, despite tough love, admit they were headed down dangerous paths.
Magruder said he often heard a painful message from family members.
"'You're not going to be nothing,'" he recalled them saying to him. "'You're just like your dad. You're going to be working your tail off every day to barely cover the bills.'"
But just like the home they're helping to renovate, Magruder and Phillips are being rebuilt one day at a time at YouthBuild.
"I've been on fire the last couple of weeks," Phillips said.
In addition to community service projects, Phillips got his GED earlier this year, and Magruder graduates in May.
The young men are two of the 500-plus youth who have been given a second chance through YouthBuild.
"We're providing support and structure ... to give them the things that they need to move forward," said Lynn Rippy, president and CEO of YouthBuild.
In 2017, the organization broke ground on the nearly $2 million expansion. The upgrade will add more students, space and programs.
"In the year-round program, there are about 35 young people," Rippy said. "This expansion will allow us to grow to 100 young people a day."
Rippy said YouthBuild and the expansion are game-changers for troubled youth.
"We have had a number of young people who have been facing a lot of jail time, and this has just changed that for them," she said.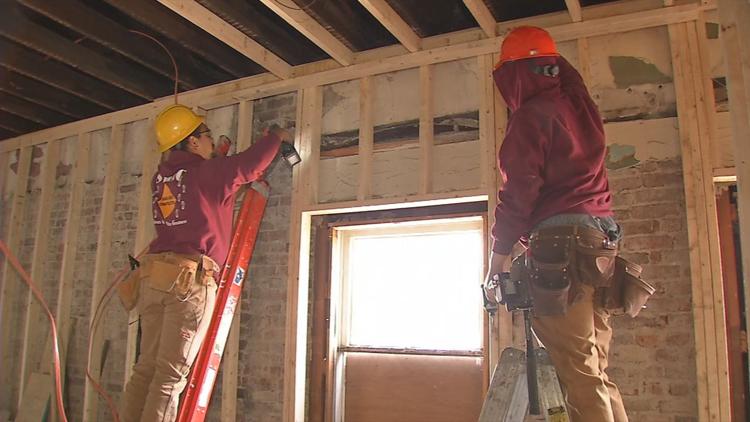 And that's why Magruder and Phillips are trying to spread the word.
"I see the change they've made in my life, so I think they can make a change in somebody else's," Phillips said.
Copyright 2019 WDRB Media. All Rights Reserved.