LOUISVILLE, Ky. (WDRB) -- On the 17-page list of Things to Fix that Scott Satterfield and his coaching staff inherited when they took charge of the University of Louisville football program, this fix had to be the most challenging and time-consuming:
The offensive line.
The Louisville offense led the Atlantic Coast Conference in sacks allowed in 2015, 2016, 2017 and 2018. The Cardinals finished 13th in the ACC in rushing last season, averaging slightly more than four yards per carry and generating 18 touchdowns in a dozen games.
The last U of L running back to gain 1,000 yards or average 100 yards per game was Bilal Powell, who played three seasons for Steve Kragthorpe and one for Charlie Strong.
Building an offensive line that can push people around takes time, recruiting, bodies, nutritionists, strength coaches and old-fashioned nastiness. You can't do it in one season.
I figured it would be the last thing Satterfield would fix.
It has been the first.
"I just think a lot of it is what we do offensively, our scheme," Satterfield said. "We're not a team that's going to spread out and throw it 50 times a game. When you do that, you expose a lot of things."
One season after Louisville ran for 141.5 yards per game and rushed for 18 touchdowns, the Cardinals have averaged 218.1 yards and scored 16 touchdowns in eight games.
They're no longer last in the ACC in sacks allowed. Try ninth.
Javian Hawkins has transformed from a guy who carried the ball twice for eight yards last season into the third-leading rusher in the ACC, behind two guys (A.J. Dillon of Boston College and Travis Etienne of Clemson) who will likely play in the National Football League.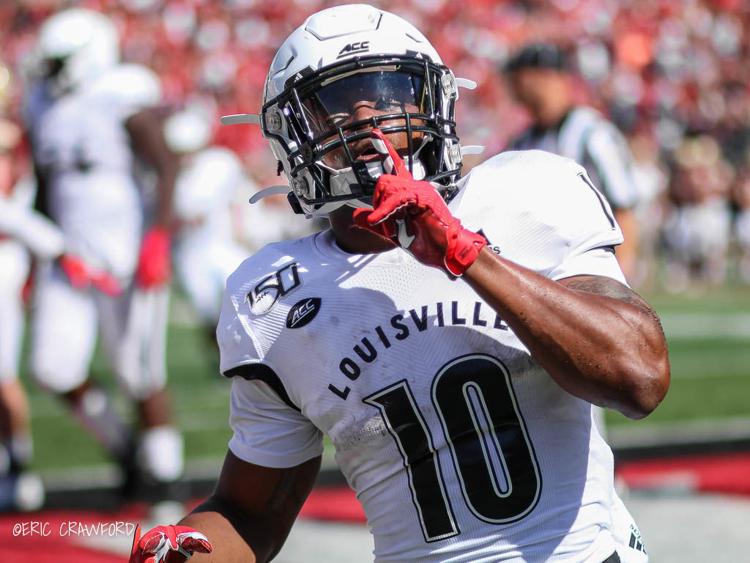 At his current pace, of nearly 111 yards per game, Hawkins will finish this season with 1,331 yards and nine scores.
Get this: There has not been anything secretive or schematically fascinating about the things that Louisville has done.
"We basically only run two schemes up front in our running game with inside and outside zone," Satterfield said.
Satterfield and offensive coordinator/line coach Dwayne Ledford came to town and announced they planned to run the football.
Run the football?
That is not the trend in college football 2019. Even Nick Saban has upgraded from caretaker quarterbacks and the power running game.
Satterfield is 100% Satterfield. He is a former quarterback who is absolutely, positively comfortable running the football.
"I like to win," he said. "That's what I like to do.
"If running the football will help us win, then that's what I like to do.
"I like to throw it. There's nothing more beautiful than watching a football go in the air and your guy catching it and going to score a touchdown."
Indeed.
But Satterfield was not finished.
"If you go back and look at the history of football and who can run the football and who can stop the run, those are the teams that usually win on a consistent basis," he said.
His team has run the football. For the Cards, the breakdown has been 65.6% running plays.
Only one ACC team has a higher percentage of running plays: Boston College at 68.1%. BC has Dillon, the league's best back the last three seasons.
Clemson has remained the league's gold standard this season. Even with Etienne, the Tigers' run/pass breakdown has been 54/46.
Looking at the national picture, Satterfield's team has a better yards per carry average than bully-ball teams like Wisconsin, Texas A&M and Michigan.
On Saturday, Louisville will try to attack the best rushing defense  the Cardinals have confronted this season. Miami ranks second in the ACC and 12th nationally in rushing defense, limiting opponents to 97.8 yards per game.
Only three teams — Virginia Tech, Georgia Tech and Pittsburgh — have run for 100 yards against the Hurricanes.
Even with quarterback Micale Cunningham as healthy as he has been in several weeks, do not expect Louisville to come out throwing.
"They've really exceeded expectations up front," Satterfield said. "We will need them to continue to play well.
"Obviously this next month and, quite frankly, we lean on those guys. We really do."
Copyright 2019 WDRB Media. All Rights Reserved.