LOUISVILLE, Ky. (WDRB) -- I'll begin this week's edition of Against the Spread with an early score:
44-12.
At 4 p.m. Thursday, 44 games remained on the schedule while a dozen have been postponed or canceled because of the novel coronavirus, including games that were supposed to feature Alabama, Michigan and USC.
College football did not need COVID-19 to ramp up the competition level for those four positions in the playoff, but it's fair to say people are a bit edgy.
After the Atlantic Coast Conference eliminated games Dec. 12 for No. 2 Notre Dame and No. 3 Clemson that ensured their spots in the ACC title game Dec. 19, Southeastern Conference commissioner Greg Sankey was not thrilled.
In an interview with Dennis Dodd of CBS Sports, Sankey delivered this zinger:
"I was surprised to see the announcement (Tuesday)," Sankey told CBS Sports. "It begs one question: If their two most highly ranked teams were, for instance, (ranked) five and six in the CFP Rankings, would this decision have been made?"
I'll hang up — and present the picks for this week by the WDRB Sports staff.
1. South Carolina at Kentucky (-12), Saturday, 7:30 p.m.; Kroger Field, Lexington.
If you're looking for one more example of what a bizarre college football season this has been, check Jerry Palm's latest bowl projections at CBSSports.com. Kentucky will chase its fourth regular-season win against the Gamecocks Saturday, and Palm projects that the Wildcats will play Virginia in the Gator Bowl Jan. 2. The Wildcats will honor 18 seniors. The programs have combined for five wins with two of the victories over winless Vanderbilt. Kentucky has won five of six in the series. South Carolina has allowed 45 or more points in four of its last five games, a primary reason the Gamecocks will be coached by interim leader Mike Bobo on Saturday.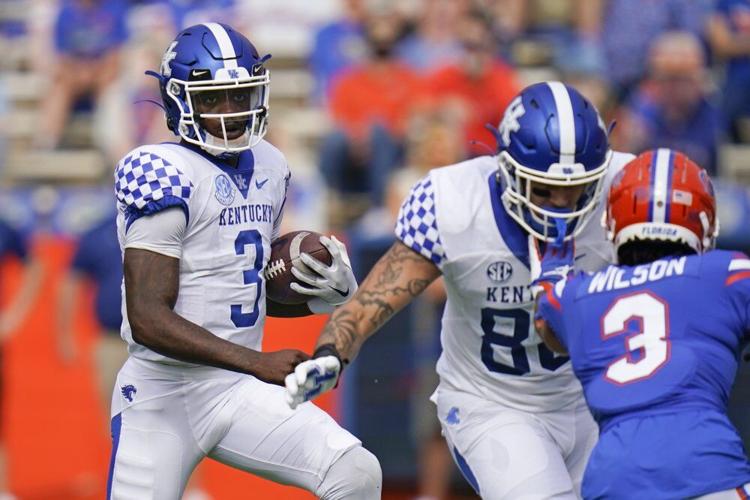 John Lewis: UK 21, South Carolina 10
Tom Lane: UK 24, South Carolina 13
Eric Crawford: UK 28, South Carolina 21
Aaron Matas: UK 35,  South Carolina 14
Rick Bozich: UK 24, South Carolina 13
Ruby: South Carolina
2. Indiana at Wisconsin (-14); Saturday 3:30 p.m.; Camp Randall Stadium, Madison, Wisconsin.
I've mentioned this stat before, but it is difficult to ignore: Not only has Wisconsin won 10 straight against IU, the Badgers' average margin of victory has been nearly 36 points. The Badgers have played only three games, crushing Illinois and Michigan before losing at Northwestern, 17-7, two weeks ago. They will not play enough games to qualify for the Big Ten title game. Wisconsin ranks first in the Big Ten in rushing defense, allowing 67 yards per game, while IU ranks 12th in rushing offense at 102 yards per game. Jack Tuttle will make his first college start at quarterback for Indiana, replacing the injured Michael Penix Jr. Tuttle completed his only five passes against Maryland last week. Wisconsin recruited Tuttle as a high school senior in San Diego.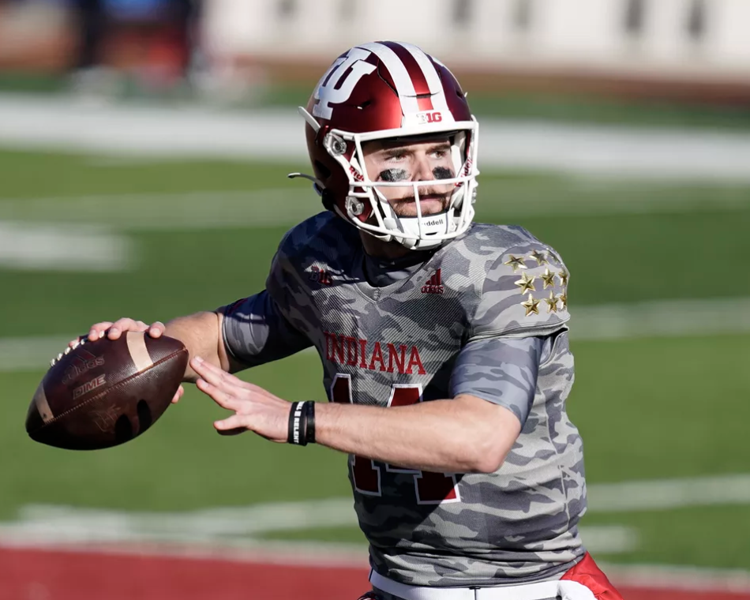 Lewis: Wisconsin 29, IU 21
Lane: Wisconsin 30, IU 20
Crawford: Wisconsin 24, IU 21
Matas: Wisconsin 31, IU 21 
Bozich: Wisconsin 24, IU 20
Ruby: Indiana
3. Miami at Duke (+15); Saturday, 8 p.m.; Wallace Wade Stadium, Durham, North Carolina.
The Hurricanes (7-1) have won four straight since their loss to Clemson, while the Blue Devils have allowed 56 points in each of their last two losses to North Carolina and Georgia Tech. Miami quarterback D'Eriq King ranks third in the ACC in total offense, trailing Trevor Lawrence of Clemson and Sam Howell of North Carolina. Miami has won 12 of 15 games against Duke since joining the ACC, but the Blue Devils have won two straight in the series. R.J. Oben, son of former Louisville and NFL offensive lineman Roman Oben, is a backup defensive end for Duke.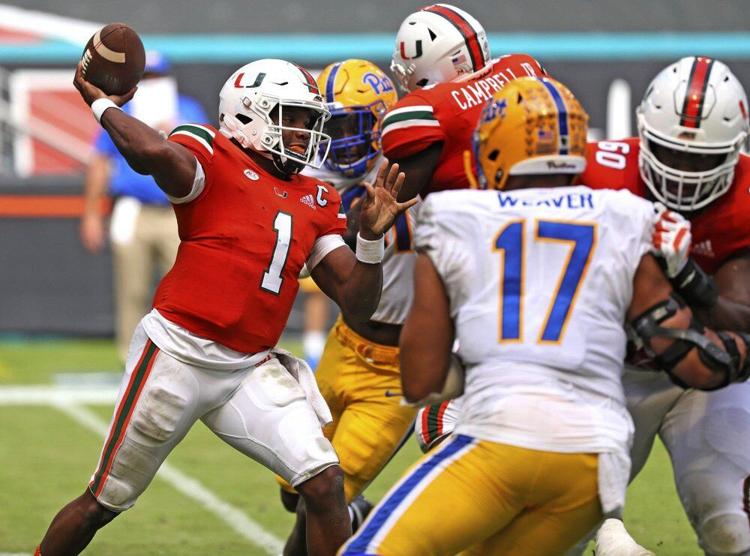 Lewis: Miami 31, Duke 14
Lane: Miami 34, Duke 21
Crawford: Miami 35, Duke 14
Matas: Miami 38, Duke 21
Bozich: Miami 31, Duke 13
Ruby: Duke
4. Florida at Tennessee (+17); Saturday, 3:30 p.m.; Neyland Stadium, Knoxvile, Tennessee.
Will Tennessee actually ante up a buyout of nearly $13 million for Jeremy Pruitt (and more for his staff) if the Vols slide to 2-7 by losing the next two games to No. 6 Florida and No. 5 Texas A&M? It's a big topic beyond Knoxville, because Tennessee botched the last job search when it fired Butch Jones three years ago, and the Vols have a Top-10 recruiting class with 23 commitments lined up. At 7-1, the Gators have a one-game edge on Georgia in the SEC East with another game against LSU next week. With 34 touchdown passes and a completion rate of better than 71%, Florida quarterback Kyle Trask sits in the front row of Heisman candidates with Justin Fields of Ohio State and Trevor Lawrence of Clemson.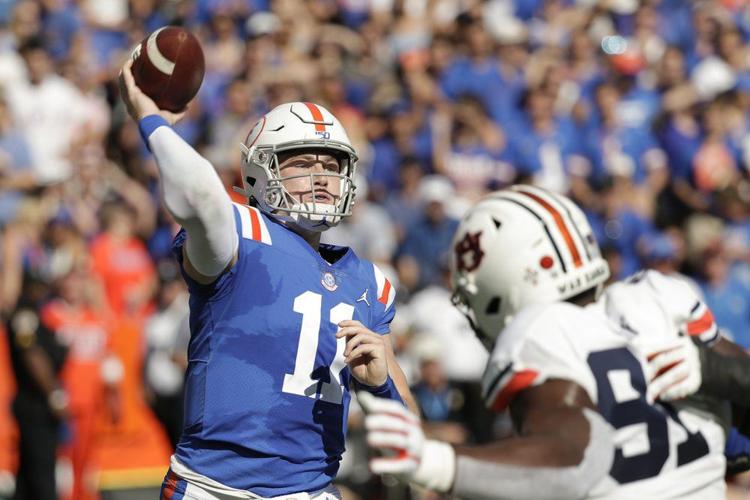 Lewis: Florida 40 Tennessee 14
Lane: Florida 38, Tennessee 14
Crawford: Florida 38, Tennessee 24
Matas: Florida 41, Tennessee 20
Bozich: Florida 31, Tennessee 13
Ruby: Tennessee
5. Clemson at Virginia Tech (+22); Saturday, 7:30 p.m.; Lane Stadium, Blacksburg, Virginia.
At 46 points per game, the Tigers rank fifth in the nation in scoring and have scored 40 or more in seven of their nine games. Clemson will gets its rematch with Notre Dame in the ACC championship game, but with the No. 3 ranking in the college football playoff poll, the Tigers cannot afford a stumble against the five-loss Hokies. Tech coach Justin Fuente is another guy who has been mentioned in Hot Seat talk. This is the third straight season Tech has lost at least five games and failed to win the ACC Coastal. The Hokies have allowed 35 or more points four times.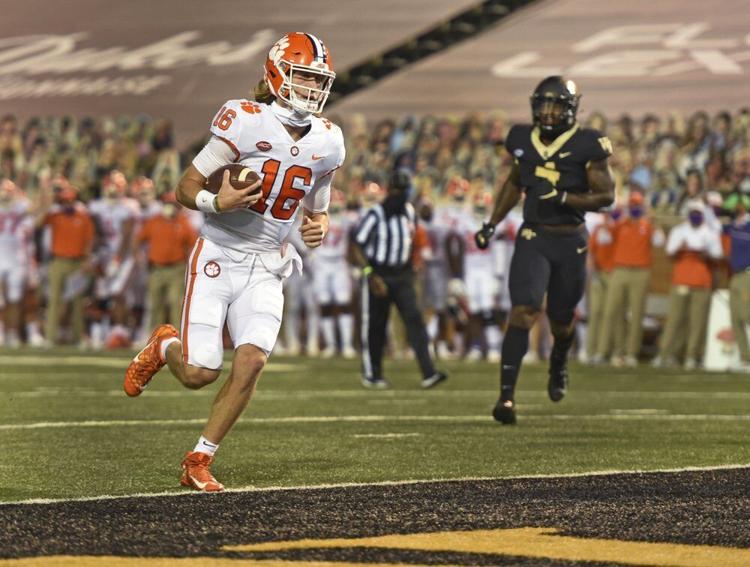 Lewis: Clemson 45, Virginia Tech 21
Lane: Clemson 44, Virginia Tech 17
Crawford: Clemson 51, Virginia Tech 17
Matas: Clemson 49, Virginia Tech 17
Bozich: Clemson 45, Virginia Tech 21
Ruby: Virginia Tech
6. Nebraska at Purdue (-2); Saturday, noon; Ross-Ade Stadium, West Lafayette, Indiana.
Jeff Brohm's Boilermakers have lost three straight, but the losses have been by a combined 17 points — seven, three and seven. Three of Nebraska's four losses have been to ranked opponents, but the Cornhuskers also suffered an ugly 18-point home loss against Illinois. Although former Trinity star Rondale Moore has played in only 19 games (just two this season), he ranks 10th in all-time receptions for the Boilermakers. Moore has 22 catches in his two games but has not scored a touchdown. Former Christian Academy of Louisville star Milton Wright has 21 catches in five games, with two scores  for Purdue. Purdue will finish its regular season with the Old Oaken Bucket game at Indiana on Dec. 12.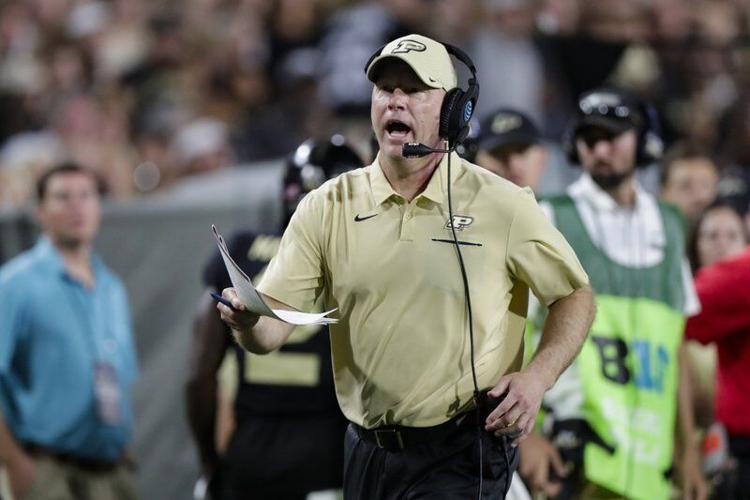 Lewis: Purdue 21, Nebraska 14
Lane: Purdue 21, Nebraska 17
Crawford: Purdue 31, Nebraska 28
Matas: Purdue 35, Nebraska 31
Bozich: Purdue 28, Nebraska 20
Ruby: Nebraska
7. Texas A&M at Auburn (+6 1/2); Saturday, Noon; Jordan-Hare Stadium; Auburn, Alabama.
The No. 5 Aggies have loomed on the fringe of the college football playoff talk, waiting for Notre Dame, Clemson or Ohio State to stumble while making their case that a 28-point loss to Alabama should not be a disqualifier. The Aggies finish with road games against the Tigers and Tennessee. A&M quarterback Kellen Mond must bounce back from an awful game against LSU. He completed only 11 of 34 passes for 105 yards without a touchdown. Is Auburn coach Gus Malzahn on the Hot Seat? Isn't he always? Although the Tigers are 5-3, they have not beaten a team with a winning record and have a terrible loss to South Carolina.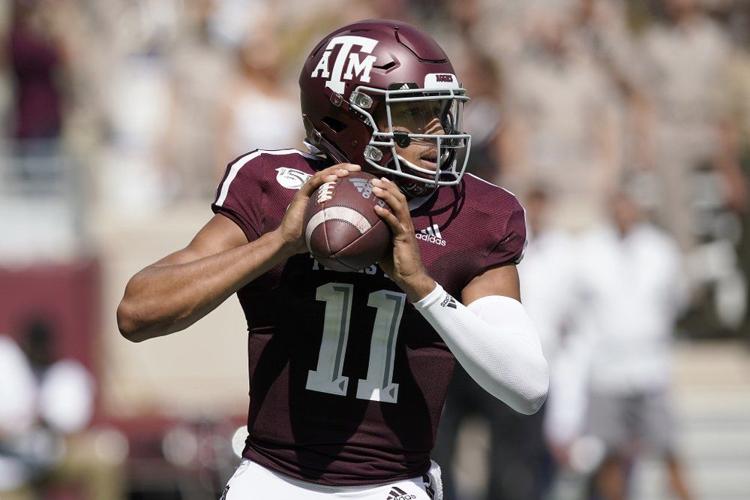 Lewis: Texas A&M 24, Auburn 17
Lane: Texas A&M 35, Auburn 24
Crawford: Texas A&M 31, Auburn 24
Matas: Auburn 31, Texas A&M 28
Bozich: Texas A&M 24, Auburn 17
Ruby: Auburn
Last Week: (6 games after WKU postponed)
Tom Lane: 5-1
Eric Crawford: 4-2
Aaron Matas: 4-2
John Lewis: 4-2
Rick Bozich: 2-4
Ruby: 1-5
Season Totals:
Tom Lane: 45-35-1 (.562)
Aaron Matas: 42-38-1 (.525)
Rick Bozich: 41-39-1 (.512)
Eric Crawford: 40-40-1 (.500)
Ruby 32-48-1 (.401)
John Lewis: 32-48-1 (.401)
Copyright 2020 WDRB Media. All Rights Reserved.