LOUISVILLE, Ky. (WDRB) -- This is the weekend of the super-sized point spreads. Louisville, Kentucky and Indiana are all favored (Cards) or underdogs by 18 or more points.
Add in Florida being the pick by 31 1/2 over Vanderbilt, Clemson by 35 1/2 over Florida State and Virginia by 39 1/2 over Abilene Christian (huh?), and the wise guys have forecast some one-sided games this weekend.
Does the WDRB Sports staff agree?
Read on.
One thing you can be sure of is this: Auburn will not beat Tennessee 31-17, because Eric Crawford, Tom Lane and Rick Bozich all picked that score.
1.Syracuse at Louisville (-18); Friday, 7 p.m.; Cardinal Stadium.
Louisville has not been favored by this many points against a Power 5 opponent since they played Boston College in 2017. Considering the Cards are 2-6, some have wondered if the number is, well, generous. Syracuse is 1-7 with five losses by two touchdowns or more. The Orange rank last in the ACC in rushing defense and last in rushing offense, which is typically a lethal combination. The Orange have been limited to less than 100 yards rushing in six games while allowing an average of 223 yards per game on the ground. Louisville quarterback Malik Cunningham ran for 197 yards last week. The Cards have won five of their last six against the Orange.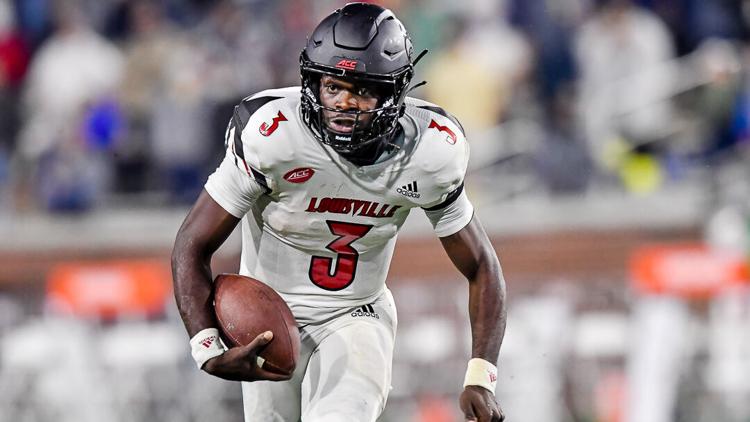 John Lewis: Louisville 27, Syracuse 10
Eric Crawford: Louisville 31, Syracuse 21
Tom Lane: Louisville 37, Syracuse 21
Aaron Matas Louisville 38, Syracuse 21
Rick Bozich: Louisville 31, Syracuse 17
Ruby: Louisville
2. Kentucky at Alabama (-30 1/2), Saturday, 4 p.m.; Bryant-Denny Stadium, Tuscaloosa, Alabama.
The top-ranked Crimson Tide have been off the last two Saturdays — a bye followed by a canceled game against Louisiana State. Alabama has won every game by 15 or more but has won the last two by 30 or more. Bama quarterback Mac Jones, a guy Kentucky recruited vigorously, is one of the top candidates for the Heisman Trophy. Jones has completed nearly 79% of his passing attempts with 16 touchdowns and only a pair of interceptions. UK quarterback Terry Wilson played the best game of his career against Vandy, completing 13 of 15 for 110 yards and two touchdowns while rushing for 83 yards and a score. Bama coach Nick Saban is 7-0 against Kentucky with four wins at Alabama.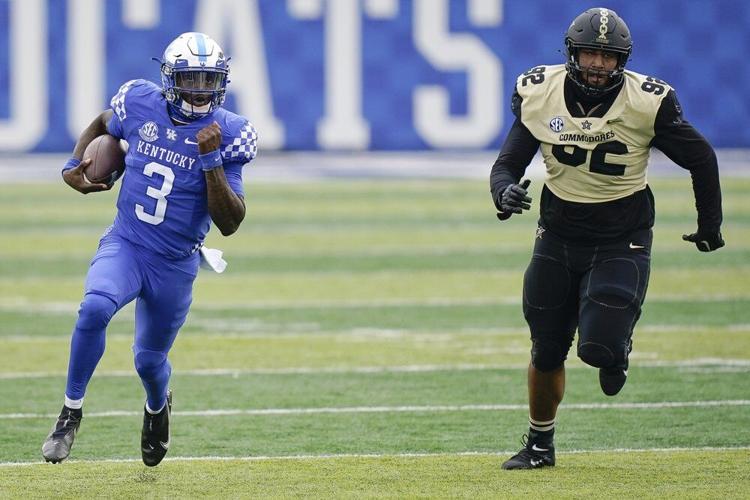 John Lewis: Alabama 33, Kentucky 16
Eric Crawford: Alabama 45, Kentucky 14
Tom Lane: Alabama 42, Kentucky 10
Aaron Matas: Alabama 35, Kentucky 7
Rick Bozich: Alabama 35, Kentucky 7
Ruby: Kentucky
3. Indiana at Ohio State (-20 1/2); Saturday, noon; Ohio Stadium; Columbus, Ohio.
The Hoosiers' 24-game losing streak against the Buckeyes is the longest active single series streak in college football. IU defeated OSU in consecutive seasons (1987-1988) but has not won again. Ohio State announced Wednesday that no fans, including parents or other family members of players, will be allowed at the game. Caleb Jones and Michael Katic, the starting left side of Indiana's offensive line, missed the Michigan State game with injuries. IU coach Tom Allen said their availability as well as the availability of starting linebacker Cam Jones will be a game-time decision.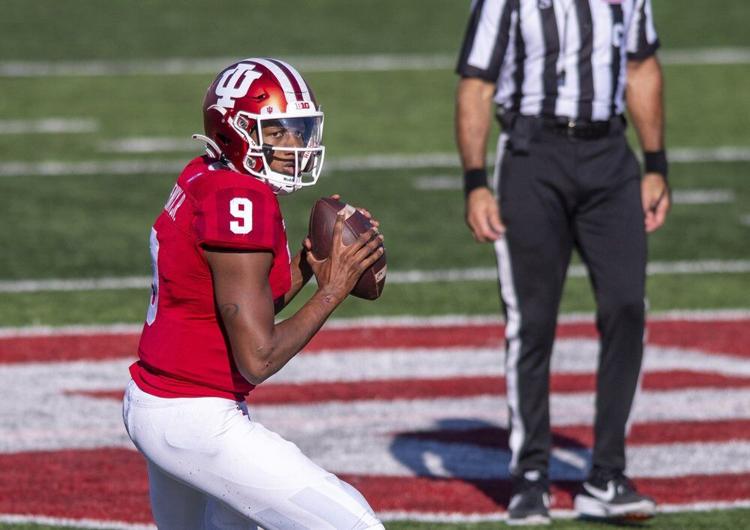 John Lewis: Ohio State 37, Indiana 17
Eric Crawford: Ohio State 35, Indiana 21
Tom Lane: Ohio State 41, Indiana 24
Aaron Matas: Ohio State 48, Indiana 21
Rick Bozich: Ohio State 38, Indiana 20
Ruby: Ohio State
4. FIU at WKU (-7 1/2); Saturday, 2 p.m.; Houchens-Smith Stadium, Bowling Green.
The Hilltoppers will try to stretch their Senior Day winning streak to 10 against an 0-4 FIU team that has not played in three weeks. Although the Panthers are winless, their first two defeats were by 2 (Liberty and 3 (Middle Tennessee). FIU is coached by former Miami and North Carolina head man Butch Davis. Panthers running back D'Vonte Price ranks fifth in the nation with 7.89 yards per rushing attempt. FIU has been awful against the run, ranking No. 123 of 126 FBS programs. WKU quarterback Tyrrell Pigrome has attempted 212 passes without an interception, the second-longest streak in FBS this season.
John Lewis: WKU 14, FIU 7
Eric Crawford: WKU 28, FIU 24
Tom Lane: WKU 13, FIU 7
Aaron Matas: WKU 28, FIU 21
Rick Bozich: WKU 20, FIU 14
Ruby: WKU
5. Wisconsin at Northwestern (+7 1/2); Saturday, 3:30 p.m.; Ryan Field, Evanston, Illinois.
The winner will be the frontrunner to represent the West Division in the Big Ten title game, a surprising development for the Wildcats, who finished last in the West last season. Former Indiana quarterback Peyton Ramsey has helped the Wildcats increase their scoring average from 16.3 to 28 points per game. Ramsey has averaged 181 yards passing, completing 66% of his throws. But Northwestern's strength has been defense. The Wildcats rank second in the Big Ten in total defense at 301.8 yards per game. The only team better is Wisconsin at 218.5, but the Badgers have only played twice, defeating Illinois and Michigan.
John Lewis: Wisconsin 21, Northwestern 17
Eric Crawford: Northwestern 31, Wisconsin 28
Tom Lane: Wisconsin 28, Northwestern 24
Aaron Matas Wisconsin 40, Northwestern 31
Rick Bozich: Wisconsin 21, Northwestern 13
Ruby: Wisconsin
6. Virginia Tech at Pittsburgh (+3 1/2); Saturday, 4 p.m., Heinz Field, Pittsburgh.
After winning three home games to open the season, the Panthers wobbled to four straight losses before thumping lowly Florida State last week. Pitt has on five of six against the Hokies at Heinz Field. Pitt's Jordan Addison has been the most productive freshman receiver in the country with 52 catches for 611 yards. Although Tech is 4-4, their last four defeats have been by a total of 11 points. Three of Tech's losses were also against teams that were ranked in the Top 25 on game day.
John Lewis: Virginia Tech 21, Pitt 10
Eric Crawford: Virginia Tech 28, Pitt 21
Tom Lane: Pitt 34, Virginia Tech 31
Aaron Matas: Pitt 31, Virginia Tech 30
Rick Bozich: Pitt 24, Virginia Tech 21
Ruby: Virginia Tech
7. Tennessee at Auburn (-10 1/2); Saturday, 7 p.m.; Jordan-Hare Stadium, Auburn, Alabama.
The Tigers have won back-to-back games against Ole Miss and LSU to move into third place in the SEC West, while the Vols have not won since Oct. 3 and sit fifth in the East while still facing games with Florida and Texas A&M. Tennessee coach Jeremy Pruitt has moved into the No. 5 spot at coacheshotseat.com, trailing (in order) Derek Mason of Vanderbilt, Jim Harbaugh of Michigan, Kevin Sumlin of Arizona and Les Miles of Kansas. Tennessee ranks 13th in the SEC in total offense only 0.5 yards per game ahead of Kentucky.
John Lewis: Auburn 28, Tennessee 14
Eric Crawford: Auburn 31, Tennessee 17
Tom Lane: Auburn 31, Tennessee 17
Aaron Matas: Auburn 42, Tennessee 24
Rick Bozich: Auburn 31, Tennessee 17
Ruby: Auburn
Last Week:
Aaron Matas: 5-2
Tom Lane: 5-2
Rick Bozich: 4-3
Eric Crawford: 3-4
John Lewis: 3-4
Ruby: 1-6
Season Totals:
Aaron Matas: 36-31-1, .537
Rick Bozich: 36-31-1, .537
Tom Lane: 35-32-1, .525
Eric Crawford: 32-35-1, .475
Ruby: 27-40-1, .404
John Lewis: 25-42-1, .375
Copyright 2020 WDRB Media. All Rights Reserved.