BOZICH | ACC basketball notebook: Louisville & Virginia rising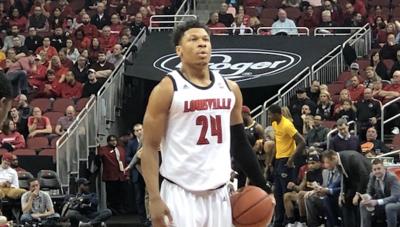 LOUISVILLE, Ky. (WDRB) — A loss to Pittsburgh (and perhaps a 13-point homecourt loss to Kentucky) explain why 33 voters failed to include the University of Louisville on their latest ballots for the Associated Press college basketball Top 25.
Five additional points would have bumped the Cardinals past Indiana into the 25th spot, a jump Chris Mack's team will certainly make if Louisville beats Boston College Wednesday night and backs it up with a victory at Georgia Tech Saturday.
The computer rankings have not waited to give the Cardinals more love. The formulas used by Ken Pomeroy, Jeff Sagarin, Bart Torvik and the NCAA all have Louisville ranked from 21-to-23.
According to Pomeroy, Louisville has one credential only Kansas can match:
Two wins against Top 10 KenPom opponents.
Louisville delivered against Michigan State and North Carolina. Kansas scored at Michigan State and Tennessee.
Even the Cards' loss to Pittsburgh has aged relatively well, considering the Panthers played North Carolina State tough before losing in Raleigh and thumped No. 25 (in Pomeroy) Florida State Monday night.
Early returns have Jeff Capel of Pitt and Mack in the lead at the quarter pole for ACC coach of the year.
Pitt started the season ranked No. 138 and has climbed to 68th. Louisville has advanced from 63rd to No. 23.
Where Do You Stand on Virginia?
I'm putting you on the spot. I need four teams that you believe will be in Minneapolis for the Final Four in April. Who are your four?
Is Virginia one of them?
Are you ready to forget the remarkable loss to UMBC last season, the stumble while scoring only 39 points against Florida in 2017, blowing a 14-point lead against Syracuse in the final 10 minutes in 2016 and you know the rest of the story?
I am. Virginia is one of my Final Four teams.
I watched the Cavaliers dismantle a formidable Virginia Tech team Tuesday night. I'm on board with Tony Bennett's team.
I understand the knocks — that the controlled, limited possessions approach that Bennett favors makes the Cavaliers vulnerable in the tournament.
If Virginia is not making shots and the shots are falling for the Cavaliers' opponent, Virginia becomes uncomfortable and rushed while trying to play catch-up.
Virginia also often has a short bench. That makes it challenging for the Cavaliers to overcome foul trouble or an injury (similar to the one that cost UVa De'Andre Hunter last season).
Points granted. Virginia's NCAA history will stay under the microscope until the Cavaliers get to the Final Four.
My counter argument is simple. If you keep playing extraordinary defense as well as poised and intelligent offense the way Virginia plays at both ends of the court, you will break through.
You will.
Ask Villanova, another former March Underachiever. Villanova finally broke through in 2016 after six consecutive seasons of failing to make the Sweet Sixteen. Today Jay Wright is a lock for the Hall of Fame. In 2016, he was trying to prove he could be the next Rollie Massimino.
Virginia has won its first four Atlantic Coast Conference games by an average of more than 20 points, while playing Florida State, Boston College, Clemson and Virginia Tech. According to Pomeroy, Virginia ranks first in offensive and defensive efficiency in ACC games.
Virginia gets Duke Saturday at 6 p.m. in Cameron Indoor Stadium — with a rematch in Charlottesville Feb. 9.
The Cavaliers will win at least one against Duke and earn another No. 1 seed in the NCAA Tournament.
Clip and save for Freezing Cold Takes.
The Joys of the Transitive Property
Chicago State might not be the worst team in the nation, but with No,. 347 ranking in Pomeroy, the Cougars have certainly earned a seat in the discussion. They're 3-14 but just one of those victories was earned against a Division I opponent.
That was an 80-72 victory over Eastern Illinois.
The same Eastern Illinois team that beat Gardner Webb.
And Gardner Webb won at Georgia Tech.
And the Yellow Jackets won at Syracuse.
And Syracuse beat the Best Team Ever by four the other night at Cameron Indoor Stadium.
I promised there was joy in the Transitive Property.
Boston College: Anything to Fear?
Louisville has gone 4-for-4 against Boston College since the Cardinals joined the Atlantic Coast Conference.
They are favored by 11 points to make it 5-for-5 at KFC Yum! Center Wednesday at 7 p.m.
The Golden Eagles arrive on a four-game losing streak, which started with a home loss to Hartford. Boston College has won one of its last 29 ACC road games, defeating Pittsburgh last season.
Copyright 2019 WDRB Media. All Rights Reserved.