LOUISVILLE, Ky. (WDRB) -- No baseball caps lined across a table.
No live stream cameras and microphones.
No pep bands, cheerleaders or other visual fireworks.
No look-at-me nonsense that we see nearly every day in every sport.
Just a simple six-word announcement on Twitter, similar to the announcement that Trey Galloway made on the same social media platform two weeks earlier:
Indiana by birth, Hoosier by choice. ❤️ pic.twitter.com/kR0E5f8vdu

— Anthony Leal🧘🏽‍♂️ (@anthonyl3al) August 9, 2019
Anthony Leal of Bloomington South High School committed to play for Archie Miller and the Hoosiers in the Class of 2020.
Leal did it the way Galloway did it, squashing the drama before the start of his senior season.
In a 15-day period, Galloway, of the Culver Academies, and Leal delivered the message that the best players in the state were still dialed into Miller's vision for IU basketball despite back-to-back uneven seasons.
Leal, who is 6 feet 5 inches tall, and Galloway, 6 feet 4 inches tall, want to take the solidly productive bond they built in AAU basketball and become a backcourt foundation for the way Miller wants to get Indiana back to the NCAA Tournament — and beyond.
They want to put the Indiana — and the winning — back in Indiana basketball.
They're not Top-25 or even Top-75 recruits, according to the guys who deliver those rankings.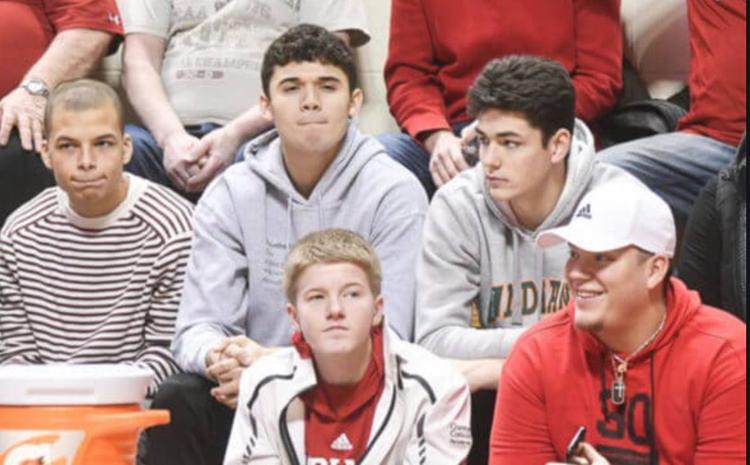 Leal, whose strength is perimeter shooting, is No. 96 in the latest 247Sports composite rankings for the 2020 class. Galloway, who can play either guard spot, earned a composite number of —- brace yourself — No. 181.
If those rankings bother you, you probably didn't enjoy many of the guys Virginia, Texas Tech, Auburn and Michigan State put on the floor in the NCAA Final Four four months ago.
Leal and Galloway qualified in the rankings that matter — Miller's rankings.
Miller is putting the Indiana back in Indiana basketball and doing it the old-fashioned way with guys who look prepared to grind through a complete four-season college career in order to also put the winning back in Indiana basketball.
At 352 other Division I programs, the in-state pedigree might not matter.
At Indiana, it does matter.
Leal turned down a $250,000 education at Stanford as well as offers from Ohio State, Butler, Maryland, Iowa and Northwestern.
Butler, Michigan State, Notre Dame, Iowa and others pursued Galloway. He is the son of a coach who has already won one state championship.
The word around his commitment was that places like North Carolina and Kansas had noticed the grit in his game and quietly started to inquire if he'd like to string out his recruitment shortly before the kid committed to IU.
Leal and Galloway will have to prove they're good enough to help Indiana overtake Michigan State, Michigan and Purdue at the top of the Big Ten.
They need to get stronger, improve their ball-handling and show they can score against elite defenders. They won't be an instant fix for Indiana as freshmen.
But just getting the best Indiana kids to Indiana is a good sign for Miller, whose last five commitments have been in-state players.
Leal and Galloway joined the list that Bob Knight learned to emphasize when he got to Bloomington in 1971 — a list that includes Tom Abernethy, Bobby Wilkerson, Kent Benson, Randy Wittman, Ted Kitchel, Mike Woodson, Ray Tolbert, Landon Turner, Dan Dakich, Steve Alford, Jay Edwards, Calbert Cheaney, Greg Graham, Pat Graham, Brian Evans, Michael Lewis, Jared Jeffries, Tom Coverdale, Eric Gordon, Jordan Hulls, Cody Zeller, Yogi Ferrell, Romeo Langford and so many other kids who made their way from across the state to Bloomington.
At IU, Leal and Galloway will join a roster that already includes homegrown players like Robert Phinisee, Damezi Anderson, Trayce Jackson-Davis and Armaan Franklin.
That doesn't mean Leal and Galloway are going to win a national championship the way Abernethy, Wilkerson, Benson, Wittman, Kitchel, Tolbert, Turner and Alford did.
It doesn't mean there isn't room for out of state recruits, the way there has always been room for Quinn Buckner, Scott May, Isiah Thomas, Daryl Thomas, D.J. White or Victor Oladipo.
It simply means that Galloway and Leal are eager to put the Indiana back in Indiana basketball — and the winning, too.
Copyright 2019 WDRB Media. All Rights Reserved.