BOZICH | Are quarterbacks pushing college football toward free agency?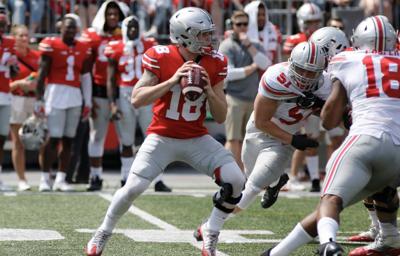 LOUISVILLE, Ky. (WDRB) -- The first wave of this story washed through the University of Louisville football program:
Late Tuesday night, former Ohio State quarterback Tate Martell announced he will join the Miami Hurricanes, less than a day before he was scheduled to visit U of L.
It happens. My weather industry sources said it was 69 degrees and sunny in Coral Gables, Fla., Tuesday. They have yet to build a recruiting lounge to overcome that.
But Martell's decision to pick Miami (over West Virginia, Louisville and others) is merely the first wave of this story. Martell will come, he'll go, he'll win, he'll lose.
Long after his final touchdown, this is how the Martell Story can separate itself from the basic transfer story:
Should the NCAA allow college football underclassmen to transfer and be eligible without sitting out one season?
Martell's biggest play could be pushing college football toward free agency, transferring without penalty. If you don't like how your future is shaking out at Ohio State, you go to Miami or wherever you prefer to play.
There have been multiple reports Martell intends to ask the NCAA for immediate eligibility, skipping the one season on the sidelines requirement that became NCAA policy before Bear Bryant had a statue.
His reported argument?
Urban Meyer was the coach who brought Martell to Ohio State. Meyer retired. Martell did not sign to play for Ryan Day, the new Buckeyes' coach. In fact, Day is the coach who is bringing Justin Fields from Georgia to take Martell's job.
Of course, Fields has also asked the NCAA to grant him immediate eligibility at Ohio State. His argument will reportedly be it became uncomfortable for him to remain at Georgia because another Georgia athlete (since dismissed from the baseball team) used racist language while talking about Fields at a football game. Several news reports have Fields working with Tom Mars, an attorney who has won eligibility cases with the NCAA.
Anybody else out there looking to play ASAP?
Now that you mentioned it, Indiana has a quarterback looking for grace from the NCAA. Jack Tuttle was considered the No. 8 pro-style quarterback in the Class of 2018 by 247Sports. Last fall, halfway through his freshman season at Utah, Tuttle decided Utah was not the place for him. He did not take a snap. Now he would like to take snaps for Indiana — in 2019, not 2020.
The NCAA will decide. On Tuttle. On Fields. On Martell.
All three are looking for waivers that the NCAA has appeared to become more amenable to granting in recent cases.
Three quarterbacks. Three programs. Three different arguments.
One objective: Get on the field and advance their careers as quickly as possible, while essentially bumping the NCAA closer to free agency than the organization has ever been.
Closer for players, that is. Free agency for coaches has never been an issue. Coaches will hyperventilate if this version of free agency becomes a thing, but players are expected to remain poised and understanding while dealing with more challenging circumstances.
Ask the recruits who signed with Temple last month during the 25-second period where Manny Diaz was the Owls' coach before he changed his mind and left the program in Philadelphia to return to Miami. The NCAA has always had an answer for that: Recruits are advised they should pick programs based on the entire university, not the makeup of the coaching staff.

Nobody believes that linebackers choose Alabama because of the accounting program in Tuscaloosa or Clemson because of its engineering and psychology degrees. But that is the NCAA's story, and they're sticking with it.
Martell, Fields and Tuttle are operating on a difference frequency than Jalen Hurts (Alabama to Oklahoma), Brandon Wimbush (Notre Dame to Central Florida) and Kelly Bryant (Clemson to Missouri), graduate transfers who will be eligible to compete this fall as long as they arrive at their new campuses with degrees.
In college football, they're calling it the Quarterback Merry-Go-Round.
The follow-up question is obvious: If guys can play immediately after earning their degrees, shouldn't underclassmen be eligible to play immediately, too, if their academics are in order?
That is the direction the major college sports culture is moving. Coaches suffer no penalties. Graduates suffer no penalties.
Underclassmen have to be next. Keep an eye on Martell, Fields and Tuttle. Before they move the chains, they're trying to move the college football landscape.
Copyright 2019 WDRB Media. All Rights Reserved.