LOUISVILLE, Ky. (WDRB) -- Pittsburgh needs to be a get-well game for the University of Louisville men's basketball team Saturday afternoon.
The Panthers have lost a half-dozen games at home. They have the worst power ranking (No. 176) in the Atlantic Coast Conference in Ken Pomeroy's formula as well as the next-to-last ranking (No. 198) in the NCAA Net numbers. Half of Pitt's 10 defeats have been by 10 or more points.
You don't like the term Must Win for a mid-January, regular-season game? Then you can argue that even with the 4 p.m. game booked for the Petersen Events Center in Pittsburgh, this is one road game the Cardinals cannot lose if they want to remain on the fringe of NCAA Tournament consideration.
Louisville survived the Panthers by three points at the KFC Yum! Center nine days ago. U of L has won at Pitt in back-to-back seasons.
But after a bewildering 16-point home loss Wednesday to North Carolina State, head coach Chris Mack has other matters of concern with his 10-6 team.
Like how did he interact with them in the days following the defeat?
"The message was simple," Mack said. "We have to be better in all areas.
"We hammered the defensive end, which I think has been plaguing our team here of late. We've gone from being 12th in the country to barely top 50, and it has to rectify itself.
"We have to be much better on that end of the floor with our communication and our energy. That's been the focus. We've had only one practice. We got after it yesterday and we'll do the same thing today."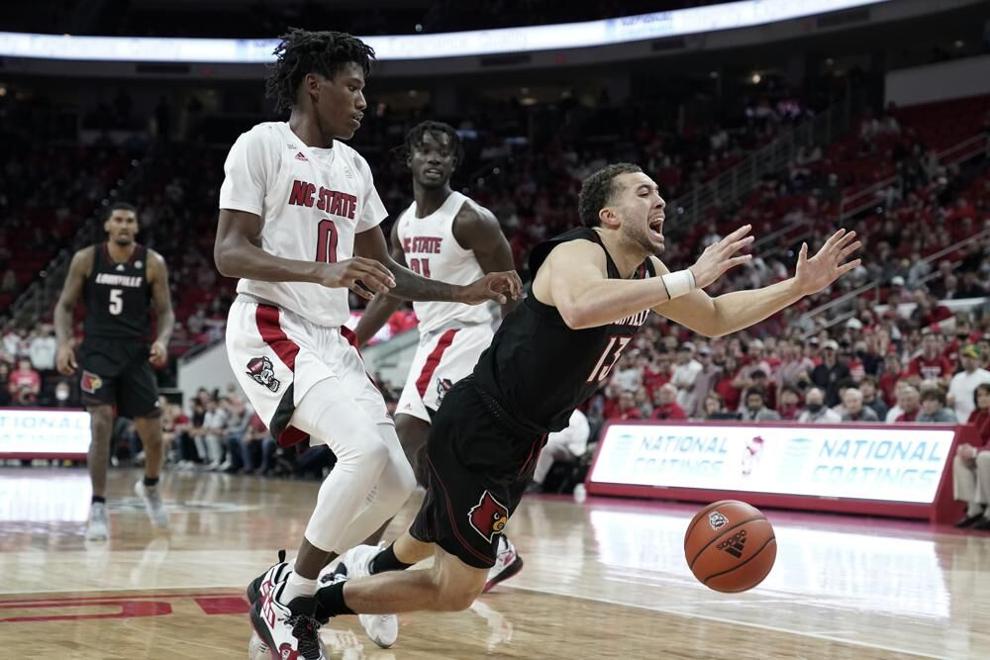 If your message deals with consistency and effort, are the players still trying to get to that point?
"Yeah, I think the thing I've noticed with a few of the guys is that when things aren't going necessarily great for them, they struggle being consistent with effort," Mack said.
"You can't do that at this level. You'll get exposed. So we're working through that, trying to get them to understand that — especially at the high-major level — you've got to be able to play through your issues.
"When we get that, then these guys will be the players we know they're capable of being."
After the N.C. State game, Mack appeared frustrated with his team's performance. How did he address that?
"Just continue," he said. That's not been a one-shot meeting. It's something we've been hammering and talking about all year long.
"There's no magic potion. There's no magic dust to sprinkle on them and mistakes are going to disappear. The only way we know how to work on it is show film, drill it in practice and try to be better in the game."
Mack said that he did not intend to shuffle his lineup. The listed starters for the Cards on the team's pregame media packet are Malik Williams, Samuell Williamson, Matt Cross, Jarrod West and Noah Locke.
Although Pitt has won only one of five ACC games (defeating Boston College by two in the Panthers' last home game), Mack said that Pitt has an identity on toughness.
"I always think when you play Pittsburgh, it's going to be physical," Mack said. "That's just the approach they take, and you can't have back-down.
"(Pitt center John) Hugley is one of the better low-post scorers in our league. They look to him almost every possession.
"They had to completely change their approach against us in the first half when he went out. They went to more ball screens, and then when he got back in the second half, they went to him almost every possession.
"So we've got to fight for post position defensively without fouling. He draws a crazy amount of fouls and gets to the free throw line. He fouled out two of Boston College's guys, and I felt like they actually did a decent job.
"Fortunately for us, we do have a lot of bodies in that position. But we can't have him go through those bodies like a wrecking crew, which he's more than capable of doing."
Related Stories:
Copyright 2022 WDRB Media. All Rights Reserved.