LOUISVILLE, Ky. (WDRB) -- Scott Satterfield demonstrated that he can report as well as he can coach Monday, delivering this statistic from coverage of last week's game between Florida State and Virginia:
According to one recruiting website, the Seminoles had 45 players ranked 4- or 5-star recruits. Virginia had one.
This final score from Charlottesville on Saturday evening:
Virginia 31, Florida State 24.
I'll pause here while you craft your email requesting a refund from your recruiting website of choice.
Then I'll assist Satterfield with his chip-on-the-shoulder, bulletin-board, disrespect approach for the trip his (2-1) Louisville team will make to open Atlantic Coast Conference play against the befuddling (1-2) Seminoles on Saturday.
If you take those FSU recruiting numbers and measure them against the recruiting resume of Satterfield's team, the disparity is also significant. FSU has around 40 (depending on the recruiting website). Louisville has eight.
"Virginia didn't make as many mistakes and ended up winning the football game," Satterfield said while trying to explain how a team packed with players Florida State would not consider recruiting could beat the Seminoles.
"I think the little things matter. I think that's the thing you have to get across."
If you were told you had to open ACC play on the road and were given the opportunity to pick your place, Florida State would be high on the list of places to consider. The Seminoles have staggered through the first three weeks of the season, losing to Boise State and Virginia. They also tried vigorously to lose to Louisiana Monroe.
The Seminoles have been mentally fragile, allowing themselves to be outscored 75-31 in the second half. You always feel as if you can come back against Florida State.
The Seminoles rank next-to-last in the ACC in yards allowed at 485, highlighted by an average 5.6 per offensive play.
In case you missed it, Satterfield wants to run the football with authority. The Cardinals lead the ACC in rushing at more than 260 yards per game, while Florida State has allowed eight rushing touchdowns, tied for the most in the conference.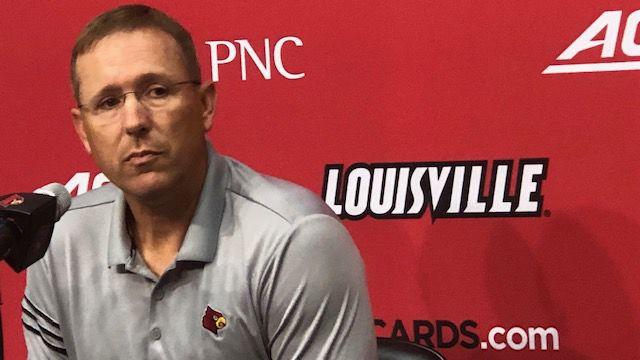 "We'd love to be able to lead the league in rushing at the end of the season," Satterfield said. "Run the football and stop the run. We want to continue to be able to do that."
Finally, Louisville believes it can win against Florida State because the Cardinals have won two of the last three games in the series. They should be working on a four-game winning streak. A jughead play call by Bobby Petrino led to a 28-24 defeat last season.
"I know a lot of things have been said in the media and this and that about them," Satterfield said. "They're still Florida State."
I believe I know what the coach meant by that. Florida State still has plenty of guys who made the recruiting gurus hyperventilate, because they are fast, strong, long, thick and powerful.
But here are some interesting recruiting tidbits:
Javian Hawkins, a sophomore running back for the Cards, ranks second in the ACC in rushing with 338 yards. Hawkins was a 3-star recruit from Florida who did not have a scholarship offer from Florida State.
Tutu Atwell, another U of L sophomore, leads the team in receiving yards (241), catches (11) and touchdowns (four). Atwell is another guy with a Florida pedigree. He was also another 3-star guy who likely did not fit FSU's size requirements at 5 feet 9 and 153 pounds.
Louisville's leading tackler is Rodjay Burns, who signed with Ohio State out of Trinity High School. Rivals and 247Sports both ranked Burns with the 3-star prospects.
Only three of Louisville's eight 4-star prospects are likely starters Saturday: linebacker C.J. Avery, defensive back Russ Yeast and receiver Dez Fitzpatrick.
If Jawon Pass is healthy and returns to the top quarterback spot, that would give Louisville a fourth 4-star starter. The others? Receiver Devante Peete, linebacker Robert Hicks, safety Trenell Troutman and cornerback Marlon Character are listed as 4-star reserves on the latest Louisville depth chart.
(Those recruiting guys have some explaining to do, don't they?)
I'm going out on a narrow limb and giving Clemson the title in the ACC Atlantic Division. After that, it will be a scrum. If Louisville wants to be a player in that scrum, this will be the perfect game to make its case.
The Cardinals have won the two games they were supposed to win. They lost the game they were supposed to lose. This game is their chance to flip that script.
"This is a very competitive league, each and every week," Satterfield said. "If you don't show up, you'll get beat. I think that's been proven.
"But when you show up and do the things you're supposed to do, you'll win the football game."
Copyright 2019 WDRB Media. All Rights Reserved.