LEXINGTON, Ky. (WDRB) — The talking is nearly over. Outstanding.
The hitting is just beginning. Even better.
But before the collisions become serious for the University of Kentucky football team as it prepares for its season opener against Toledo Aug. 31, the Wildcats' players and coaches huddled at Kroger Field Friday for the program's annual media day.
As coach Mark Stoops begins his seventh season at Kentucky, he said he was determined to build on the 10-win performance the Wildcats delivered last season, including a bowl victory over Penn State.
Without linebacker Josh Allen, halfback Benny Snell, defensive back Mike Edwards and other productive players, Kentucky will be challenged to hold its spot as the second-best team in the East Division of the Southeastern Conference.
Stoops, offensive coordinator Eddie Gran and first-year defensive coordinator Brad White discussed their tasks and the Wildcats' 2019 outlook.
Here are quotes that set the scene for training camp that should be clipped, saved and analyzed again in November.
Stoops, on the importance of the Wildcats delivering another winning season because that's what the best programs do:
"We're not interested in going backwards. We're not interested in taking steps backwards. We're not … That's not just coach speak."
White, on rebuilding every position in the depleted defensive secondary:
"In the secondary we don't know who the guys are who are going to be the starters. When you start the season, you have to have a depth chart. But it's in pencil. We'll find the best 11.
"We're going to have to do a great job of keeping it simple for us but making it complex for the offense."
CRAWFORD GALLERY | Scenes from UK football media day
From Lexington, some scenes from the University of Kentucky's football media day at Kroger Field.
Gran, on the improvement that he expects from quarterback Terry Wilson, who had 11 touchdown passes and eight interceptions while throwing for less than 1,900 yards.
"We've got to be better at our football IQ at that position. And that usually happens from year one to year two."
Stoops, when asked if he was tempted to stray from his love of the running game on offense:
"It's a line of scrimmage game. You'd better be good on the offensive line and you'd better be good on the defensive line. If you're not physical, you don't have much of a chance."
White, on the challenge of replacing Allen, who led the team with 88 tackles, including 17 sacks:
"What we've got to do is find the next one. Find the next one who is going to elevate his game."
Stoops, when advised that several UK players have expressed confidence about the team this summer on social media:
"I don't give you a lot of talking points, but I like them to be them. As long as they're coming from the right spot, I'm good with it. One thing I can't stand is false confidence."
Stoops, after he was asked about the university's decision not to sell alcohol in the primary public seating areas at Kroger Field, despite a new directive from the SEC that allows alcohol sales:
"It's above my pay grade so I don't put a lot of thought into it. It's just not my job. I'll just say it's hard.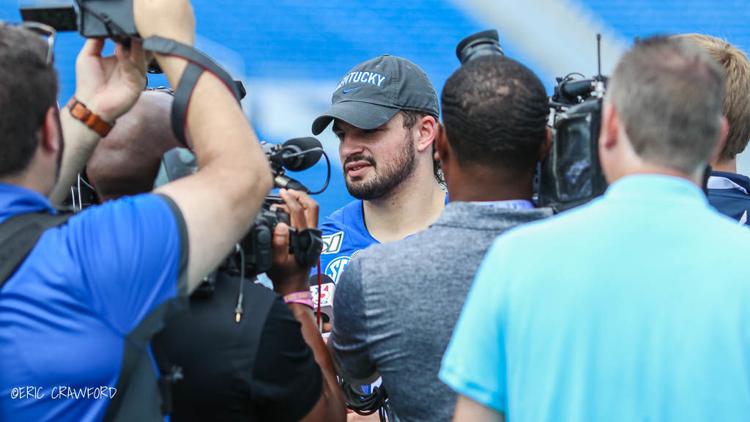 "Mitch (Barnhart, UK's athletic director) and Dr. (Eli) Capilouto (the university president), I have a lot of confidence in them. I'm sure they put a lot of thought into it."
Gran, on expecting improvement from junior receivers Josh Ali, Isaiah Epps and others:
"It's time to have grown man pants on and let's go. We're in our third year here. They're bigger, stronger, faster. They know the offense. We should have more production."
White, after he was asked about the possibility of playing true freshmen on defense, especially at linebacker and in the secondary:
"For me, knowledge is power. The ones who know who they are supposed to be are going to be the ones who play."
Copyright 2019 WDRB Media. All rights reserved.