LOUISVILLE, Ky. (WDRB) — We have reached the mid-point of the college football season, and I'm happy to report three things:
1. Eric Crawford and I are only one-game under .500 in our first attempt to pick games against the spread.
2. The schedule of games is especially delightful this weekend, presenting viewers with gourmet football viewing from noon to midnight, starting with the Texas-Oklahoma game that will be shown on WDRB at noon Saturday.
3. Trying to get on the correct side of .500 and beat Las Vegas remains a daunting task.
On to the games.
1. Louisville at Wake Forest (-6 1/2), 7:30 p.m. Saturday; ACC Network; BB&T Field, Winston-Salem, N.C.
This will be the first of three consecutive games against ranked opponents for Louisville (3-2), which will come home to face Clemson and Virginia the following two weekends … the Cards covered the number the first three weeks of the season but not the last two; Wake Forest is 2-2-1 against the spread but 5-0 overall … this will be the first time in 11 years that Wake, ranked 17th in the AP poll, will play a home game as a ranked team … Wake has won seven consecutive games over two seasons; the program has never won eight in a row … Louisville halfback Javian Hawkins ranks third in the Atlantic Coast Conference with 112.4 rushing yards per game and Wake ranks only 8th in the league against the run.
Eric: Wake Forest 38, Louisville 28
Rick: Wake Forest 33, Louisville 24
Ruby Coin Flip: Wake Forest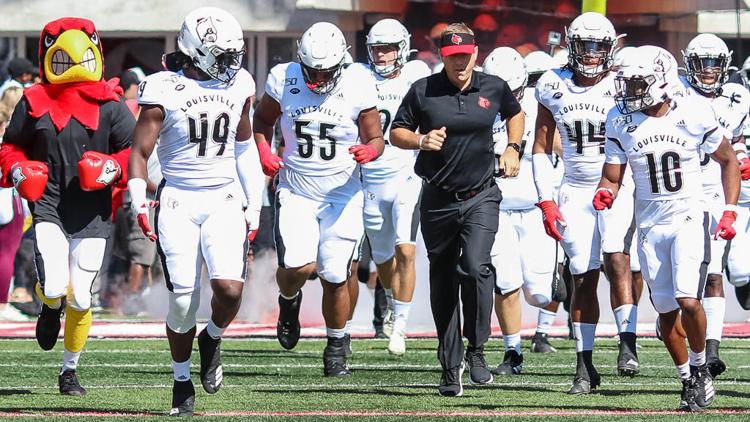 2. Arkansas at Kentucky (-6 1/2), 7:30 p.m., Saturday; SEC Network; Kroger Field, Lexington.
It's a Must-Win for the Wildcats (2-3) who have already lost as many games as they did last season by losing their last three to Florida, Mississippi State and South Carolina, teams that UK defeated last season … UK is 3-2 against the spread while the Razorbacks are 2-3 … both teams were idle last week …  Kentucky coach Mark Stoops must decide on a quarterback between the injured Sawyer Smith or receiver Lynn Bowden Jr. as more of a runner ... neither squad has won a Southeastern Conference game and the programs have not met since 2012 … The Razorbacks played one of their best games of the season two weeks ago, passing for 297 yards while taking Texas A&M to the wire in Arlington, Texas … Kentucky's Max Duffy continues to lead the nation in punting, averaging 51.2 yards per kick on 23 attempts … the Razorbacks have lost 13 consecutive SEC games.
Eric: Kentucky 24, Arkansas 21
Rick: Kentucky 28, Arkansas 17
Ruby Coin Flip: Arkansas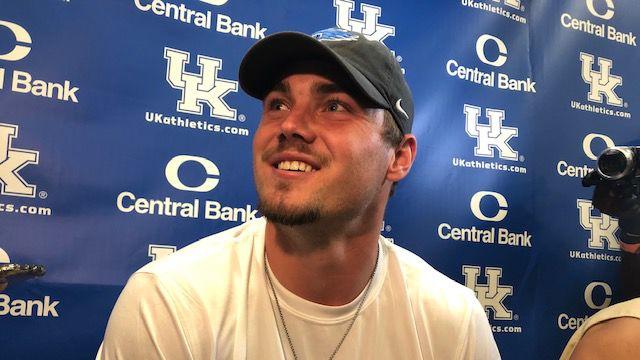 3. Rutgers at Indiana (-27 1/2), noon, Saturday; Big Ten Network, Memorial Stadium, Bloomington.
The Hoosiers (3-2) were idle last week and need three more victories to become bowl eligible for the first time since 2016 … IU has not been favored by three touchdowns in a Big Ten game since playing Purdue in 2016 … IU quarterback Michael Penix Jr. was ranked the 16th best quarterback in the nation, one spot ahead of Clemson's Trevor Lawrence, according to the analytics staff at ProFootballFocus … Rutgers fired head coach Chris Ask before last weekend's 48-7 loss to Maryland … the Hoosiers are 3-2 against the spread while the Scarlet Knights are 1-4 … IU has won three straight against Rutgers … IU's Whop Philyor ranks second in the Big Ten with 31 receptions.
Eric: Indiana 44, Rutgers 14
Rick: Indiana 35, Rutgers 10
Ruby Coin Flip: Indiana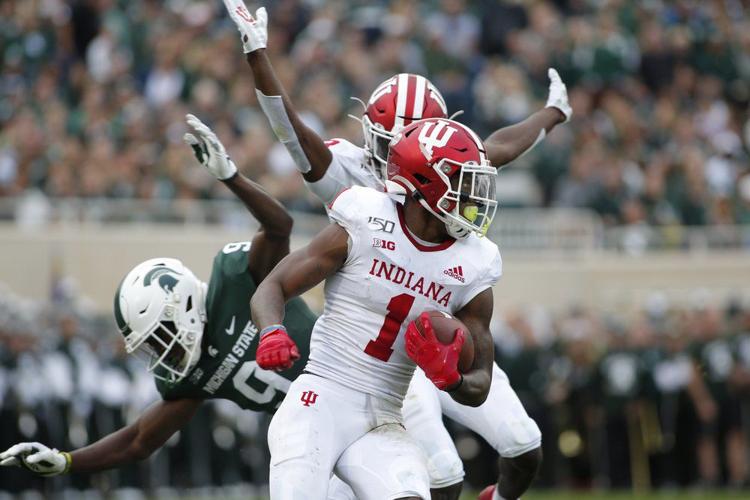 4. Army at WKU (+5), 7:30 p.m. Saturday; ESPN-Plus, Houchens-Smith Stadium; Bowling Green.
The Hilltoppers are coming off their most impressive performance of the season, a 20-3 victory at Old Dominion … Army is 2-3 against the spread while WKU is 3-2 …after a tough 24-21 loss at Michigan, Army won its next two before stumbling against Tulane last weekend, 42-33 at West Point … that loss ended Army's 15-game home winning streak … Army has done an excellent job stripping the football this season, ranking second nationally with eight fumble recoveries … WKU defeated Army in 2013 and 2014, the only two seasons the teams have played … WKU defensive end DeAngelo Malone leads Conference USA with seven sacks and 13 tackles for a loss.
Eric: WKU 24, Army 21
Rick: Army 35, WKU 20
Ruby Coin Flip: WKU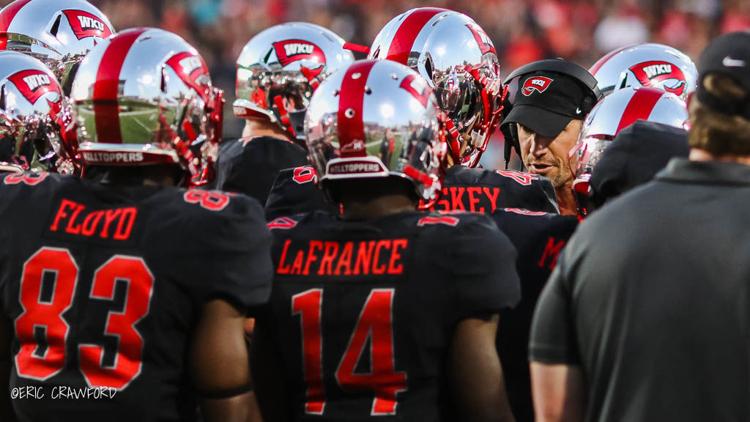 5. Texas vs. Oklahoma (-11), noon, Saturday; Fox Sports, WDRB; Cotton Bowl, Dallas.
The Sooners can solidify themselves as a top contender for one of the four national playoff spots with a victory while Texas, beaten only by Louisiana State, will be able to make its case as the strongest one-loss team with a victory … both teams are 3-2 against the spread … according to the date in the Phil Steele College Football Yearbook, the underdog has covered the spread for the last five seasons … Oklahoma quarterback Jalen Hurts, a transfer from Alabama, has been sensational for the Sooners, averaging 304 yards passing and 99.8 yards rushing. His rushing average is the best in the nation by a quarterback … Longhorns quarterback Sam Ehlinger has also been solid, throwing 17 touchdown passes with only two interceptions.
Eric: Oklahoma 35, Texas 28
Rick: Oklahoma 45, Texas 35
Ruby Coin Flip: Oklahoma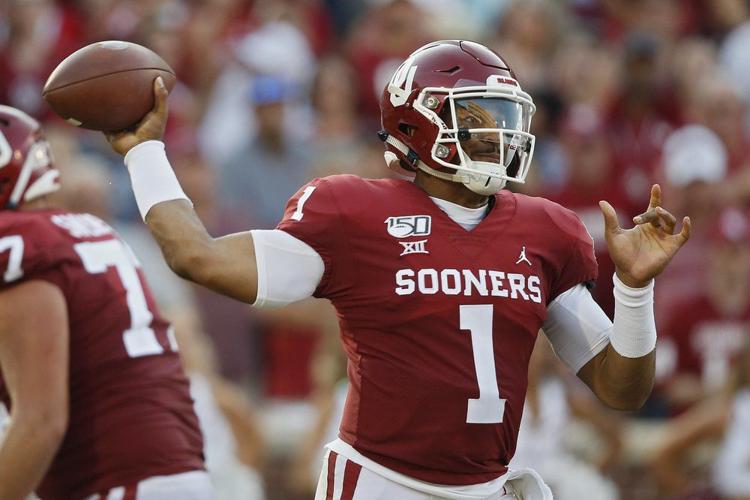 6. Michigan State at Wisconsin. (-10 1/2), 3:30 p.m. Saturday; Big Ten Network; Camp Randall Stadium; Madison.
The Spartans will try to bounce back from a loss to Ohio State while the unbeaten Badgers need the win to remain in the national playoff debate … Wisconsin leads the nation with three shutouts, and Michigan State struggled on offense against the Buckeyes and Arizona State, losing both games while scoring only 10 points … in addition to having the nation's top overall defense, Wisconsin has the nation's leading scorer. Halfback Jonathan Taylor has scored 16 touchdowns while rushing for 149 yards per game … Wisconsin is 4-1 against the spread while the Spartans are 2-4.
Eric: Wisconsin 21, Michigan State 7
Rick: Wisconsin 24, Michigan State 9
Ruby Coin Flip: Wisconsin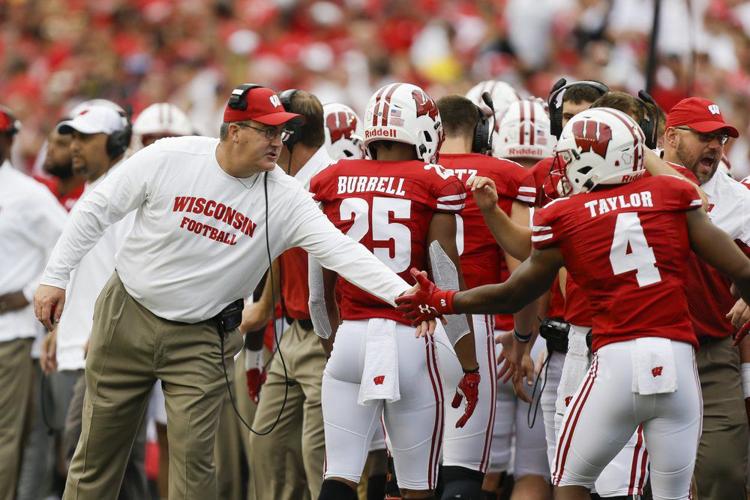 7. Florida at LSU (-13 1/2), 8 p.m., Saturday; ESPN; Tiger Stadium, Baton Rouge.
Game of the Week? Game of the Month? Game of the Season? Both teams are unbeaten and ranked in the Top 10 — LSU (5-0) and Florida (6-0) … the Gators are 3-2-1 against the spread while LSU is 4-1 … the analytics from ProFootballFocus rank LSU quarterback Joe Burrow as the top player at his position in the nation … Burrow, a transfer from Ohio State, leads the nation with nearly 1,300 passing yards and 16 touchdowns … in a bit of a role reversal, LSU leads the SEC in scoring offense and total offense … despite early reports, Florida will not wear its black jerseys in Baton Rouge … Florida quarterback Kyle Trask has worn a compression sleeve and brace on his sprained left knee but is expected to play this week.
Eric: LSU 28, Florida 17
Rick: LSU 31, Florida 20
Ruby Coin Flip: LSU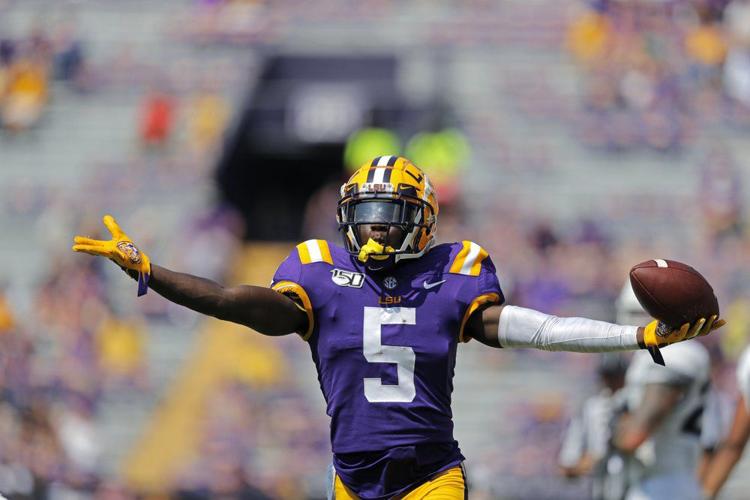 Last Week:
Eric   1-5-1
Rick   4-2-1
Ruby   2-4-1
Season:
Eric 20-21-1 (.488)
Rick 20-21-1 (.488)
Ruby 13-14-1 (.482)
Related stories: 
Copyright 2019 WDRB News. All rights reserved.