LOUISVILLE, Ky. (WDRB) -- Wes Unseld is one of two NBA players who won the Rookie of the Year and Most Valuable Player awards in the same season.
According to Basketball-Reference.com, Unseld's NBA career high as a Hall of Famer was 30 points.
Pervis Ellison enjoyed a 31-point game. Butch Beard went for 32. Jerry Eaves scored (no misprint) 35. LaBradford Smith famously hung 37 on Michael Jordan.
Junior Bridgeman and Darrell Griffith both blazed for 41 points in their careers. Terry Rozier and Jim Price took it up a notch to 43.
But there is one former University of Louisville basketball player who keeps scoring more points than any other Cardinal ever scored in an NBA game.
That, of course, is Donovan Mitchell.
Donovan Mitchell (3) has more 45-point playoff games than:• Kareem Abdul-Jabbar (2)• Shaquille O'Neal (2)• Charles Barkley (2)• Damian Lillard (2)• James Harden (1)• Stephen Curry (1) pic.twitter.com/OyNIk7B7to

— SportsCenter (@SportsCenter) June 9, 2021
Mitchell, 24, turned into the talk of the NBA (again) Tuesday night. He brought the top-seeded Jazz back from a 13-point hole by scoring 32 of his 45 points in the second half as Utah defeated the Los Angeles Clippers, 112-109, in the first game of the Western Conference semifinals.
The 45 points were a dozen less than the 57 Mitchell scored against Denver in the delayed 2020 playoffs, but considering the stage, it was one of his finest games.
"Donovan has put that team on his shoulders and taken it to another level," said Griffith, also a former U of L and Jazz legend. "I love watching him."
"He's developed into a great player," said Beard, a 10-year veteran who won an NBA title with Golden State in 1975.
"He worked on his shot and has become very efficient in everything that he does. They give him the freedom to do what he wants to do and he delivers for them."
You can say that again. And again. And again.
With 52 wins in 72 games, the Jazz posted the best regular-season record in the NBA. This is a franchise that joined the league in New Orleans in 1974 and still has not won an NBA title, losing to Michael Jordan and the Bulls in the 1997 and 1998 Finals.
Mitchell averaged 26.4 points per game this season, the same as Denver's Nikola Jokic, who was named the league's MVP on Tuesday.
Fourteen other players received at least one fifth-place MVP vote. Mitchell was not one of them.
Air ball?
In the playoffs, Mitchell has increased his scoring average to 28.5. He is averaging 3.5 three-point field goals per game while shooting 40% from distance.
The Jazz blitzed Memphis 4-1 in their first-round series and need three wins in the next six games to dispatch the Clippers.
D-Wade talking with Donovan Mitchell from the sidelines during Game 1 🤝 pic.twitter.com/VaaxX35sF7

— ESPN (@espn) June 9, 2021
After Utah's win Tuesday, Clippers guard Kawhi Leonard was asked to compare the challenge of defending Mitchell to the task of defending Mavericks' star Luka Doncic.
"I mean, two different players," Leonard said to ASAP Sports. "Two different teams. But, I mean, obviously, All-Star caliber player.
"You know, skilled and same ways, one-on-one, pick-and-roll. Yeah, you know, he's just very aggressive. He's going to keep shooting the ball and getting his teammates involved."
Some interesting numbers about Mitchell. During his 2015-16 freshman season at Louisville, he made 18 of 72 shots from distance — 25%. As a sophomore, his percentage improved to 35.4% as he made 80 of 226.
This season, Mitchell made a career-best 38.6% of his three-point attempts, with his percentage climbing in the playoffs.
Griffith said that during Mitchell's freshman season here, he talked with him about upgrading that part of his game.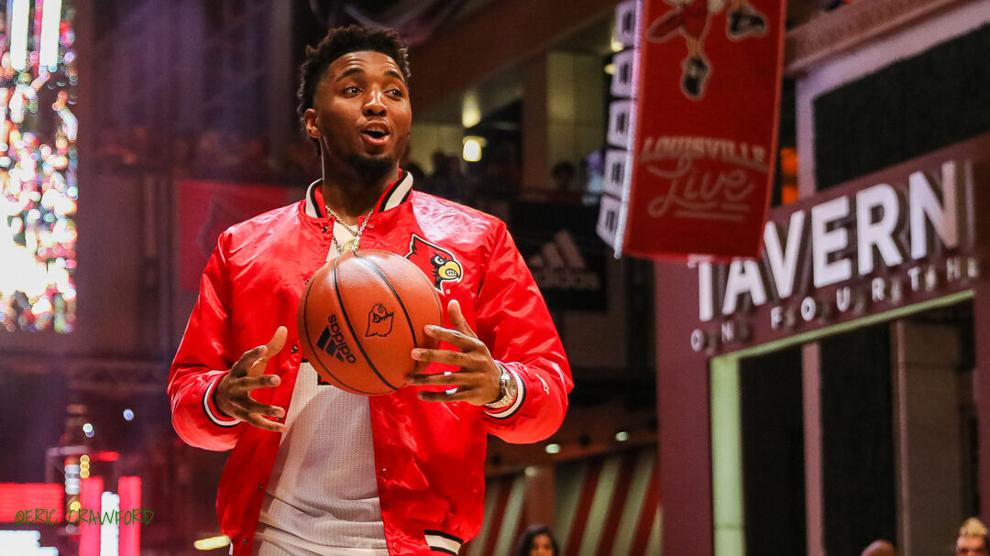 "I told him the same thing I've told other young guys," Griffith said. "Stay in the gym and work on that shot, because your jump shot will set you free.
"When you get in the NBA, if you can't make a jump shot, they're going to play off you and take away your drive.
"Once you show you can make that shot, they can't do that any more. That opens up the rest of your game. That's what has happened.
"Donovan can make the three. He can get past people and score at the rim. And the Jazz have done a great job of surrounding him with shooters he can pass it out, too.
"They've got a legitimate chance to win the championship."
How legitimate?
Griffith has advised his friends with the franchise to set aside tickets for the Western Conference and NBA Finals. He has plans to fly to Salt Lake City to see Mitchell continue this fabulous run.
"He's become one of the Top 10 players in the league — easily," Griffith said. "I'm excited to watch where he takes this team."
Copyright 2021 WDRB Media. All Rights Reserved.