LOUISVILLE, Ky. (WDRB) -- The Basketball-Reference analytics website asked a question nobody in this area envisioned when Tubby Smith benched Rajon Rondo for Brandon Stockton for four games at Kentucky:
Is Rondo, 34, a Hall of Famer?
Don't be Rick Pitino, answer too impulsively and make a decision critics will never forget.
Rondo, with the NBA championship ring that he won with the Lakers on Sunday to go with the one that he won with the Celtics in 2008 is certainly miles ahead of Sebastian Telfair.
The debate was ignited after Basketball-Reference asked the question on its Twitter account Sunday. According to their poll that drew nearly 1,000 votes, 68% of the responders said that Rondo deserved his trip to Springfield, Massachusetts.
Rajon Rondo joins Clyde Lovellette as the second player to win a title with both the Lakers and Celtics https://t.co/qMsX2nAhRC

— Basketball Reference (@bball_ref) October 12, 2020
I shared the question with eight friends who are either former NBA players, former NBA and college coaches, current college coaches and media members. The results were split:
Two in favor. Three against. Three uncertain.
Their comments were delicious.
"Rick, are YOU crazy!!!" one former NBA All-Star wrote in a text message. "Analytics. Good NBA player who played on two championship teams."
A current college coach fired back.
"Name 20 better at his position," he wrote.
"After the obvious first 10-13, he's in the mix, right? If you are in the argument for the Top-20 all-time at your position, you are in the argument for the Hall of Fame, right?"
I told you this would be a fun discussion.
The analytics section of the Basketball-Reference site provided more meat for the discussion. In the area that includes BR's Hall of Fame projections, players like LeBron James, Chris Paul and Kevin Durant all earn rankings of 1.000. They are the only locks among active guys.
Russell Westbrook, James Harden, Steph Curry and Dwight Howard are a whisper away.
But Rondo makes a splendid showing. In fact, it's better than splendid. The website's formula ranked Rondo the 17th strongest candidate among active players at .6056.
That's behind Kevin Love, Damian Lillard, Paul George (huh?) and Kyrie Irving. But it's ahead of Kawhi Leonard, Klay Thompson, Jimmy Butler and Draymond Green.
Back to the question: Is Rondo a Hall of Famer?
Fascinating, isn't it?
You have to remember to take personality out of the discussion. Rondo had his moments with Smith at UK, Ray Allen and Doc Rivers at Boston, Rick Carlisle in Dallas and Paul between the lines. He could be tough and out-of-line with officials. He can be a wonderful interview or he can walk directly away from the camera the first time he believes the question you asked was ridiculous.
Rondo is also a community-oriented citizen who has been generous with his money and time at Central High School or people in need. He's done much of his wonderful work quietly because he wants to help, not draw publicity.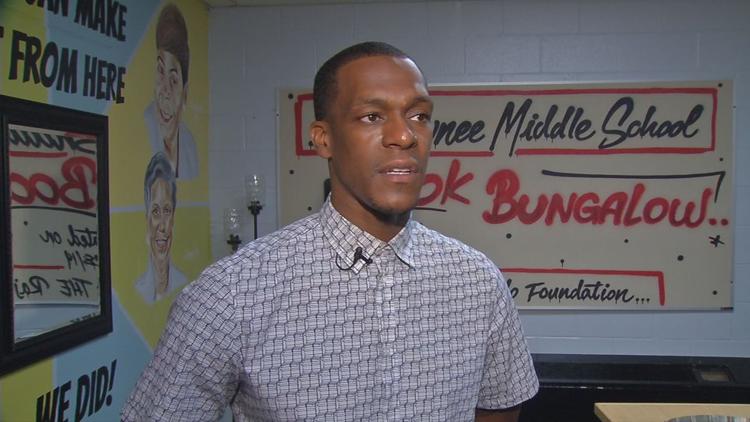 Rondo is a tough read. Always has been, from the moment he surfaced on the local basketball radar at Eastern High School.
But ... is he a Hall of Famer?
The argument in favor has to be more than two NBA titles, even if they came with the game's two most storied franchises. Or four All-Star games. Or nine appearances in the NBA playoffs. Or his reported career earnings of nearly $100 million.
Or the durability to survive 14 NBA seasons. Rondo is one of seven guys still performing from the 2006 NBA Draft. The only guys from his class who have scored more points are LaMarcus Aldridge, Rudy Gay, Kyle Lowry and Paul Millsap (no Hall of Famers on that list).
Hard to believe he was taken 22nd, one spot after the Knicks selected Renaldo Balkman and two spots after Sacramento drafted Quincy Douby.
Actually, at the time, it was not difficult to believe he was taken 18 spots after Adam Morrison and a dozen after Patrick O'Bryant of Bradley.
His relationship with Smith was famously frosty during his second and final season at Kentucky. In February 2006, Smith started Stockton ahead of him in four consecutive games. Remember, as a sophomore at UK, Rondo averaged 11.2 points per game while shooting 27% from distance and 57% from the foul line
He fixed that. Ask the Miami Heat. Rondo made three shots from distance in the Lakers' NBA Finals victories in Games 2 and 6. He made the best players in the world respect his shot long ago.
But Rondo's jump shot won't get him to the Naismith Basketball Hall of Fame. If he makes it, it will be because Rondo led the NBA in total steals once, assists per game three times and triple-doubles twice.
It will be because of his work as a defender, passer and coach on the floor. It will be because he was relentlessly competitive, willing to annoy opponents or sometimes teammates.
Is Rondo a Hall of Famer?
I wish I knew. I never believed he would last 14 seasons in the league or win two titles. I'll let others decide.
Whenever Rondo finally retires, it's going to be a spectacular debate.
Copyright 2020 WDRB Media. All Rights Reserved.