BOZICH | Kentucky beats Mississippi State, eyes Vols, Zags, #1 seed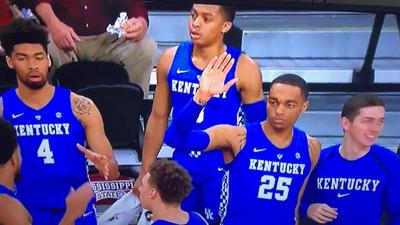 LOUISVILLE, Ky. (WDRB) — If you thought college basketball regular season games like the one that Kentucky won at Mississippi State, 71-67, Saturday are insignificant, this is why you are wrong:
For most of the afternoon, the Wildcats played as if they were perturbed by the news the NCAA Tournament Selection Committee announced that Kentucky was not worthy of one of the four top seeds.
The committee ranked John Calipari's team behind Gonzaga — as well Tennessee and Virginia. (And, of course, top overall seed Duke.)
Chairman Bernard Muir of Stanford and the committee started Saturday by announcing the Wildcats were the fifth best team on the bracket, drawing a trip to Kansas City as the Midwest Regional No. 2 seed.
Kentucky endured some bad stretches, giving up all but one point of an 18-point lead in the second half. But overall the Wildcats did not play like a two-seed against Mississippi State.
The Wildcats rolled into Starkville and won in a way that forces me to repeat what I wrote last Saturday after Kentucky beat Florida in Gainesville.
Kentucky (20-3 and 9-1) has a credentials of Number One seed.
Ten straight victories, part of a season-long resume that includes success over North Carolina, Louisville and Kansas.
A featured spot in second place in the Southeastern Conference behind only Tennessee, a team the Wildcats can catch next Saturday when the Wildcats host the Vols in Rupp Arena.
A legit star in sophomore forward P.J. Washington, who again led the Wildcats with 23 points.
The ability to take a punch and respond. About 3 1/2 minutes into the second half, Kentucky lead by 18, 49-31. Over the next eight minutes the home team sliced Kentucky's lead to 51-50.
Here is how Kentucky responded at winning time: The Wildcats scored 12 points on their next six possessions. They took great shots. They attacked the rim. They did not panic.
Washington made a layup. Ashton Hagans drove for a layup. Hagans made two free throws. Keldon Johnson made a pair of hoops, a 10-footer in the lane as well as a driving layup.
Credit Johnson with a pair of free throws, too, part of a flurry that helped him score 13 points, one more than Tyler Herro.
Does it matter?
You bet it matters. If the Wildcats can finish with gusto and overtake Tennessee in the SEC, Kentucky will elevate itself into the conversation for a Number One seed with benefits. 
The Wildcats are certain to play the Vols twice (Rupp on Saturday and in Knoxville March 2). There could be a third game in Nashville at the SEC Tournament. Stay tuned. Getting ahead of Tennessee is self-explanatory.
Passing Gonzaga will be trickier because the Zags have a win against Duke in the bank, and they have won 14 straight games by at least 13 points. Gonzaga is unlikely to lose again before the tournament.
The primary benefit would be earning the top spot in the South Regional, which is scheduled for March 28 and 30 in Louisville. The barbecue might be better in Kansas City but the homecourt advantage would work at Second and Main streets.
The game also featured another excellent performance from Kentucky's defense. In the first half, Mississippi State did not make a shot from distance. Quinndary Weatherspoon, States's leading scorer, failed to score. In 16 minutes, he managed only one shot.
For the game, the home team made less than 44 percent of its shots and got out-rebounded by seven.
Washington continued his pursuit of Tennessee's Grant Williams in the discussion for the best player in the SEC. He had an impressive rebound basket that put the Wildcats ahead, 65-58 and drove the lane for another score that pushed UK ahead, 70-64, with a minute-and-a-half left.
Next for the Wildcats is their most challenging stretch on their SEC schedule. They host their two primary contenders for the regular-season title — Louisiana State (Tuesday, 7 p.m.) and Tennessee (Saturday at 8 p.m.)
Copyright 2019 WDRB Media. All Rights Reserved.