LOUISVILLE, Ky. (WDRB) -- In four-plus decades of covering the Kentucky Derby, I wondered if columns analyzing the post position draw belonged in the Yada Yada Yada/Blah Blah Blah category.
Then Known Agenda, my likely pick in Kentucky Derby 147, drew the rail for Saturday's race, and his trainer, Todd Pletcher, said he wanted to "weep."
Kleenex?
"Weep, openly ... openly weep," Pletcher said.
Weeping was the kind of reaction ESPN and Churchill Downs dreamed about when they went through that phase of juicing up the draw by allowing trainers to pick their post position in order of the number they drew.
"In the old days, we would have gotten to pick whichever post we wanted," Pletcher said, wistfully.
Those telecasts were so riveting the network quickly punted the idea. The draw for Derby 147 was buried at 11 a.m. Tuesday with empty tables scattered across the Aristides room on the first floor of the Churchill grandstand.
Bob Baffert will chase his record seventh Derby victory Saturday. Normally, Baffert has not seen a television camera he isn't willing to accommodate. I cannot provide reaction from Baffert's colt, Medina Spirit, drawing the No. 8 spot. Baffert skipped the draw.
Smells like Yada Yada Yada/Blah Blah Blah to me.
But not to Pletcher, who is typically described as Stoic out of an Unflappable mare.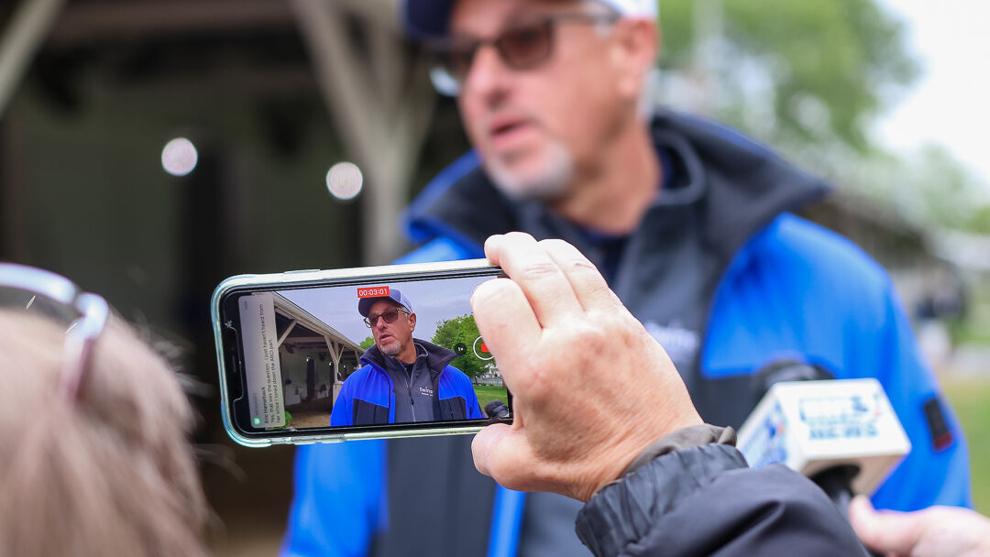 "I had my eye on it the whole time," Pletcher said. "When it got down to three left, I would have certainly chosen 14 or 16 if I had the choice."
Me, too. After watching replays of the major Derby preps Monday night, I settled on Known Agenda — one of Pletcher's four Derby entries — as my Derby pick.
His bloodlines check the necessary boxes. He's trained by a Hall of Fame guy with a pair of Derby wins.
And Known Agenda's winning move in the Florida Derby was the type of move that usually translates into success on the first Saturday in May.
Starting from post 5, Known Agenda stalked three or four horses down the backstretch at Gulfstream Park on March 27. Looking for an opening, jockey Irad Ortiz Jr. moved the colt outside in the turn and then urged him down the stretch.
Run, he did. Known Agenda handled Soup and Sandwich by nearly three lengths.
"I thought the Florida Derby was very impressive, the way he finished really strong," Pletcher said. "We've always felt the mile-and-a-quarter was going to be to his advantage, so we're looking forward to getting him stretched out to that distance."
Essential Quality, slotted in post 14, looks like a deserving 2-1 favorite in the 20-horse field. But Known Quality took a legitimate hit by getting assigned the starting position closest to the rail.
The loudest ovation during the draw was a thunderous roar that followed Louisiana Derby winner Hot Rod Charlie drawing post 9. I asked trainer Doug O'Neill if that was a reaction to his colt getting a lucky number.
"We were going to cheer any post, except 1," O'Neill said with only a splash of sarcasm.
You can look it up. The last Derby winner to score from the No. 1 or No. 2 post positions was Ferdinand, who won from post 1 in 1986. That was in a field of 16, not the 20-horse charge expected Saturday.
The truth is most horses who struggled from the rail would have lost from anywhere in the gate. I'm talking about Nationalore (1998), Daddy Long Legs (2012) or even Max Player (last September).
But you can argue Risen Star was the best horse to win the Preakness and Belmont but not the Derby in the last four decades. His trainer, Louie Roussel, always wondered if his colt could have beaten Winning Colors if he had not started the Derby from post 1.
In 2010, Baffert sagged when Lookin at Lucky, the favorite, drew the rail. The field shuffled Lookin at Lucky back to 18th in front of the grandstand. He was still 14th after a mile.
He finished sixth but really never had a chance — until he got to Pimlico and won the Preakness.
"It's not the one we wanted, but we'll have to make the best of it," Pletcher said.
That's not Yada Yada Yada/Blah Blah Blah.
Copyright 2021 WDRB Media. All Rights Reserved.