BOZICH | Kentucky escapes another hole to rally past Vanderbilt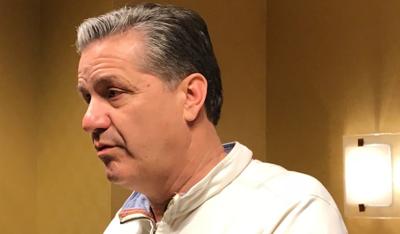 LOUISVILLE, Ky, (WDRB) — Punishing times arrived for Top 25 college basketball teams Saturday.
One, two, three, four, five Top 25 squads lost to unranked teams — and that's a list that featured North Carolina and Ohio State.
Would Kentucky, ranked 18th, make it six?
No, but the Wildcats considered it for a half.
Down a dozen points after five minutes and still trailing by a basket at halftime, the Wildcats shook Vanderbilt by scoring the first seven points of the second half before dispatching the Commodores, 56-47, in Rupp Arena.
It was the fewest points the Wildcats scored this season. But they won by limiting Vandy to 11 points less than their season low. Vandy shot only 36 percent -- and Kentucky out-rebounded Bryce Drew's team by 17.
"We had to play against a zone for 40 minutes," UK coach John Calipari said on the SEC Network. "We were all over the place."
With Tennessee and Ole Miss moving to 3-0 in the Southeastern Conference and two road games awaiting the Wildcats, they needed to deliver at home against Vanderbilt.
Three freshmen — Ashton Hagans, Keldon Johnson and Immanuel Quickley — had their hands all over this one.
Hagans scored in double figures for the fourth consecutive game. But the buzz was drained from Rupp Arena after Hagans appeared to injured his back while falling at the feet of Reid Travis under the Kentucky basket with 5:05 to play.
He was helped to the bench, but was able to return 2 1/2 minutes later.
Hagans scored 15 as did Johnson. Credit Quickley with a dozen after he made three shots from distance.
Kentucky started slower than the Wildcats started Tuesday night against Texas A&M. In that game the Wildcats trailed 12-2 before rallying to lead by a dozen at halftime on the way to an 85-74 victory.
Against Vanderbilt, the Wildcats slipped behind 16-4. Vandy made its first three shots, missed one and then made three more.
This was Vanderbilt, which lost at Georgia by 19 points Wednesday night and also lost its Southeastern Conference opener to Ole Miss, This was Vanderbilt, which is playing without Darius Garland, a freshman that many considered the best first-year point guard in the league.
Maybe Vandy saw what Louisville did to No. 12 North Carolina, what DePaul did to No. 24 St. John's, what Iowa did to 16th-ranked Ohio State, what Kansas State did to No. 20 Iowa State and what Ole Miss did to No. 14 Mississippi State.
On defense, Vanderbilt made Kentucky tentative by playing a matchup zone. The Wildcats could not make perimeter shots, hitting only two of nine from distance in the first half. They were hesitant creating gaps in the Vandy zone, scoring only 28 points, their least productive first half of the season.
But if the Wildcats needed time to figure out the Vandy zone, Vandy needed better personnel to deal with Kentucky's persistent ball pressure.
Vandy made 8 of its first 11 shots. Vandy shot 9 for 36 the rest of the game.
"Defensively if we guard like that, we'll be fine," Calipari said.
The Wildcats play their next two on the road, visiting Georgia Tuesday and Auburn Saturday. Turns out the Bulldogs and Tigers played at Auburn Saturday, with Bruce Pearl defeating Tom Crean, 93-78.
Copyright 2019 WDRB Media. All Rights Reserved.