BOZICH | Kentucky handles Texas A&M but drives Calipari 'crazy'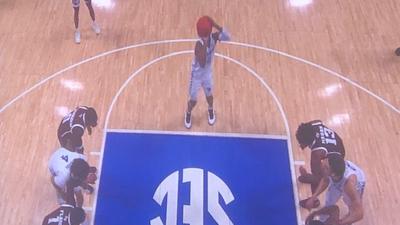 LEXINGTON, Ky. (WDRB) — This was a start -- and eventually a game -- that did not compute:
Texas A&M 10, Kentucky 0.
Tennessee 10, Kentucky 0? Certainly possible.
Duke 10, Kentucky 0? I promised I wasn't going to write about the Duke game any more.
But Texas A&M 10, Kentucky 0? The Aggies are a team that struggled to split it first 12 games and lost at home to No. 196 Texas Southern by 15 points less than two weeks ago.
"Today, I was like dragging (this team to the finish)" UK coach John Calipari said. "I'm exhausted right now."
No way that A&M team jumps on Kentucky 10-0, certainly not in the first game after the Wildcats lost their Southeastern Conference opener, right?
That wasn't the only thing that did not compute. The entire 40 minutes was more agonizing than it was supposed to be before Kentucky steadied for an 85-74 victory.
"The focus on what (they're) supposed to do is not quite there," Calipari said.
"I think we took a step back, definitely at the Alabama game and here tonight, too," said UK freshman Tyler Herro. 
"I think just lack of focus in some areas, defensively, going under ball screens on some guys when we should be going over. Just paying attention to the scouting report and locking in, in that regard."
Roughly 3 1/2 minutes into the game at Rupp Arena Tuesday night, the Aggies led the Wildcats, 10-0. Grumbles percolated in the building. Calipari glared at the court — and looked to his bench
Maybe grumbles and glares are what Kentucky needed. After trailing 10-0, the Wildcats outscored A&M, 35-21, jumping ahead before Benny Snell could slide into his seat along with baseline in a bright Cleveland Cavaliers' jacket. They led by a dozen at halftime.
But if you thought the Wildcats were primed to stretch the lead to two dozen (or more), think again. After leading by 14 less than four minutes into the second half, Kentucky watched A&M cut the lead to 66-64 with less than eight to play.
A&M never got the lead. But this game was trickier than it was supposed to be against an opponent that nobody expects to make the NCAA Tournament.
"We had some guys who just got outworked and think it's OK," Calipari said.
Calipari did not say it was not OK. He didn't have to say it. His teams survived because it shot nearly 52 percent and made 21 of 23 free throws. The Wildcats also forced 19 turnovers while committing only a dozen.
"They have a number of guys who can score so you just can't focus on one guy," said A&M coach Billy Kennedy. "We usually like to take two guys away and make the other three guys beat us. They're hard to do that against."
Tyler Herro, as usual, brought energy as well as his perimeter shot. Credit Herro with 21 points as he made three of seven shots from distance.
It was the second time in three games that Herro led UK in scoring. He's scored in double figures in eight consecutive games, averaging 16.6 points, while making at least a pair of three-point shots in five straight games.
What Herro did not do was set up many teammates for easy baskets. Took 14 shots. Had one assist. Calipari was not pleased with guys he said do not become willing passers until they get their shots. The coach did not identify those guys, but 14 shots and one assist would seem to fit the profile.
Nick Richards was in the middle of the initial rally, powering to the rim to make both of his field-goal attempts as well as a free throw. Nice start, but Calipari was not happy with one rebound in 11 minutes.
Ashton Hagans played the kind of defense that Josh Allen would appreciate. Hagans knocked loose five steals, giving him 19 in the last four games. 
"Defensively, he's probably the best defensive point guard that we've played against this season," Kennedy said. "He's just so active on the ball and he does a good job running the offense."
Hagans also made four consecutive free throws after he was fouled at the rim and the Aggies were assessed a pair of technical fouls. Credit Hagans with 18 points, six more than his season best. His free throw shooting was excellent. Hagans made 10 of 11. 
Still, this wasn't quite the way Kentucky (11-3) was supposed to beat Kennedy's erratic team. A&M (6-7) might not be the worst team in the Southeastern Conference but they're certainly in the discussion with Georgia and South Carolina.
This isn't the A&M team that beat Providence and North Carolina before losing to Michigan in the NCAA Tournament Sweet Sixteen last season.
Although the Wildcats were favored by 15, a more interesting comparative number was 23. That's how many points No. 5 Gonzaga beat the Aggies by in mid-November.
The Wildcats have two more likely wins to build momentum before they visit No. 11 Auburn on Jan. 19.
The first is a home game with Vanderbilt Saturday at 8:30 p.m. The second is a trip to struggling Georgia, led by former Indiana coach Tom Crean, next Tuesday. The Bulldogs were beaten by 46 in their SEC opener at Tennessee last Saturday.
"We're breaking down executing right now and it's driving me crazy," Calipari said.
Copyright 2019 WDRB Media. All Rights Reserved.