BOZICH | Kentucky looks ready for Louisville while handling North Carolina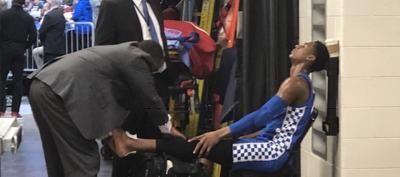 CHICAGO, Ill. (WDRB) — You saw the things that people said about John Calipari and his Kentucky basketball team this week.
Not the Twitter wise-guys. Not the message board flamethrowers. Not even the UK fans that Calipari said are not happy unless the Wildcats win every game by 25.
I'm talking about guys who deserve our attention — NCAA Tournament bracket experts like Joe Lunardi of ESPN and Jerry Palm of CBS Sports. They questioned Kentucky's NCAA Tournament credentials.
That was harsh. It was also legitimate for a Kentucky team that lacked any high octane. Even Dick Vitale was saying it.
They have fewer things to grouse about for Christmas. The Wildcats defeated ninth-ranked North Carolina, 80-72, in the second game of the CBS Sports Classic at the United Center Saturday.
When people ask Kentucky for a list of its signature victories, there is no longer a blank spot.
"This was like a Must Win for us," said UK guard Tyler Herro. "It was a resume win."
Don't believe me? Before the game the Wildcats were ranked 18th by Ken Pomeroy in his computer power formula. After the game, they were 15th.
Before the game, Pomeroy's numbers projected that Louisville would beat UK, 74-73, next Saturday. After the game, his projection was Kentucky 74, Louisville 73. 
"I think we came out and were very aggressive," said Keldon Johnson, another Kentucky freshman. "It was a big-time win."
"They dominated us inside," said North Carolina coach Roy Wiliiams. "Effort. Toughness."
Kentucky was better than the third-best team from the Atlantic Coast Conference for all 40 minutes. This was not a win that came with excuses or conditions.
This was not the Kentucky team that got dusted by Duke the first week of November nor the one that lost to Seton Hall in overtime two weeks ago. When the Wildcats lost that game one week after Louisville went into Seton Hall's arena and defeated the Pirates, the reaction was predictable.
The criticism even trickled into the bracketology forecasts -- as it should have considering the Wildcats lacked a victory over a Top 75 opponent.
"If we had won that (Seton Hall) game we wouldn't have had all this craziness," Calipari said.
The craziness can end -- or at least pause for a few hours. The Wildcats shared the ball, earning 24 assists on 28 field goals. That's rare.
They went to work on the glass, grabbing 10 more rebounds than a North Carolina team that led the nation in rebounding margin.
They forced turnovers, grabbing 11 steals, seven by Ashton Hagans. They made three-point shots, converting nine, their third-best total this season.
The Wildcats had too many turnovers (18), but they had the poise to overcome them.
There was plenty for Calipari to like about the way his team played in the Wildcats' final performance before they come to the KFC Yum! Center to play Louisville next Saturday.
Williams has older and experienced players with the Tar Heels. Williams did not have anybody with the experience and toughness to handle Reid Travis, UK's senior forward.
Travis indulged himself at the rim, carrying Kentucky with 20 points and six rebounds.
"He has been a beast," Calipari said. "He's not the kind of guy who wants to take over but when he speaks, they listen."
"We look up to him a lot." Herro said.
Johnson flashed his one-and-done credentials, hitting four shots from distance, including back-to-back three midway through the second half that pushed the Wildcats lead to 66-55. Credit Johnson with 21 points.
Hagans, the freshman point guard, twisted his left ankle midway through the first half. He refused to surrender for several plays, then retreated to a tunnel off the court so trainer Chris Simmons reworked the tape — and sent Hagans back into the game.
Hagans declined an ice bag or a seat on the bench. There he was on North Carolina's final possession, throwing his body on the baseline while trying for a steal -- and then getting up, racing downcourt, taking the ball away from UNC and calling timeout to signal the victory was official. 
Hagans only scored 7 but added four rebounds and three assists in 31 minutes. 
"I look down at the stat sheet and see Ashton Hagans was 2 for 6 with 7 points and I thought in some ways he was more dominant in the game than anybody," Williams said.
"When Ashton is doing that, we're going to be tough to beat," Herro said. "He played great tonight."
It was the kind of victory that will stop the talk that Kentucky has not defeated anybody this season. North Carolina beat Gonzaga a week ago.
This week ended with Lunardi projecting Kentucky as an 8-seed for the NCAA Tournament at ESPN while Jerry Palm had the Wildcats an 11-seed at CBSSports.
Now they're 9-2 with one final chance to add to the non-conference portion of their resume.
From Chicago, many of Calipari's players were driven to Midway and O'Hare airports for flights home for Christmas. They'll reassemble next week before they play a Louisville team coached by Chris Mack for the first time Saturday.
Herro grew up in Milwaukee but in the seven months he has lived in Lexington he said he has learned one thing: "One of our fans told us when we got here that we can lose every game, just don't lose the Louisville game."
Copyright 2018 WDRB Media. All Rights Reserved.