LOUISVILLE, Ky. (WDRB) -- Many of the most significant victories of Tom Crean's coaching career have come against the University of Kentucky.
Two at Marquette, both in the NCAA Tournament. Two more at Indiana, one against the 2012 Anthony Davis national champions, the other in the NCAA Tournament.
In year two at Georgia, Crean had the Bulldogs ready to deliver another signature moment against the Wildcats on Tuesday night at Stegeman Coliseum in Athens. 
It hasn't happened for Crean at Georgia yet. Not last year when he lost by 20 and not Tuesday night when the Wildcats rallied from a nine-point deficit late in the first half to defeat the Bulldogs, 78-69, in their first road game.
Credit John Calipari's three-guard lineup.
Defensively, Georgia did not have an answer for Tyrese Maxey (17 points), Ashton Hagans (13) and Immanuel Quickley (15). Maxey stuffed the entire box score, adding eight assists, seven rebounds and four blocks.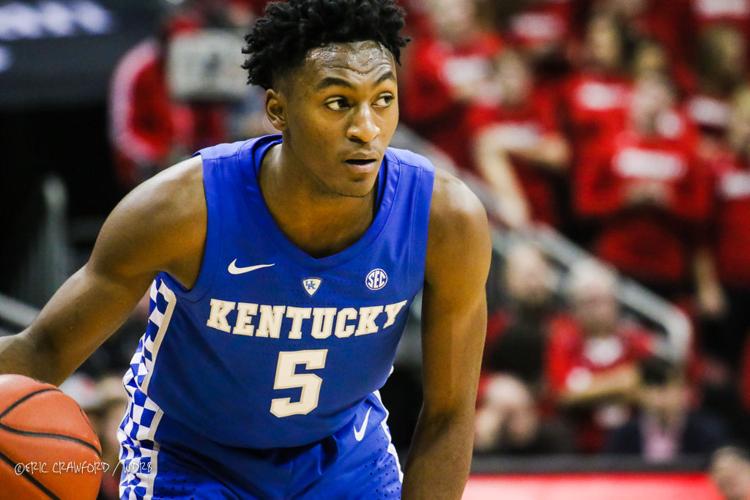 Don't overlook another strong performance by center Nick Richards. He scored 17 points with seven boards
That's why the Wildcats weren't added to the list of ranked teams that lost Tuesday, a list that included Virginia, Penn State and Ohio State. The Wildcats made half of their 62 field goal attempts, including 6 of 12 from distance.
They nearly carried the 50 percent idea too far, going 10 of 20 from the foul line. UK improved to 11-3, 2-0 in the Southeastern Conference.
Kentucky took the lead with about eight minutes to play during a 13-2 run that pushed the Wildcats ahead, 63-57. Georgia did not wobble, which was not surprising considering the charged atmosphere by Bulldogs' fans who were energized by Georgia's upset victory at Memphis on Saturday.
Even Georgia football coach Kirby Smart showed up, and he told Marty Smith of ESPN that he had never seen that many people in the gymnasium. Smart was equally impressed that the usual overflow of Kentucky fans did not find a way inside.
Georgia was ready for the reason you expected the Bulldogs to be ready. Crean's signature recruit is freshman guard Anthony Edwards, a guard from Atlanta who turned down Calipari to play for his homestate school.
Calipari signed two top players out of Georgia two seasons ago: forward E.J. Montgomery and Hagans. Crean didn't let Edwards get away.
Edwards scored the game's first five points and then finished the first half with a violent two-handed baseline dunk that perturbed Calipari.
Edwards is legit, likely the most talented player in the Southeastern Conference. He'll be taken no later than fifth and perhaps as high as first in the 2020 NBA Draft. He said he decided to play for Crean because Dwyane Wade (Marquette) and Victor Oladipo (Indiana) were former Crean players. 
Edwards looked the part, leading Georgia with 23 points. But if he was the better scorer, Maxey was the better overall player. Edwards forced too many three-points shots, especially in the second half. He finished 3-9 from deep.
It was some show, one that attracted 31 scouts representing 19 NBA franchises to Athens, as well as Atlanta Hawks star Trae Young.
Kentucky returns to Lexington to play Alabama in Rupp Arena on Saturday before the Wildcats make a pair of trips to South Carolina and Arkansas next week.
Unlike last season, Georgia and Kentucky will play twice. The rematch is booked for Jan. 21 in Rupp.
Copyright 2020 WDRB Media. All Rights Reserved.