BOZICH | Lamar exits, but Sheldon Rankins leads local NFL playoff contributors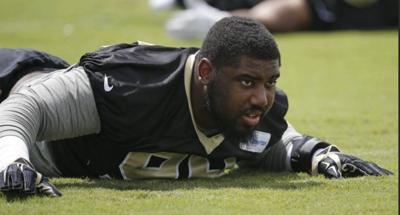 LOUISVILLE, Ky. (WDRB) -- Lamar Jackson, and all the buzz that surrounded him, has left the stage.
Well, that's not exactly true. Jackson was forced out of the building by the Los Angeles (first time I didn't call them San Diego) Chargers during the wild card weekend of the NFL playoffs.
Jackson got the Ravens to the postseason after taking over for Joe Flacco, but the show ended (for this season) after a single playoff game.
Next question: If you're looking for former local college players to follow on the road to Super Bowl, what are your choices?
I've made a list of 13 players with local connections still playing for the Lombardi Trophy. Here they are:
1. Sheldon Rankins, Louisville, defensive lineman, Saints: Charlie Strong knew how to find and develop defensive players, and Rankins belongs on the list of his top discoveries
Drafted 12th in the the first round in 2016, Rankins has started 32 consecutive games for the Saints, serving as an immovable run stopper.
Credit Rankins with 40 tackles, including eight sacks with a forced fumble. Not bad for a 3-star recruit that 247Sports ranked the No. 798 prospect in the Class of 2012. At 6 feet 2 inches tall and 305 pounds, he is a mammoth and powerful guy.
2. Larry Warford, Kentucky, offensive lineman, Saints: A first-round pick by the Lions in 2013, Warford moved to New Orleans last season and immediately justified his four-year, $34 million contract by making the Pro Bowl.
The Saints have allowed 20 sacks this season (only the Colts have protected their quarterback better), and Warford has been a critical component of keeping Drew Brees healthy.
3. Tyler Higbee, Western Kentucky, tight end, Rams: Higbee is not a primary target in the Los Angeles offense, but he's started every game the last two seasons and caught at least one pass in nine consecutive games. Maybe he'll break out against the Cowboys.
4. Dan Feeney, Indiana, offensive line, Chargers: Former IU coach Kevin Wilson once called Feeney the best offensive lineman he's coached, and Feeney has demonstrated his talent while starting 25 consecutive games for the Chargers' high-octane offense.
5. Rodger Saffold, Indiana, offensive line, Rams: Holding a starting spot with the same NFL team for nine consecutive seasons is a tricky assignment, but Saffold has been a foundational piece of the Rams' success since arriving from IU as a second-round pick in 2010. No wonder he earns more than $5.3 million per season.
6. Teddy Bridgewater, Louisville, quarterback, Saints: Drew Brees is the quarterback who matters in New Orleans, but if anything happens to the Saints' QB, Bridgewater will take the next snap. He completed 14 of 23 passes with a touchdown and interception in limited duty this season.
7. Trevon Young, Louisville, linebacker, Rams: The odds are against a sixth-round draft pick making the roster, but Young has come all the way back from the serious hip injury he suffered at U of L to become a back-up weak side linebacker in Los Angeles.
8. Forrest Lamp, WKU, offensive line, Chargers: After missing last season with a knee injury suffered in training camp, Lamp returned in 2018 as the back-up right guard and a teammate of Feeney's
9. Chris Covington, Indiana, linebacker, Cowboys: Covington is a versatile, physical guy willing to play anywhere as he proved at Indiana when he served (briefly) as the quarterback because of injuries. As a third-team linebacker, Covington has only played in five games, but that's more than many sixth round picks have contributed.
10. Nate Sudfeld, Indiana, quarterback, Eagles: Sudfeld attempted only two throws this season, but one went for a 22-yard touchdown. He's listed as the third-team quarterback behind Nick Foles and Carson Wentz, but Sudfeld has the tools to stay in the league, even in a back-up role, for a long time.
11. Mike White, WKU, quarterback, Cowboys: Another third-teamer, White won't be a factor against the Saints unless something goes terribly wrong for America's team. But he has the arm to earn a legitimate opportunity one day.
12. Simmie Cobbs, Indiana, wide receiver, Saints: Cobbs might have benefited from another season of college football, and the Hoosiers would have benefited by having Cobbs as their top receiver. The Saints grabbed him from the Redskins in mid-December, but he does not figure to a factor in the post-season.
13. Deon Yelder, WKU, tight end, Chiefs: When you play the same position as Travis Kelce, your primary contributions come in practice, but the former Hilltopper earned a spot with Kansas City after he was cut by the Saints.
Copyright 2019 WDRB Media. All Rights Reserved.