LOUISVILLE, Ky. (WDRB) — Before he became LAMAR JACKSON NFL MVP, Lamar Jackson had another role.
He was the guy who encouraged Micale Cunningham to follow him to the University of Louisville.
The guy who welcomed Cunningham on his official visit and showed him the campus.
The guy who got Cunningham started doing the right things on the practice field, in the weight room and the film room as a Cardinal.
The guy who taught Cunningham to never let anybody tell him what he could not do.
"Lamar is just a very cool guy," Cunningham said. "He's been a big brother to me (from the first day Cunningham visited U of L)."
On Saturday night, Cunningham and his roommate, Cards' receiver Dez Fitzpatrick, will do what everybody on the U of L football team (and actually everybody in town) will do:
Watch Jackson and the Baltimore Ravens begin what they hope is a three-game push to win the Super Bowl. Baltimore opens with a home game against Tennessee.
On Saturday morning, Cunningham will hit Jackson with the same text message he's sent him before all 16 Ravens' games:
"Good luck! Stay safe out there! Keep doing what you've been doing all year!"
Will Jackson lead the Ravens past the Titans, Chiefs or Texans and the NFC champion to win the Super Bowl in Miami on Feb. 2?
"Oh, yeah," Cunningham said. "Super Bowl MVP.
"He's taken the league by storm, and teams haven't been able to contain him. He's just leading the team the right way. The defense even feeds off him. I just feel like if the (Baltimore) offense is going, the defense is going to be ready."
Jackson does not have a bigger fan than Cunningham, who just completed his third season with the Cards. Cunningham does not have a bigger fan than Jackson, who encouraged his former backup every week during the college season as he helped direct U of L to its bounce-back 8-5 record and Music City Bowl victory over Mississippi State.
Cunningham said one reason that he played with the confidence and resolve was the sideline seat he had watching Jackson during the 2017 season.
"He wasn't really a hands on, like, 'Here's what you need to do (guy),'" Cunningham said. "You could just watch his game and pick up stuff from him. Just being around him and seeing how he acted out in public.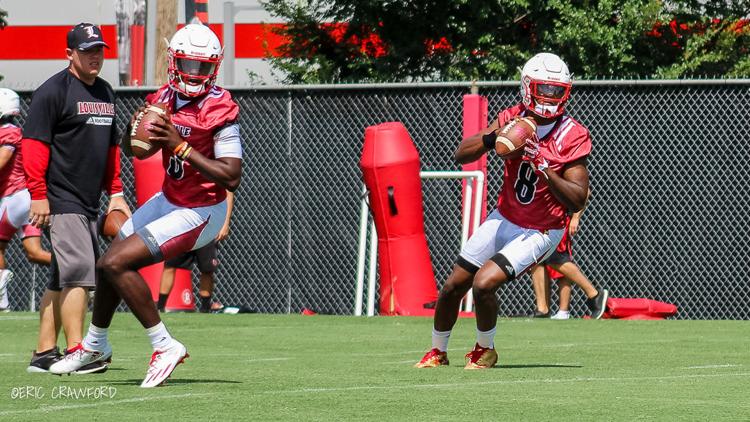 "Special talent. It's kind of impossible to interact with the things that he can do. I always try to get as close as I can."
Cunningham delivered a performance that drew applause from Jackson. He completed nearly 63% of his throws with 22 touchdowns and only five interceptions, adding another six touchdown and 482 yards rushing.
They were terrific numbers but not Jackson numbers. It's unreasonable to expect any U of L quarterback to deliver the kind of numbers that Jackson had in 2016 when he won the Heisman Trophy (and helped recruit Cunningham from Montgomery, Alabama) or again in 2017.
Cunningham drilled with Jackson prior to Lamar's Pro Day workout at the Trager Center in 2018. He said Jackson heard all the chatter from media members and NFL scouts who loudly suggested that Jackson seriously consider a shift to wide receiver.
"It was crazy talk," Cunningham said.
It was crazy talk. And considering what Jackson has achieved this season it has become foolish talk. But it crackled across talk radio as well as social media in early 2018.
"That's (the media's) job to see how they can try to get under his skin," Cunningham said. "But nothing ever fazes Lamar, I don't think...
"...you go in and look at all the throws that he made from the pocket and outside the pocket, it's just natural ability. He is a natural thrower who can run."
Jackson was a natural thrower who can run, who was suddenly highly motivated. Still is.
"You could just tell," Cunningham said. "He's not really talkative about it. I'm the same way. I'd rather just show you than talk about it ... He just has a crazy work ethic."
It was a work ethic that enabled Jackson to pass for 3,127 yards and an NFL-best 36 touchdowns while also rushing for a quarterback record 1,206 yards and seven more scores.
Oh, and the Ravens won an NFL-best 14 games. They are a 9 1/2-point favorite over Tennessee. They are a 5-7 favorite to win the AFC. They are a 2-1 favorite to win the Super Bowl.
Jackson has positioned himself ahead of Russell Wilson, Patrick Mahomes, Derrick Henry and everybody else to win the MVP. His signature No. 8 jersey has become The Jersey of choice for fans across the country.
Funny thing. A jersey exchange is the only connection Cunningham and Jackson have not made.
"Like two years ago when he first got in the league, he got a whole bunch of jerseys, and I just forgot to ask," Cunningham said.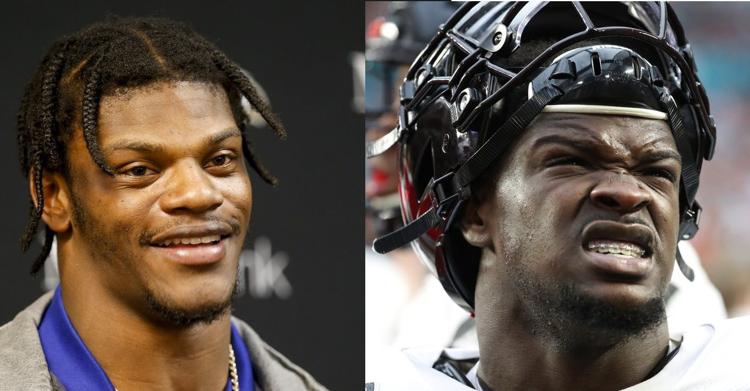 "He forgets a lot. He was supposed to get me a jersey, but I know he's been busy, so I'm not going to be pressing him. I'm going to get one after the Super Bowl."
Plenty of time for the friends and two Louisville quarterbacks to connect after that.
Copyright 2020 WDRB Media. All Rights Reserved.