BOZICH | Louisville, Kentucky gain on my AP Top 25 ballot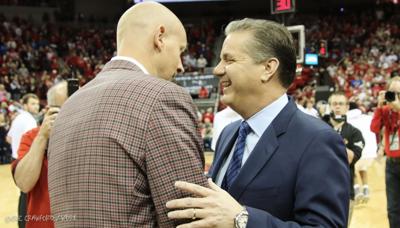 LOUISVILLE, Ky. (WDRB) —Tennessee earned 48 first-place votes last week while ascending to No. 1 for the first time this season in the Associated Press college basketball Top 25.
Then the Vols nearly lost to Vanderbilt,.
I suspect they will lose support when the next poll is released at noon Monday.
But not from me.
1. Tennessee (18-1) — That always dangerous South Carolina/Texas A&M road swing for the Vols.
2. Duke (17-2) — At Notre Dame Monday night, and the Irish have lost six of seven.
3. Virginia (18-1) — Two winnable games this week, then seven days to prepare  for Duke.
4. Michigan (19-1) — The Wolverines still have six road games.
5. Gonzaga (19-2) — No reason to check their scores until March.
6. Kentucky (16-3) — Semi-tricky road games with Vandy and Florida this week.
7. Michigan State (18-3) — I'm so happy I went on a Minneapolis radio station Sunday morning and said the Spartans were deserving of Number One consideration.
8. Nevada (19-1) — See what I said about Gonzaga.
9. Kansas (16-4) — The Jayhawks aren't great, but neither is the rest of the Big 12.
10. North Carolina (15-4) — The Tar Heels warm up for their weekend trip to Louisville by visiting Georgia Tech Tuesday.
11. Villanova (16-4) — Jay Wright, not shabby.
12. Virginia Tech (16-3) — Nice bounce back win over Syracuse after getting crunched by North Carolina.
13. Houston (20-1) — I'm hearing whispers that serious basketball people believe Kelvin Sampson could take this team to the Final Four.
14. Marquette (18-3) — Hard to believe this team lost to Indiana by 23.
15. Louisville (15-5) — A Wednesday night trip to Wake Forest, considered the worst team in the ACC (by miles) by Ken Pomeroy.
16. LSU (16-3) — The SEC team nobody is talking about.
17. Purdue (14-6) — Hat tip to Matt Painter, who lost four starters but just keeps rolling.
18. Texas Tech (16-4)— The Red Raiders barely survived Arkansas to stop a three-game losing streak.
19. Maryland (16-5) — Looked bad against Michigan State and Illinois after looking so good against Ohio State.
20. Iowa State (15-5) — Steve Prohm's team is getting healthy.
21. Cincinnati (18-3) — Mick Cronin quietly does a nice job.
22. Wisconsin (14-6) — The Badgers have rallied to win three straight after losing four of five.
23. Buffalo (18-2) — Most people will knock them out of the Top 25 for losing to Northern Illinois. I'm a forgiving guy.
24. North Carolina State (16-4) — Virginia and Virginia Tech at home this week. Better win one.
25. Mississippi State (15-4) — At this point in the season, you've go to pick somebody and annoy somebody with this choice.
Copyright 2019 WDRB Media. All Rights Reserved.