LOUISVILLE, Ky. (WDRB) -- This is why we love college basketball more than birthday cake and apple pie, right?
Not just because Chris Mack's Louisville basketball team was voted No. 1 in the AP poll Monday, only the third time in program history the Cards have led the AP poll.
That's wonderful, something to celebrate, especially for fans who don't have to dismiss it the way the coaches and players think that they do.
"As I said before when it was a possibility (the Cards would become No. 1), it doesn't really change what I do, what we do," Mack said. "It doesn't change what I have to do for a living.
"But I know our fans are probably awfully excited."
As they should be, especially the ones who stayed with the program through all the nonsense and turmoil over the last four-plus years.
Go crazy if you feel like going crazy. You've waited your turn. But remember this is the thing that's so great about college basketball:
The season is 27 days old, and we've already had 27 teams voted No. 1.
The team that Louisville plays Tuesday night (at the KFC Yum! Center) is an unbeaten Michigan team that has already defeated Creighton, Iowa State, North Carolina and Gonzaga. A week ago, the Wolverines (7-0) were unranked. On Monday, Juwan Howard's team soared to No. 4. If not for the bias from preseason polls and magazines, chances are Michigan, not Louisville, would have been voted No. 1.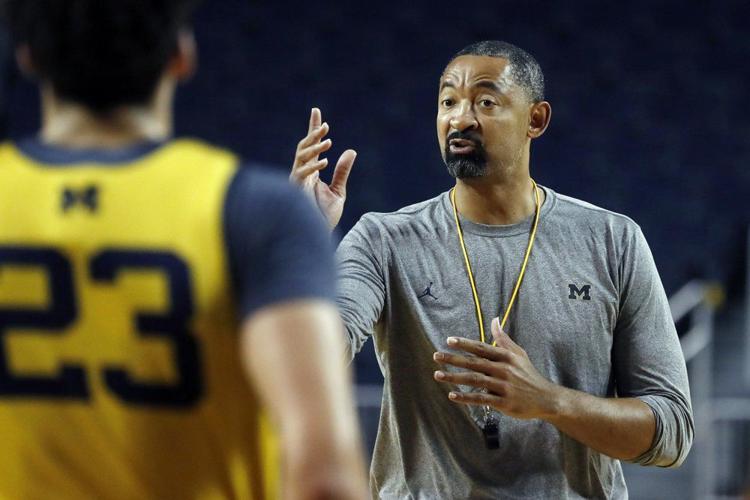 Western Kentucky made one of 17 three-point shots against Louisville last Friday in Nashville. Michigan has feasted at the three-point line, making at least nine in six of seven games.
Michigan has made better than 42% of its three-point field goal attempts. Two Wolverines — Isaiah Livers and Eli Brooks — have made at least 50% of their shots from distance.
Get this: Neither Brooks nor Livers is considered Michigan's best player. That player would be point guard Zavier Simpson, a senior averaging about 12 points, 10 assists and five rebounds per game.
Some people will tell you he's a more difficult player to deal with the Cassius Winston, the Michigan State point guard voted preseason player of the year.
"We've seen a few clips here or there, and we know they're a team that's scorching right now," Louisville guard Fresh Kimble said. "They're playing terrific basketball and playing together.
"We're going to have a test trying to stop those guys defensively tomorrow."
"Zavier Simpson is incredible," Mack said. "He's really talented. "He just does what the game tells him. He gets in the lane. He's got guys around him who can really shoot the ball. He's extremely unselfish.
"He's just like a little coach out there … he's a guy who runs their show and is very difficult to keep out of the lane."
The folks at ESPN would deny it, but when they put together the ACC/Big Ten Challenge, thery were certain the blockbuster game in the ratings and polls would be the one that is scheduled for 9:30 p.m. Tuesday.
That would be Duke vs. Michigan State.
That would be one-loss Duke vs. two-loss Michigan State.
At the beginning of the season, the Spartans were considered the consensus top team in America. Now they aren't considered the top team in their state.
Their stay at No. 1 did not survive a single game. They lost to Kentucky in Madison Square Garden and then they proved the stumble against the Wildcats was not a fluke by losing to Virginia Tech in Maui last week.
Kentucky replaced Michigan State atop the polls until the Wildcats played Evansville.
No reason to blush. Then there was Duke, and the Blue Devils lost to a team lower on the food chain than Evansville. That would be Stephen F. Austin.
Now, it is Louisville's turn to try to hold the top ranking for more than two weeks. If they can beat Michigan, I like their chances. A victory over Michigan would be a terrific card for Louisville to flash on its resume for the NCAA Tournament Selection Committee in March.
"I'd be hard pressed to think there are a lot of teams playing better than Michigan," Mack said.
If they can't? It will only be another reminder of how wonderfully entertaining college basketball is.
Related Stories:
Copyright 2019 WDRB Media. All Rights Reserved.