BOZICH | Louisville women outdrawing Texas, UCLA, UConn men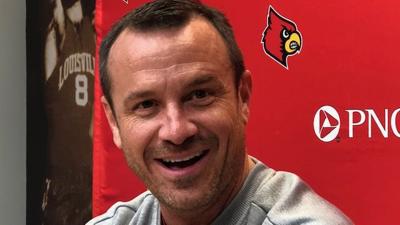 LOUISVILLE, Ky. (WDRB) — More than Texas. More than UCLA. More than Oregon. More than Georgia.
More than UConn, too.
I'm talking about the University of Louisville women's basketball team.
I'm talking about attendance.
I'm talking about programs that Jeff Walz's team is leading in the attendance game this season.
Texas, UCLA, Oregon, Georgia and UConn are on the list.
The Texas, UCLA, Oregon, Georgia and UConn's men's programs, that is.
"When we get 10,000, and the curtains are down, it is a great crowd," Walz said. "The environment is fantastic, and that's what you want.
"Our fan base, I've always said, is very knowledgable. We're not just out there screaming to scream. They know what they're cheering for, and they understand the game of basketball. I think that speaks volumes for our fans."
Walz, Asia Durr and the second-ranked Cardinals return to the KFC Yum! Center on Thursday at 7 p.m. for a challenge from a formidable Syracuse team, ranked No. 15.
It's an opportunity for U of L to improve to 22-1 as well as 9-1 in the Atlantic Coast Conference. It's also an opportunity for the Cardinals to attract their fifth home crowd of 10,000 or more this season.
When the Cardinals last played at home — last Thursday — they were cheered by a record gathering of 17,023 as they defeated Geno Auriemma and his monstrous Connecticut program, 78-69.
"It wasn't the Pack the House promotion," Walz said. "It wasn't 10,000 free tickets out there.
"People came and wanted to watch the game. I take pride in that. Our program takes pride in that. Our players (do, too, knowing) that we're putting a product out there that people are enjoying to come watch."
If you're looking for evidence Walz has built one of the Have Programs in the women's game, these tidbits support the argument:
Through 11 home games, Louisville has averaged 9,569. With a season-ticket base of roughly 6,500, the Cardinals have generated an extra 3,000 per game in walk-up sales through promotions and high-profile opponents like Kentucky and Connecticut.
Two women's programs are outdrawing Louisville this season — South Carolina (average attendance 11,048) and Iowa State (9,796).
Two.
Yes, Louisville leads UConn, Notre Dame and Tennessee, the programs generally considered gold, silver and bronze in women's basketball.
But chew on this number: Louisville's per-game average would rank 44th in men's basketball.
The 9,569 is more than the men at Texas (9,447), Georgia (8,850), UConn (8,351), Oregon (8,325) and UCLA (8,048).
In fact, the Louisville women are also outdrawing the men at Duke (9,314), Villanova (8,980) and Butler (8,377), but those comparisons are skewed by the size of the arenas at those programs.
Let me make this necessary disclaimer: Ticket prices, donation requirements and promotional deals make the comparison game challenging. I'm not arguing the Louisville women are generating the revenue of those men's programs.
But over 12 seasons at Louisville, Walz has increased the footprint of his program in the win-loss column, the turnstiles and the battle for publicity. They're earned their spot on the local sports menu.
They're in position — again — to earn a No. 1 seed for the NCAA Tournament. The Cards are projected to start their grind at the KFC Yum! Center and then (with two wins) travel to Albany, N.Y. as a top seed.
They've likely inspired a Google search or two about the location of the women's Final Four. (It's the Amalie Arena in Tampa, Fla., April 5 and 7.)
"I don't really think anybody thought that it would be where it is right now," Walz said. "I think if you could find somebody that said I think this is what will be going on, I think they'd be lying to you.
"We've been able to sustain this for over 10 years, which is not easy. It's taken a lot of work. But you see the results of what you do. And it makes you feel good."
Copyright 2019 WDRB Media. All Rights Reserved.