BOZICH | Mid-Season hoops snapshot: Top player, coach, title contenders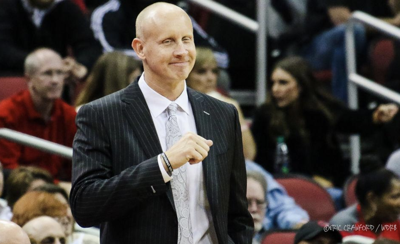 LOUISVILLE, Ky. (WDRB) — Last week I shared my mid-season award winners in the Atlantic Coast Conference.
Today, Izzy Mandelbaum would salute me because I'm taking it up a notch and presenting a national snapshot of college basketball at the mid-point of conference play.
(If you don't know Izzy, you don't watch enough Seinfeld and you need to watch this.)
It's go time.
DUAL QUALIFIERS
If you're a fan of Ken Pomeroy's college hoops analytics site, you understand that one of the best ways to identify teams that have the best chance to win six games (and the title) in the NCAA Tournament is picking your champion from teams that rank in Pomeroy's Top 20 in offensive and defensive efficiency.
(Those numbers are determined by points scored or allowed per possession).
As of Wednesday afternoon, there were six dual qualifiers:
Duke — No. 4 in both metrics.
Virginia — No. 5 in offense and No. 2 in defense.
Michigan State — No. 6, No. 9.
Virginia Tech — No. 10, No. 17.
North Carolina — No. 11, No. 14
Kentucky — No. 17, No. 8.
We're roughly six weeks from the start of the tournament. The numbers shift daily. There will be additions — and subtractions.
It's too soon to discount this group:
Iowa State No. 12 and No. 22; Louisville No. 14 and No. 21; Nevada No. 21 and No. 26; Buffalo No. 24 and No. 28; Kansas No. 25 and No. 13; Wisconsin No. 27 and No. 6; and Baylor No. 29 and No. 27.
Remember: It's simply a metric to pick the national champion, not teams likely to make the Final Four. But it usually works.
COACH OF THE YEAR
Picking a national coach of the year is tricky. You have to define the credentials you value.
Usually the award goes to the coach whose team does the best job of exceeding expectations.
Matt Painter of Purdue is deserving. So is Kelvin Sampson of Houston.
Tony Bennett should always be in the discussion. Chris Beard of Texas Tech and Eric Musselman of Nevada have fans.
Chris Mack of Louisville is the leader on my board.
Mack's most serious challenger is Rick Barnes of Tennessee, who has taken the Vols to Number One in less than four full seasons. He's done it without recruiting the Who's Who of 247Sports.com.
Mack has rescued a program left shattered by Rick Pitino.
He has driven the Cardinals to fourth in the ACC in a season when they were projected to finish 11th. Louisville has climbed from 63rd to 13th in Pomeroy's numbers. The Cards were ranked 39th in the Associated Press pre-season poll. They were ranked 16th before winning at Virginia Tech Monday.
Louisville is the only team to defeat three Top 10 opponents in Pomeroy's computer formula.
He's done it without a single freshman recruit.
He shrewdly rebuilt his entire backcourt by adding Christen Cunningham from Samford and Khwan Fore of Richmond — sending them out successfully in a league packed with 4 and 5-star recruits.
Hold all ballots. There's a lot of basketball to be played.
But as we surge toward March, Mack is absolutely in the discussion for national coach of the year.
PLAYER OF THE YEAR
Zion Williamson, Duke: There is a reason multiple NBA teams are desperately tanking to improve their chances of drafting him. If you have any tips on how to land Zion, send them to the Knicks, Cavaliers, Bulls, Suns and Hawks.
FRESHMAN OF THE YEAR
Williamson, Duke: His Pomeroy Player of the Year ranking is the highest of any college player since Frank Kaminsky of Wisconsin four years ago.
Better than Trae Young. Better than DeAndre Ayton or Marvin Bagley. Better than Josh Hart. Better than Buddy Hield. That's pretty good.
FAB FIVE
Williamson, Duke, forward — I've run out of superlatives.
R.J. Barrett, Duke, forward — Some people believe he will be a better pro than Williamson. I can understand that.
Grant Williams, Tennessee, forward — There is nothing I love more than putting a three-star recruit on this list.
Carsen Edwards, Purdue, guard — How has Purdue been able to stay at the top of the Big Ten after losing four starters? Carsen Edwards better be at the top of your reasons.
Markus Howard, Marquette, guard — Nobody is more capable of going for 30, 40 or even 50.
FRESHMAN FAB FIVE
Williamson, Duke — ESPN is expected to give him his own channel before Selection Sunday.
Barrett, Duke — Nobody is harder to keep out of the lane.
Ignas Brazdeikis, forward, Michigan — Not sure how John Beilein keeps finding these guys who can shoot, pass, rebound and handle but he does.
Romeo Langford, Indiana — After enduring a mini-slump (with most of his teammates) in January, Langford was determined and productive in IU's upset win at Michigan State. He trails only Barrett and Williamson in points per game by freshmen at Power Five programs.
Antoine Davis, Detroit — The little kid who used to follow his father, Mike, around Assembly Hall at Indiana has made a ridiculous 103 three-point shots this season.
COACH ON THE RISE
Steve Prohm, Iowa State — The skeptics said that the Cyclones would disappear after Fred Hoiberg left for the Chicago Bulls. Actually it was Hoiberg who disappeared first, getting fired by the Bulls. Prohm did a nice job adding Marial Shayok from Virginia — and Iowa State sits in third place behind Kansas State and Baylor in the Big 12. Prohm is the coaching prospect people thought he was at Murray State.
WELCOME BACK
Kelvin Sampson, Houston — Nobody is comparing the Cougars to Phil Slama Jama (ask your grandfather or Jerry Eaves about those teams) but the Cougars have dusted 21 of 22 opponents and inched into the Top 15. Nobody ever said the guy in the blue dress shirt and red tie cannot coach — or text message.
WHATEVER HAPPENED TO …
Frank Martin, South Carolina — Two seasons ago the Gamecocks were in the Final Four. This season they're not ranked among the nation's Top 100 teams by Pomeroy.
Bob Huggins, West Virginia — In 37 seasons as a head coach, Huggins has won 855 games and endured three losing seasons. The Mountaineers are 10-13 and 2-8 in the Big 12. Unless there is a ridiculous turnaround, that's about to change.
Gregg Marshall, Wichita State —Two, three, four years ago, Marshall was The Name for openings at Texas, Alabama, North Carolina State and other spots. Never had an off season. The Shockers upgraded from the Missouri Valley to the American Athletic Conference and life is no longer strawberries and cream for Marshall. Wichita is ranked 138th in the latest Pomeroy figures and has lost six of its nine league games.
Copyright 2019 WDRB Media. All Rights Reserved.