BOZICH | Monday Muse: Patriots better than Bama, Red Sox, Warriors, Microsoft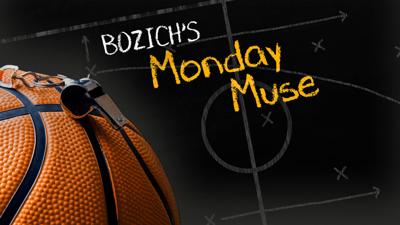 LOUISVILLE, Ky. (WDRB) — Only 41 days until Selection Sunday, 51 days until MLB's Opening Day and 324 Shopping Days until Christmas.
But the Monday Muse cannot proceed without adding a few words about the team that has become the NFL's version of the New York Yankees, Boston Celtics, Microsoft and Google.
1. Patriots Over Everybody
You're tired of hearing about them.
I'm tired of writing about them.
But it's impossible to put a bow on another NFL season without saying this:
For the last 18 years the New England Patriots have been the best sports team in America.
I didn't say NFL team. I didn't say football team.
I said sports team in America.
Best current sports dynasty in America:
I looked it up. I have the numbers.
The Super Bowl that New England won over Los Angeles Sunday was their sixth in an 18-year run that started when Tom Brady and the Pats took down Kurt Warner and the Rams in 2002.
Kurt Warner? Seemed as if it was Roman Gabriel and that Rams' bunch.
Over that stretch no other NFL team has won more than two Super Bowls.
But the numbers are more dazzling than that. Stretch the picture to include the NBA, Major League Baseball, the NHL, college basketball and college football.
Only one team has won as many as five titles. You guessed it. Alabama, which is coached by Bill Belichick's good buddy, Nick Saban.
In college basketball, North Carolina, Duke and UConn won three.
In pro sports the Spurs, Lakers and Red Sox have four.
Brady, Belichick and the Patriots stand alone with six.
You're tried of hearing about them. I'm tired of talking about them. Love them. Loathe them.
But I'm going to save this intro for next year — just in case. Nobody has the pixie dust that the Patriots have.
2. Double Standard or Different Game?
This story didn't take long to percolate after Patriots receiver Julian Edelman, a noted fan of the Kentucky Derby, was named the Most Outstanding Player of the Super Bowl.
The same Julian Edelman, who began this season by serving a four-game suspension for using performance-enhancing drugs.
If Edelman played for the Boston Red Sox he would not have been seen in the Super Bowl or the first two rounds of the playoffs. Baseball cheaters sit out the post-season. They also don't get voted into the Hall of Fame.
Football doesn't care. Football is more understanding. Football expects guys to break the rules. Football has changed with the current athletic culture and doesn't view PED usage as a felony.
Pick your position and defend it.
But the discrepancy between the sports is real.
Shhh @TylerKepner shhh @JonHeyman #SuperBowl pic.twitter.com/S1m1kMkXLG

— Keith Olbermann (@KeithOlbermann) February 4, 2019
3. Tweet of the Day
Former Kentucky star Anthony Davis announced last week that he had no plans to extend his contract with the New Orleans Pelicans beyond the current deal that ends in 2020.
That never made it to the top of the list of sports concerns in the 504 area code. New Orleans is football country.
Bitter football country.
Check the headline from Monday's issue of the Times-Picayune.
Mission accomplished, Who Dat Nation! Super Bowl ratings plummet as Who Dats strike backhttps://t.co/rAXmrT7mfU pic.twitter.com/xdI5fNNAQc

— NOLA.com (@NOLAnews) February 4, 2019
4. Speaking of Guys In Limbo
Former Red Sox and Yankees' ace Roger Clemens failed to earn a spot in the Baseball Hall of Fame again last month. Clemens and Barry Bonds have been unable to collect the necessary 75 percent acceptance from members of the Baseball Writers of America Association.
Too much chatter and concern that Clemens and Bonds did not play by the rules.
Clemens told one interviewer than he is not obsessed with a trip to Cooperstown. At 56, Clemens looks nearly as fearless today as he looked at Fenway Park or Yankee Stadium.
The following video was from the University of Texas baseball alumni game.
A look at @rogerclemens at the @TexasBaseball Alumni game. Sat 84-85 and still spun the curveball well in upper 70s and the splitter was diving. A possible @FlatgroundApp comeback? pic.twitter.com/T8OIPJx8CR

— Maximized Baseball (@maximized_BSB) February 2, 2019
Play ball!
5. Cheer Up Saints' and Chiefs' Fans
There was a long string of angry fans of Super Bowl Sunday. Saints fans marching about blown calls. Chiefs fans howling about a lost coin flip. Bears fans irritated by a kicker.
Leave it to fans of the Detroit Lions to keep everything in perspective.
#BREAKING: Super Bowl LIII has concluded and the Detroit Lions didn't lose, extending the franchise's record 53-year streak of not losing the Super Bowl. https://t.co/Ey13tuLnKX

— Detroit Free Press (@freep) February 4, 2019
6. LeBron For the Win
They say LeBron James could have played wide receiver or tight end for Ohio State. They also say that he could have sailed into the NFL.
I'm not going to tell James that was a false narrative. He knows football, and he knows baseball.
James was not gaga about the football game that he watched Sunday night, making this plea to a string of his favorite NBA reporters to break some news and get the conversation rolling on Twitter.
Man where Shams, Woj, Haynes, McMenamin at????.... 🤷🏾‍♂️

— LeBron James (@KingJames) February 4, 2019
7. Guess Who Had a Super Bowl Ticket?
I knew my guy Will Perdue was a baseball fan (Chicago White Sox) as well as an NBA guy. Perdue, the former Vanderbilt star with Louisville connections, also works as an NBC Sports Chicago analyst on telecasts of the Bulls. Perdue won three NBA rings as part of Michael Jordan's supporting cast in Chicago.
But Perdue is also a football guy. Or at least he had a ticket to the Super Bowl in Atlanta.
And it appears that he had an interesting experience.
From the can't make this up department, but can't take a photo because it wouldn't be cool. Every guy at the urinals, 8 across, had on a Brady jersey. Didn't notice till a guy in line said, "how many Brady's can pee at once?"

— Will Perdue (@Will_Perdue32) February 3, 2019
8. March Madness Tease, Take One
Readers of this column don't require motivation to get juiced for college basketball season now that the NFL has moved to the Scouting Combine and Draft. You're already all in on hoops, starting with Louisville's trip to Virginia Tech Monday night.
The rest of the country lacks our adrenaline level for college hoops. They're still learning about Grant Williams, Kyle Guy, Carsen Edwards and even Zion Williamson. (He plays for Duke, people.)
For those folks, the NCAA is always ready to celebrate the end of the NFL season with a Pay Attention to College Basketball Tweet.
All eyes on us 👀 pic.twitter.com/zq5xwzH6fN

— NCAA March Madness (@marchmadness) February 4, 2019
9. Geography 101
I learned to read a map as a sports fans. I checked datelines and standings and results from across professional and college sports and made myself find Tuscaloosa, Oakland, Chapel Hill, Milwaukee and College Park on a map of America.
I feel sorry for kids today. Everything doesn't fit the way it did when I was a kid.
Brett Friedlander, a sports writer in North Carolina, took an excellent shot at explaining it in this Tweet.
So the Oakland Raiders will play in San Francisco while the San Francisco 49ers play in Santa Clara?? That makes as much sense as the Big Ten having 14 teams and the Big 12 having 10 https://t.co/jIbrOyUZHI

— Brett Friedlander (@BFriedACC) February 4, 2019
10. Rick Pitino Tweet of the Week
Awesome to have my great friends from Lexington visit pic.twitter.com/blgzABkwUh

— Rick Pitino (@RealPitino) February 2, 2019
Copyright 2019 WDRB Media. All Rights Reserved.